Making waves
Force to reckon with
Ruchika M. Khanna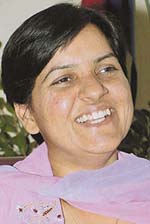 Gurpreet Deo
THE new age feminism is not just striking a balance between home and work. It is excelling in both. Perhaps because centuries of playing second fiddle to men have brought this inherent need in women to always prove themselves. Not as equal, but as better than men, and more so in the traditional male bastions.
Ask Gurpreet Deo. An IPS officer of the Punjab cadre, and a true epitome of contemporary feminism. A woman who is not just revelling in her successful career as a police officer, but basking in her successful roles as mother, daughter and wife.
From a young girl for whom the thought of having to walk into a police station, to chasing drug smugglers and thieves - Gurpreet has transcended the barriers with grit. Do we call her a destiny's child, we ask. "Having cleared the Civil Services examination and being selected for the prestigious Indian Police Service, it was my own decision to join the police force. My family supported my decision; they were happy I wanted to carve my own destiny. I felt I was perfectly suited for the job and took the plunge," she reminisces.
Landing plum postings (read postings areas with high crime graph), this spirited young woman managed to ride on success each time, and give a set back to her detractors. If in her initial postings as Assistant Superintendent of Police Garshankar, Superintendent of Police Gurdaspur, she was chasing the drug smugglers; the white collar crime in Ludhiana and Jalandhar became more noticeable as she began booking the offenders during her stints as SP Headquarters there.
Her first stint as a district police chief came during her posting at Ludhiana in 1999. It was election time and Gurpreet managed to keep things under control- much to the bootlegger's and political bigwigs' discomfort there. From there she went on another successful stint as SP Vigilance Jalandhar, where she personally conducted many raids and was instrumental in unearthing the fogging machine scam in the Jalandhar Municipal Corporation. As Senior Superintendent of Police, Hoshiarpur, she initiated the setting up of a Community Policing Resource Centre in Hoshiarpur, with helplines for the elderly, children, women, NRI's and accident victims that brought her many laurels.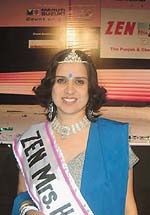 Ashi Prashar: Ace homemaker
Homemaker 2004
Ashi Prashar of Patiala won the Mrs Homemaker 2004 title at a glittering beauty- cum- personality contest on May 2. The contest was held for homemakers in the region, and 25 contestants were selected from over 500 applications that were received. Though a late entrant in the contestant, Prashar says that she her biggest asset as a homemaker is her perfectionism. " I like to be perfect in everything I do- from ensuring that my house is kept well, to tending to my husband, Colonel Neeraj Prashar and son, Rishabh Prashar's needs. I like to be there for them always," she says.
Courting domestic bliss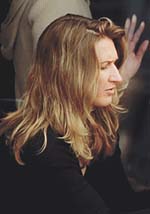 Steffi Graf: Playing mom takes precedence
She ruled the courts once and tennis was the entire focus of her life. Five years hence she has no desire to reclaim that glory. Steffi Graf has ruled out a comeback once again, saying it would take her away from her children and she doesn't want to do that.
With two children, two-year-old son Jaden Gil and six-month-old daughter Jaz, Steffi has little time for former passion of her life.
Andre Agassi, whom she married in 2001, had last year asked Steffi to play mixed doubles at the French Open. The 'dream team' never took the court as Steffi found herself pregnant with their daughter Jaz.
Steffi won 22 Grand Slam titles. In 1988 she completed the golden Grand Slam,winning the Olympic gold medal in Seoul besides sweeping all the major titles that year. She retired in 1999 after winning the French Open.
Steffi will be inducted in the International Tennis Hall of Fame in New Port, Rhode Island, the USA, in July.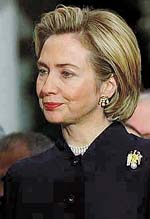 Hillary Rodham Clinton
Indiaís friend in the USA
Democrat Senator from New York, Hillary Rodham Clinton, last week became the co-chair of the first-ever Senate caucus dedicated to the furthering of India-USA ties. The caucus, launched by 32 members, is bipartisan. John Cornyn, Senator from Texas, is the Republican co-chair.
Speaking at the launch, Rodham Clinton stressed the need for India, Pakistan and Israel to "define and anti-proliferation agenda" and said she hoped India and the USA could take the lead in the task.