Cannes: No Rai of hope for India
Ervell E. Menezes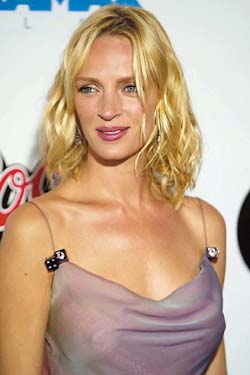 Uma Thurman
IF it's May, it has to be Cannes season and all roads must lead to that seaside town on the French Riviera that'll play host to the 57th annual Cannes film festival from this week. Cinephiles, glitterati, pampered stars and starlets and wannabes from all corners of the globe will descend on the hub, the Palais du Cinema, the Croisette (crossing) and the lobbies of big hotels like the Charlton will be choc-a-bloc with men, women and kids waiting to catch a glimpse of their favourite stars and event too.
Last year, our own Aishwarya Rai was on the Jury. Besides, a delegation from Goa was sent to get an idea of the film fest as this state was slated to host the International Film Festival of India (IFFI) the next year and Information and Broadcasting Minister Ravi Shankar Prasad had made an announcement in London to that effect. "There are beaches in Cannes and there are beaches in Goa," he said, citing what he thought was the prime requisite for hosting a film fest.
This year, the Indian participation in Cannes is miniscule and confined to Priya Ruth Paul's The Perfect Husband in the Director's Fortnight Section. But Paul is an NRI, so there isn't much to the credit of the largest filmmaking country in the world. Makrand Deshpande's debut film Danav (Monster), which was also in the Director's Fortnight Section, has been withdrawn because he was not happy with the quality of the 16 mm print that had been blown up to 35 mm.
The last time an Indian film was selected in the competition section was exactly 10 years ago, when Shaji N.Karun's Swaham made the grade. Asia this time has been represented by two South Korean, one Chinese, one Japanese and one Thai film.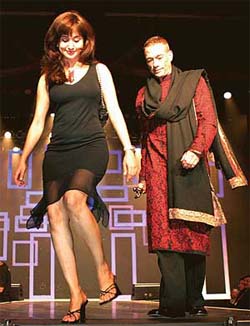 Bollywood actress Urmila Matondakar with Hollywood Actor Jean Claude Vandamme at the Bollywood Fashion Awards in Atlantic city, USA. —PTI
Cannes is keen on propping up its sagging image in the light of good reviews to the Sundance Festival (hosted by director-actor Robert Redford) and the Toronto film festival. Actually, Cannes was begun with the object of retaining the identity of French cinema and not allowing it to be swallowed by Hollywood. But ever since, it has always been an on-off thing with Hollywood's big bucks often calling the shots.
Fifteen years ago, as I was wending my way to the Palais du Cinema, a group of gypsies, supposedly asking for alms, deprived me of my passport, travellers' cheques and international telex card. Thankfully, I got them back three days later, when someone found them discarded at a building site and contacted the film fest authorities.
In 1989, Sex, Lies & Videotape won the Golden Palm and Shaji's Piravi, about the "Rajan incident in Kerala during the Emergency," received a rousing reception.
This year, the accent is on quality and there will be only 18 films in competition in contrast to 20 last year. The opening film is by Spanish veteran filmmaker Pedro Almadavor and is entitled La Mala Education (The Bad Education). Almadavor's other films include All About My Mother and Woman on the Verge of A Nervous Breakdown, both collectors' items. So Cannes has not bowed to Hollywood's populism-commercialism which seems to be engulfing the globe. The closing film, however, will be American, Irwin Winkler's De-Lovely.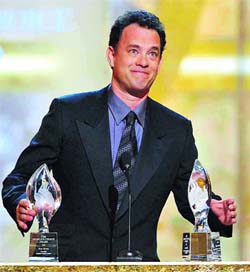 Tom Hanks
The other 16 films include Lady Killers by the Cohan Brothers, Ethan and Joel, Shrek 2 and Farenheit 9/11 by Michael Moore. Moore will be remembered for the scathing attack he made on US President George W. Bush after receiving an Oscar for the best documentary Bowling for Columbine.
Farenheit 9/11 is said to be a polemic look at September 11, 2001, but the title is taken from Francois Truffaut's Farenheit 451. This time, and after along gap, there is a German film in the competition section, The Fattest Years Are Behind Us by Austrian filmmaker Hans Weingqartner.
American filmmaker Qunitin Tarentino's Kill Bill 2 will also be screened but most likely not in the competitive section as Tarentino himself is heading the Jury. The Jury includes filmmakers Jerry Schatsberg, Harj Tsui, actresses Kathleen Turner and Emanuelle Beart and film critic Peter van Bagh and Berriot Boelvoorde and Edwidge Dantiant.
The star component is made up of Tom Hanks, Brad Pitt and his wife Jennifer Anniston, Uma Thurman and David Carradine (Lady Killers) Will Smith, Robert De Nero, Charlize Theron and the evergreen French beauty Catherine Deneuve (remember her in the 1960s' April Fools with Jack Lemmon).
Meanwhile, a dispute between the French show business workers and the French Government is threatening to rear its ugly head during primetime and at the main annual event in this seaside French Riviera town.