Ode to the ghazal king
M.L. Dhawan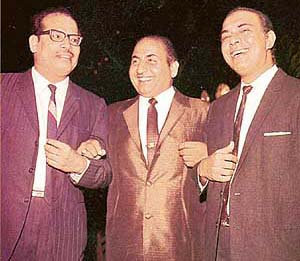 With Talat Mahmood (extreme right) ended the era of soul-stirring ghazals
GHAZAL maestro Ghulam Ali, on a recent visit to Patiala, lamented that of late the great tradition of ghazal singing had reached rock bottom. Ghazals were no longer as soulful as in the times of, say, K.L. Saigal, Begum Akhtar and Talat Mahmood. Ghulam Ali is not the only singer to express concern over the deterioration in film music in general and ghazal singing, in particular. On this day six years ago, when Talat Mahmood passed away, maestro Naushad Ali commented that the ghazal scene would never be the same again. Naushad had echoed the sentiments of millions of music lovers. Indeed, with Talat ended the era of soul-stirring ghazals.
Ghazal ke liye kuchh khas dil muksoos hote hain, yeh woh naghma hai jo har saaz pe gaya nahin jata. Whose voice could have been more appropriate for ghazal-singing than that of Talat, nurtured as he was in the lap of ghazal gayaki in Lucknow and the artistic atmosphere of Kolkata. Talat was gifted with a silken voice that was ideal for ghazals and love-lorn songs. He was hardly 20 when he recorded for HMV Faiyaz Hashmiís famous ghazal Tasveer teri dil mera behla na sakegi. The whole world paused to listen to this melodious voice that carried a hypnotic freshness and Lucknawi delicacy. Talat underscored Dilip Kumarís brooding intensity in ay dil mujhe aesi jagah le chal jahan koi na ho (Arzoo) by putting his rooh into this Majrooh ghazal.
Talat was the quintessential romantic. But somewhere deep within him, there was turmoil and pain that made him bring out the longing and hurt of a lover. Songs like zindagi dene wale sun, dekh lee teri khudayee and Aasmaan wale teri duniyan se jee ghabra gaya had all the elements of a pain-ridden prayer to the Almighty. He was mostly associated with ghazals and songs of unrequited love, heart-break or betrayal. He brought out pathos in songs like sham-e-gham ki kasam, ay gham-e-dil kya karoon, duniyan se ja raha hoon, zer-e-deewar khade hain tera kya lete hain, har sham-sham-e-gham hai, ek main hoon ek meri bekasi ki shaam hai and so on.
The velvety softness in numbers like mujhe dekho hasrat ki tasveer hoon main, mohabbat tarq ki main ne, raat ne kya kya khwab dikhaye, sapno ki suhani duniyan ko, etc proved that great music does not have to be loud.
Along with his film assignments, Talat recorded a good number of private ghazals for HMV. The technique for these was distinct from film songs/ghazals, whether it was zikar us pariwash ka, koi din gar zindani aur hai or honton se gul fishan nain woh. HMV thrived on the popularity of his ghazals and even re-recorded some of the vintage ones, the negatives of which had been damaged with time. In his re-recorded ghazals, titled Sharab-e-kohna, Talat conveyed the same profundity that he had three decades ago.
Music lovers still go misty-eyed when they recollect Talat regaling his fans at the Rose Festival in Chandigarh with his satin-soft renderings of aa teri tasveer bana loon, tim tim tim taron ke deep jale, yeh hawa yeh raat yeh chandani and other numbers.
Jahanara was the film in which Talat had his last burst of glory with ghazals like phir wohi shaam, teri aankh ke aansoon pee jaoon, main teri nazar ka saroor hoon. With mere sharek-e-safar ab tera khuda hafi (Wali Aazam), Talat bid goodbye to Bollywood.
Chain-smoking gradually took a toll of Talatís silken-soft voice. At the fag end of his career, forget singing, Talat could not even speak properly.
It is not as if there were no other good ghazal singers during or after Talatís time. There are Jagjit Singh-Chitra Singh, Anoop Jalota, Pankaj Udhas, Peenaz Masani, Talat Aziz, Ashok Khosla and others. But hardly anyone has been able to match Talatís caressing style in gham-e-zindagi ka yaa rabb na mila koi kinara. It really hurt Talat to see the sudden change in tastes and tunes. The fusion of Indian music and the western synthesiser brought the age of ear-splitting rather than the soul-stirring ghazal. Talat died a depressed and dejected man seeing this downslide of music.