M A I N N E W S
58 per cent cast vote
4 killed in poll violence in final round
Tribune News Service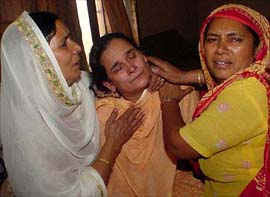 Mourning wife of a SAD leader who was shot in poll-related violence in Sahauli village in Ludhiana on Sunday. — Tribune photo by Pradeep Tewari
New Delhi, May 10
Barring stray incidents of violence, which claimed four lives, an estimated 55 to 58 per cent of the total electorate in the country exercised their franchise to elect the 14th Lok Sabha, Deputy Election Commissioner A N Jha told reporters here today.
With the exit poll results indicated a slender majority for the NDA, top BJP brass held a brain-storming session here to work out the possible strategy to meet the deficit in the event of the NDA failing to touch the magic figure of 272.
During the over two-and-a-half-hour-long session, Prime Minister Atal Bihari Vajpayee, Deputy Prime Minister L K Advani and Finance Minister Jaswant Singh were understood to have debated on the possible post-poll political scenarios and various strategies to meet these.
The Congress today took the first step in pre-empting the BJP from staking a claim for the formation of a government if it fails to get a clear mandate.
At the same time, it positioned the Congress-led secular alliance as the only alternative at the Centre. By doing so, the Congress also made the first step in projecting its party president Sonia Gandhi as its prime ministerial candidate.
The polling in the fourth and final phase today covered the remaining 182 of the 543 seats across 16 states and union territories amid stray violence which claimed four lives and several others were injured.
Counting of votes for all 543 Lok Sabha seats, for which elections began on April 20, would be taken up on Thursday. The results were expected the same day. He said there would be 1,214 counting centres across 855 towns in the country.
Simultaneously Assembly elections were held in Andhra Pradesh, Karanataka, Orissa and Sikkim.
However, in view of the need to immediately constitute the new Andhra Pradesh Assembly, which has 294 members, the counting of votes in the state would be taken up tomorrow.
Among the 12 states, West Bengal, where 42 seats are up for grab, registered the highest turnout of 65 to 70 per cent. The highest turnout was registered in the union territory of Lakshadweep (72 per cent), Jha said.
The lowest voting among the states was in Madhya Pradesh (42 to 45 per cent) and Jammu and Kashmir (44 per cent), he said.
Mr Jha said the polling was by and large peaceful barring the killing of two persons in poll-related violence in West Bengal. Besides Uttar Pradesh (18), polling was also held in the seat-heavy Tamil Nadu (39) and West Bengal (42).