PUNJAB
HARYANA
JAMMU & KASHMIR
HIMACHAL
REGIONAL BRIEFS
NATION
OPINIONS
MAILBAG
BUSINESS
SPORTS
WORLD
M A I N N E W S
Hizbul operational chief shot
Tribune News Service and PTI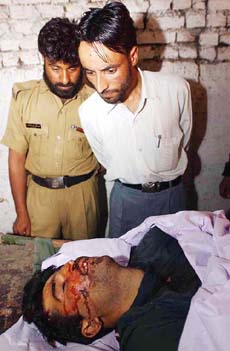 Body of Hizb-ul-Mujahideen commander Shakeel Ansari lying at the police control room in Srinagar after he was killed by police in an operation at Soura on the outskirts of the city on Tuesday. — PTI photo
Srinagar, May 11
Less than a week after the killing of operational chief of Hizb-ul-Mujahideen, the police here today shot the outfit's supreme commander of Doda region in an encounter.
Disclosing this at a press conference here today the Director General of Jammu and Kashmir police, Mr Gopal Sharma, said Shakeel Ahmad Bhat, alias Khateeb Ansari of Marmat, Doda, was killed in an encounter near here today. He said the police and the CRPF acting on a specific information laid an ambush in the Anchar area near Soura on the outskirts of the city. The ambush party signalled some militants moving under suspicious circumstances to stop who resorted to firing. The police and CRPF personnel retaliated in which one militant, later identified as Khateeb Ansari, supreme commander, Hizbul Mujahideen for Doda region, was killed.
One AK 47 rifle, four magazines, 65 rounds and two grenades were recovered from the site. The militant, according to the DGP, had crossed over to Pakistan in 1994 and after four months training, he returned and became the battalion commander of the outfit in 1997 and the district commander in 2000. After the killing of another top militant, Rizwan last year, Khateeb took over as the chief of Doda region.
Mr Sharma said Khateeb Ansari was involved in over 12 incidents in Doda district. Among other incidents Khateeb was also believed to be instrumental in the attack on a police chowki in Gool, Doda district last year. At least 13 police personnel were killed and a police post razed to the ground at Gool last year.