Acid rain and its effect
Neeraj Gupta
When rain or snow falling from the atmosphere contains acids like H2SO4 and HNO3 then we say there is acid rain. In other words it is the polluted rain water. In order to understand the term acid rain we have to divide it into two categories: wet deposition and dry deposition.
The term deposition has been used due to acid fallout of the atmosphere. Wet deposition refers to acidic rain, fog, and snow. Dry deposition refers to acidic gases and particles. The earth's gravity works to continually pull dry particles back to earth. Uneven heating of the earth results in global winds in the atmosphere. Global winds provide the energy for long-range travel of the gases, liquids, and dust in the atmosphere, before falling back to the ground.
Fossil fuels contain compounds of sulphur and nitrogen in addition to carbon.
These waste gases are released by the combustion of fossil fuels by automobiles, electric power plants, and smelting and refining facilities.
The combustion of fuels contributes significantly to atmospheric pollution. It has led to the acidification of rain and freshwater aquatic systems. Acid rain is a worldwide problem
The burning of fossil fuels gives CO2.The gaseous CO2 dissolves in water droplets to form weak acid, carbonic acid.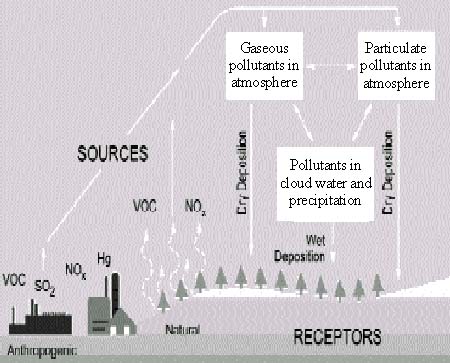 CO2 being insoluble in water,is not the major component of acid rain as the SO2 and NO2 .The burning of fossil fuels like coal and oil products by automobiles and power plants releases large amounts of sulphur dioxide and nitrogen oxides into the air. While being transported by winds, some of these particles get caught up in clouds. When sulphur dioxide and nitrogen oxides gases and particles come in contact with water droplets in clouds. The SO2 and NO2 undergo many photochemical reactions in atmosphere to form H2SO4 and HNO3, resulting in acid rain.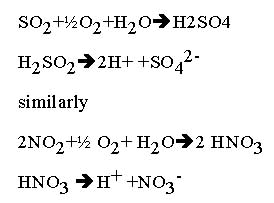 The components subsequently fall down to the earth in the form of rain or snow. This polluted rain is called acid rain. In rain the ph of water decreases. Acid rain is defined as precipitation with a pH of less than 5.7.
Corrosive damage
Acid rain is very damaging Acid rain is found to speed up the natural decay of stone monuments and historical buildings made up of marble, limestone, slate etc. these materials on reacting with rain water get damaged.

As a result of acid rain invaluable statues and buildings are deteriorating in Greece and Italy. Many invaluable statues have partially damaged. Taj Mahal of India is facing same problem.
The adverse effects on life in fresh water acid rain primarily affects sensitive bodies of water, which are located in watersheds whose soils have a limited ability to neutralise acidic compounds (called "buffering capacity"). Lakes and streams become acidic (pH value goes down) when the water itself and its surrounding soil cannot buffer the acid rain enough to neutralise it.
In areas where buffering capacity is low, acid rain also releases aluminum from soils into lakes and streams; aluminum is highly toxic to many species of aquatic organisms.
It damages leaves of trees and plants and retards the growth of forests .It damages various kinds of vegetation, including agricultural crops and trees, chiefly by inhibiting nitrogen fixation and leaching nutrients from foliage.
Water pollution
The rain water also corrodes metals, the acidified water dissolves metal oxides in the soil and releases Al (aluminium), Zn (zinc), Mn (manganese), Fe (iron). All these metals are toxic if present in large quantity in any type of water.
Sulphates and nitrates that form in the atmosphere from sulphur dioxide (SO2) and nitrogen oxides (NOX) emissions contribute to visibility impairment, meaning we can't see as far or as clearly through the air.
Nitrates and carbon also play roles, but sulphates have been implicated as an important source of visibility impairment.