IN THE NEWS
Murali — top spin
Rubinder Gill
HE was the youngest and fastest bowler to reach 500 wickets. He is now the highest wicket-taker in 127-year history of Test cricket, 521 wickets in just 89 matches. He has been called the greatest spinner as well as a javelin thrower. World opinion is sharply divided where he is concerned.
That is Muttiah Muralitharan for you. He has braved controversies to make history. At one time it seemed that Courtney Walsh's record of 519 wickets wouldn't be broken in a hurry.
In these amazing times when batsmen are making merry and scoring runs by the ton, Murali was competing with famed Australian leg spinner Shane Warne to see who would first reach 500 and then break the record. Warne reached the 500-mark first but Murali overtook Walsh's record. While Walsh took 132 Tests to record his 519 wickets, Warne has taken 517 wickets in 110 matches.
Murali and Warne, two characters who have caused enough controversies, Murali on the field and Warne off it, have also done a great service in reviving the art of spin bowling. Both have proven to be match-winners for their countries.
Indian leg spinner Anil Kumble has already predicted that Murali could think of 800 Test wickets. It may seem a little far-fetched at the moment but with Murali anything is possible. Sri Lankan media has hailed the only Tamil in the team as a hero. So has Indian legend Erapalli Prasanna. "I am delighted spinners can now be placed at par with fast bowlers. That spinners are setting targets for pacers is highly satisfying," he said.
In this moment of glory, Murali has, perhaps, found the maximum support. Players, current and former, as well as critics have said that 'Murali should be cherished and not admonished.' Inspite of this show of support, jarring notes can be heard, questioning the legality of his deliveries.
Dreaded doosra
Murali's doosra has spelled trouble for all. The batsmen dread it, so does the ICC. In March Murali was reported for it. The experts measured Murali's wrist and elbow actions, giving sleepless nights to Murali and the ICC. He continues to bowl the doosra, mesmerising novice Zimbabwe batsmen with it.
This deceptive delivery leaves the right-handers instead of coming in to them like a normal off-break. Murali has taken all criticism, saying, "I have a deformity on the elbow because it's bent. I can't straighten it whatever is said and done. I can't change me."
And Murali has done exactly that as he continues to win matches for his country.
Five in a row for Michael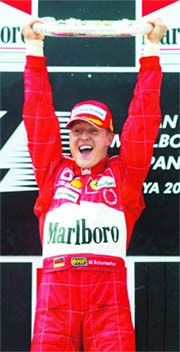 Michael Schumacher won the Spanish Grand Prix to equal Formula One's record start to a season. Schumacher has swept all the five races held this year, giving sleepless nights to his opponents who are still trying to figure out who can stop the unstoppable Michael.
Britain's Nigel Mansell had won the first five Grand Prix in 1992, driving for Williams. This was Schumacher's 75th win in his 200th race. The six-time world champion is already looking forward to the next race, hoping to break another record.
On current form Schumacher looks unbeatable. Standing alone at the very top of this sport of man and machine he is his own competitor. In his endeavour he has been greatly aided by the Ferrari bosses and engineers. They have provided him with a perfect foil to translate his talent into reality.
It only remains to be seen how much further he can stretch the records.
Unstoppable Michael. — Reuters photo