Way to the top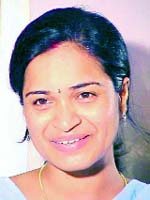 They are winners in one of the toughest tests conducted by the UPSC. Tripti Nath and Geetanjali Gayatri talk to the first five civil services toppers who are raring to go.
THERE are a number of new, attractive and lucrative jobs, but the civil services continue to remain the most coveted career option for the younger generation. Over three lakh candidates applied for the 2003 civil services examination. Of these, 1,60,788 students appeared in the preliminary examination. For the main examination, only 5,973 qualified and 1,179 were called to face the interview board.

Roopa Mishra, who stood first in the civil services exam. — Photo by Bibhuti Mishra
Their goal is the Grammy
The three-member Incinerator rocks Chandigarh with funky beats, says Kanwal Singh.
TRANSCENDING the barriers of culture, age, class and religion, music is food for the soul. It has the power to drive one's inner being to unconquered heights. Contributing to the world of rock, are some lethally talented musicians from Chandigarh.

Incinerator is going places. — Photo by the writer
Colours of Rathore's Rajputana
SUAVE and genteel, Raghavendra Rathore from the royal lineage of Jodhpur synthesises the best of the East and West in his creations, ranging from haute couture to designer chocolates. Rathore continues to derive inspiration from the colourful land of the Rajputs despite living in the US for 11 years, finds Rashmi Kushwaha in an interview with the fashion icon.
GALLERY
Kareena's shot at singing
KAREENA Kapoor is following in the footsteps of all those actresses who wanted to double up as playback singers. In Govind Nihalani's Dev, she has recorded a song Tum nahin paas they jab for music composer Aadesh Srivastava.