Royal car rolls on
Gaurav Sood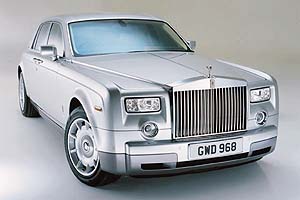 ROLLS-ROYCE, the name that became synonymous with integrity, reliability and innovation celebrated its hundredth anniversary on May 4, 2004. Henry Royce, a reputed engineer first built one of the world's most famous and best-known brands in 1904 and Charles Rolls, a motor enthusiast sold quality cars in London.
Rolls-Royce's success encouraged them to form the Rolls-Royce Company in March 1906. Later, Royce Limited launched the six-cylinder Silver Ghost and within a year, it was awarded the title of 'the best car in the world.' The partnership between Rolls and Royce ended on July 12, 1910, after the death of Charles Rolls when his modified French-built Wright Flyer crashed, making him the first Englishman to die in an air crash.
After World War I erupted, Royce designed the first aero engine called the Eagle. The total horsepower used in the air war by the allies was powered by Eagle alone. It also flew the first direct transatlantic flight and the first flight from England to Australia. In late 1920, Rolls-Royce developed `R' engine meant to power Britain's entry in the International Schneider Trophy seaplane contest, established a new world air speed record of over 400 mph in 1931. Henry Royce died on April 22, 1933.
In 1953, Rolls-Royce entered the civil aviation market with the Dart engine in the Vickers Viscount aircraft and in 1960 the company's Conway engine in the Boeing 707 became the first turbofan to enter airline service. Rolls-Royce returned to the private sector in 1987. The year 1990 saw Rolls-Royce forming a joint venture with BMW called BMW Rolls-Royce to develop the BR700 series of engines. The Allison Engine Company in Indianapolis was acquired by it in 1995 with its successful defence programmes and major new civil engines.
Rolls-Royce Motor Cars was sold by Vickers to Volkswagen. BMW acquired the rights to the name and the marque for use on Rolls-Royce cars for `A340 million in 1998. BMW took over responsibility for design and then the manufacture of Rolls-Royce cars from the beginning of 2003.
Today, Rolls-Royce is a world leader in gas turbine technology for civil and defence aerospace, marine and energy propulsion engine systems.