TELEVISION
Crime pays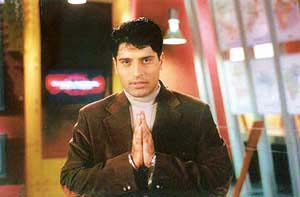 Anand in Crime Patrol: Luring back viewers.
IT may not work for some but revamping shows seems to be doing wonders for Sony. A year after going on air, Crime Patrol—the Indianised version of Police Video—that started off as a reality show has managed to strike the right balance.
The new host Shakti Anand is one reason why it's looking good. The charismatic anchor, who has been applauded for his performances in Saara Aakash and Sambhav Asambhav, is already attracting viewers back to the show.
Twentyeight-year-old Anand admits that the hardest part of his job is being himself before the camera. " I've never done it before but I am enjoying the challenge," says Anand, who takes viewers to witness cops fighting crime.
And he's candid enough to admit that once he's made a mark here, he'll move on. The producers better watch out. They may have replaced Diwakar Pundir with Shakti Anand but they could soon be looking for their third anchor.
Mr India clone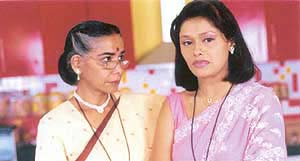 Joshi & co-star in KKehna Hai Kuch Mujhko: Regaining lost ground.
MOTHERHOOD has not curbed her hunger for roles and Pallavi Joshi is back where she belongs and raring to go.
Though her appeal cuts across channels, her choice of roles leaves a bit to be desired. She co-hosts Sansui Aantakshri on Zee, plays lead in KKehna Hai Kuch Mujhko on Sony and now she's doing the lead in Kabhi Kushi Kabhi Dhoom on Star Plus.
But why is she keeping her fingers tightly crossed as far as Kabhi Khushi...goes? The problem here is not her performance but the serial itself.
The Balaji offering, in parts, resembles the story of Mr India so closely that only dumb viewers would miss the similarities—-seven orphaned kids being looked after by a man called Poster (remember Calendar and the seven kids in Mr India!)
It's only Pallavi's good histrionics that can do the trick. Says she, " I really hope the serial does well. We've all worked very hard." Yes, all except the scriptwriter who should now be praying that like Mr India the serial doesn't disappear from the TRPs.
A martial affair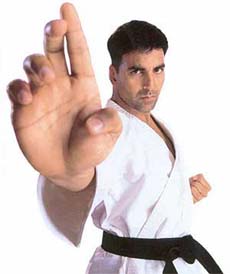 Akshay: A different kind of action
IT'S a sizzling summer for Akshay Kumar as the khiladi enjoys seven electrifying and wild dates with his first love. Hold it. The star is not into an extra-marital affair but is doing something that even wife Twinkle doesn't mind—-martial arts.
For the first time, the action star appears on the tube with a series for National Geographic . The Seven Deadly Arts with Akshay Kumar every Sunday outlines the 2000-year-old unique culture and history that enriches art forms like kung fu, karate, akido, muay Thai, taekwondo, capoeira and the very Indian kalaripayattu.
The star, who started his career as a martial arts trainer, says, " I am absolutely delighted. The series gives me a chance to reach out to people."
Akshay says that learning martial arts can work wonders. And to make that happen he wants to set up a chain of schools as soon as he can take time out from his acting. Till then, watch the hunk flex his muscles on the small screen.
Hunt for quiz kids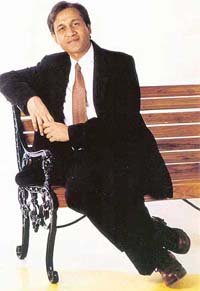 Siddhatha Basu: Quizzing kids now
'WELCOME to quiz time'. If the television bug had bitten you 15 years ago, the words would still reverberate in your mind. On Sunday evenings, couch potatoes were hooked to their sets even as quizzing made a dramatic shift from interschool contests to TV studios.
Such was the popularity of Quiz Time that ever since neither quiz shows nor its anchor Siddhartha Basu have looked back. Of course, Basu has moved on, having anchored countless shows, including the high-profile Mastermind India for BBC.
Now the man is hunting for India's first child genius and is quizzing brainy kids between the ages of 10 and 13 in Britannia India's Child Genius on Star World, Sundays, 9 pm.
Unlike the frivolous hunt for a supermodel on the same channel, this show's for real as it puts 320 young brilliant minds to the grind to pick out the brainiest child. No frills, no gimmicks. A quiz show with a total prize money of half a crore. Kaun banega aadha crorepati?
Dreams die first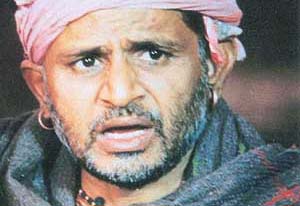 Yadav in Yatharth: Facing a role drought
REMEMBER the ordinary man who, back in the 1980s, transported us into a world of fantasy and taught us to dream big, who dared us to give expression to our innermost desires? Remember Mungheri Lal and his haseen sapnay?
Despite glowing reviews for critically acclaimed performances in films like Bandit Queen, Salaam Bombay, Bawandar, Lagaan, Yatharth, Darna Mana Hai and M.F. Hussain's Meenaxi, it is ironic that Raghuveer Yadav has never got the roles he deserves.
He is at present seen only in Chacha Chowdary a serial for kids based on the popular comic character by Pran, on Sahara Manoranjan. And he is the reason why the serial is so popular among viewers.
After two decades in the business does he have any dreams left? Just one, he says. " My ultimate dream is to direct a film. I hope I can do that." Sure, Raghuveer Yadav has not stopped dreaming. — NF