A heady potion for Potter fans
A sizzling treat for the young is on the way. The film Harry Potter and the Prisoner of Azkaban, packed with incredible wizardry, will hit the screen soon, says Gitanjali Sharma.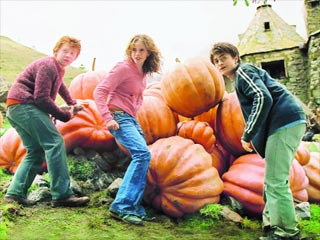 This summer, your wizardly hero will zoom in as a fiery and feisty 13-year-old. Harry Potter and his pals Ron and Hermione have entered their teens. They have grown, become taller, and like all teens, are tormented by adolescent angst. The 11-year-old unsure wizard in Harry Potter and the Sorcerer's Stone (2001) and the finding-his-feet Harry in Chamber of Secrets (2002) will not only be more accepting about his magical powers but will also be more aggressive in the forthcoming Harry Potter and the Prisoner of Azkaban.
Slated to be released in another two weeks, this third Potter flick promises to be a visual treat, with huge potions of magic and spooky special effects thrown in. It also portends to be a lot more scary and ghoulish. The backdrop that you were familiar with in the first two movies — Hogwarts School of Witchcraft and Wizardry — shall remain unchanged but the atmosphere this time will be more grim and sinister and the setting shall be darker and gloomier.
The "teen look" of the young wizards is all too visible in the way they dress, behave, talk and feel. Giving their formal school robes a go-by for the most part, they'll be spotted more in casual wear like jeans and jumpers.
Fourteen-year-old Daniel Radcliffe, who rates Prisoner of Azkaban as his most favourite J.K. Rowling book, will play Harry for the third time. The other cast too — like Hermione played by Emma Watson and Ron portrayed by Rupert Grint — you will recognise instantly. Dumbledore, the school headmaster, will have a new face — of Sir Michael Gambon, one of Britain's most revered stage artists. The role was earlier enacted by Richard Harris, who died in 2002.
The direction this time has switched hands from Chris Columbus (who directed the earlier two films) to Mexico's Alfanso Cuaron, who has lent a new look to the sequel. Not only are the colours sombre and more muted but the music too is chillingly eerie.
The film shows Harry and his buddies back at Hogwarts again. As the title suggests, this time round the young hero is confronted by an escaped convict from the prison of Azkaban. The prisoner Sirius Black, played by Gary Oldman, is believed to have killed Harry's parents and our young hero fears he is now gunning for his life.
Harry comes across as more hostile and troubled, as he fights the demonic forces outside and within him. His fears are also more pronounced and visible in this film. And, there's just no dearth of hair-raising stuff: Haunted by the omens of death, Harry encounters the Dementors, the cold-blooded Azkaban guards stationed at Hogwarts, and takes on Scabbers, a rat who is actually the wicked Peter Pettigrew.
With all these horrifying goings on in Harry's world, Potter pals couldn't have asked for a treat more magical and fanciful.