Social monitor
The sweat behind success
Prerana Trehan
THE diamond-laden tiaras whose glitter lights up the catwalk are for real but they tell only half the story. The dazzling smiles of those who sport them speak of dreams come true, while a twin story of sweat and grind, tears and heartbreak often goes untold.
"The audience only sees the photo shoots of the fashion shows, it doesn't realist the hard work that goes into these. Fashion industry isn't just glamour, it is a whole lot of hard work," says Aditi Srivastava, Vice-President, Corporate, NIFD. "Everyone thinks that it is only about looking good, but those who are in it have to work hard and be professional in their outlook and behaviour. We have late nights and early mornings but we cannot afford to let the strain show. We always have to look good and pay heed to our fitness and make-up," feels Anchal Kumar, Gladrags Megamodel 1999. This is not all. Earning one's livelihood by selling one's looks calls for substantial financial investment as well. An average portfolio can cost anything between Rs 20-25,000. Add to that the cost of maintaining an up-to-date wardrobe, a state-of-the-art make up kit and personal trainers and hairdressers. "A three-month training in the fundamentals of modelling can cost anything between Rs 10-15,000," says Sunil Bansal, Director, Studio Model Creators.
Not only does looking good not come easy, it isn't all there is to being a beauty queen either. "Just being beautiful isn't enough, you need brains and aptitude as well. If you are just beautiful then you don't last very long. To survive you have to have the right attitudes as well," says Divya Jaitly, finalist Femina Miss India 2002. "Unfortunately, the media only emphasises beauty and so the girls think that is all that they need," she adds.
Many in the industry emphasise the importance of education. Jaitly says that education is important and girls should not drop studies to take up modelling. Many girls who do so end up in wrong hands. "Moreover, you need to be bright enough to read the fine print of the contract you are signing with the agencies, otherwise you can end up being exploited," continues Jaitly.
Being in a hurry backfires, too. "Only those who want to become famous overnight end up exploited. You should willing to spend time doing your groundwork," says Shwetha Menon, Ex-Miss India. Agrees Priyanka Singh, Centre Head, NIFD, "People in a hurry are the ones to get exploited." Says Revlon model Mehar Bhasin, "It might take as much as a year to get a good break. You should have patience. Moreover, even newcomers should be selective about the kind of work they do." Anchal Kumar feels that it is important for aspiring models to set a goal for themselves and not be willing to do whatever comes their way. "If people know you are in it for money then they take you for granted," she says.
Women who choose to leave home, sometimes in the face of parental opposition, and move to big cities to make a name for themselves in the glamour bazaar, face additional pressures. "Staying alone is very tough. Not living in a family means that not only are you very lonely but you also have to start from a scratch. Moreover, if you have left home to come to a big city then the pressure to make it is great and you end up doing anything to survive," says Shefali Talwar, Miss Delhi Femina Miss India 1992. Sometimes this pressure is the reason why women resort to lies and deception. "People are very attracted to the field and are willing to do whatever it takes to get in. Some girls who are married say they are single because they are afraid they won't get work if their marital status is known," says fashion choreographer Jeet Brar. Many also say that it is fairly common for models to lie about their age. And with modelling emerging as a career option for many youngsters, the number of youngsters facing these problems is increasing.
The competition in the modelling world in intense too. "A lot of undercutting happens. Others are willing to do your job for less," feels Anchal Kumar. This makes it difficult for models to refuse jobs that they might consider vulgar and even if they do it doesn't help because as Priyanka Singh puts it, "This field is so competitive that if you say no to a particular job, someone else will take your place in no time."
Not only this, models have taken a backseat in the advertising industry which has begun to prefer actors and sportspersons as brand ambassadors, feels Bhasin. "These days even housewives are into modelling. Newcomers might find work in ads but things have become difficult for top models," she says. Moreover, even the money that models earn is less than what TV stars who shoot three or four episodes in a day make. And they also get famous within months while it often takes longer for models to be recognised, she adds.

Save the girl child
Shruti Bedi
EDUCATION, global exposure and affluence, all of which translates into easier access to expensive technology, have made it easier to select the sex of the child. The techniques of pre-natal diagnosis (PDT) are meant for the detection of congenital malformations. However, in India, this modern technology is being misused for sex-determination and sex-selective abortions. Abortion in most cases is resorted to if the foetus turns out to be a girl. A female is considered a burden and the helpless mother is made the scapegoat of an experiment to provide male heirs. This abuse of technology has led to a boom in the business of female foeticide.
The Pre-Natal diagnostic Techniques (Regulation and Prevention of Misuse) Act, 1994 was enacted with the object of prohibiting pre-natal diagnostic techniques for determination of sex of the foetus leading to female foeticide. The amended Pre-natal Diagnostic Techniques (Prohibition of Sex Selection) Act came into force in 2003. The Act prohibits sex selection before or after conception. It regulates the use of pre-natal diagnostic techniques like ultrasound for detecting abnormalities in the foetus. It bans the use of such techniques for sex determination. Any nursing home, registered medical practitioner or hospital that does ultrasound tests is required to state that it does not do sex determination. Otherwise the registration of the doctor can be cancelled for violating the law. Any person who seeks help for sex selection can face a three-year imprisonment and a fine of Rs. 50,000.
Aborting the foetus only on the ground of sex is not allowed under any law. Article 21 says that no person shall be denied his/her right to life and personal liberty except according to procedure established by law. Therefore, a female foetus has as much a right to life as a male foetus. To deny that would be to deny the very basis of right to life.
An unborn foetus is also protected under various international instruments. The unborn foetus includes a male foetus as well as a female foetus. The rights of a child are further reiterated in internationally recognised instruments. The Declaration of the Rights of the Child, adopted on 20th November, 1959 proclaims in its preamble, 'Whereas the child, by reason of his physical and mental immaturity, needs special safeguards and care, including appropriate legal protection, before as well as after birth'. This has been again stated and recognised in the preamble to the United Nations Convention on the Rights of the Child, 1989. Once conception has occurred, a new and a separate human life has been created. It has the same right to life irrespective of the fact that it is a male or a female.
Law allows abortion in India only in certain circumstances. Until 1971, abortion was an offence under section 312 of the Indian Penal code, which allowed abortion only to save the life of the mother. Then the Medical Termination of Pregnancy Act was passed in 1971. Section 3 of the Act allows termination of pregnancy in only three cases. Firstly when the continuance of the pregnancy would involve a considerable risk to the life of the pregnant woman or to her physical health i.e. when the life of the mother is in danger the foetus may be aborted. Secondly when the continuance of the pregnancy would cause grave injury to her mental health for eg. in case of rape. Lastly, when there is substantial risk that if the child were born, it would suffer from such physical or mental abnormalities as to be seriously handicapped.
What does this mean? A female foetus or a male foetus would have a right to live except in cases where the mother's life or that of the child is itself in danger. So why this unnecessary bias in favour of a male child over a female? Just because of the fact that the female foetus is vulnerable and cannot defend it self, is no reason to deny her right to life. Nobody ought to have the right to kill or harm an unborn child for the reason that she is a female. A female's rights begin when she begins. The right to life is a 'core' right without which all other rights are meaningless. This right is available to all persons regardless of the status that they occupy in society. Let us not relax in our struggle to promote the rights of an unborn female foetus.

Alexander M. Kadakin pays a tribute to Sister Ursula, the much-loved manager of Roerich's art gallery in Naggar, Kulu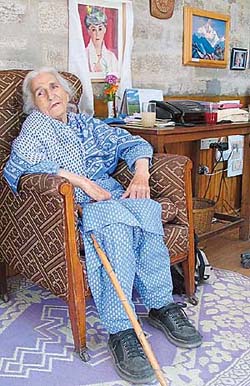 Sister Ursula Eichstaedt Photo by the writer
ANY visitor to the Roerich Gallery in Naggar, Kulu Valley, would remember Sister Ursula, the grey-haired, amiable old lady. She reminded one of our grannies, the babushkas, in whose wooden village houses we would spend summer holidays as children. Ursula Eichstaedt, or Sister Ursula as everybody lovingly addressed her, lived a life devoted to serving other people. She displayed an amazing zest for life and compassion throughout her life, sincerely striving to make the world more just.
As a teenager, Ursula had to face travails and atrocities of war that took her family away. Afterwards, charitable work became her sole mission in life. After the war, working with the UN Relief and Rehabilitation Administration, Ursula worked towards rehabilitation of German children. Under a UNICEF programme, she spent a year as a medical nurse among Pakhtuns and Baluchs in the North-Western Frontier Province of Pakistan.
In 1954, her adolescent dream, nurtured after reading Altai-Himalayas by Nicholas Roerich, was fulfilled. She arrived in India on a charity mission under the aegis of an international organisation. Like the Roerichs, she made India her second home and lived here till her last breath. It was here that she found a new family by adopting two Indian brothers as infants from an Orissa jungle tribe where she had spent 18 years, working among local lepers.
Almost 20 years more were devoted to orphans in children's charities set up under the Pestalozzi Children's Village and SOS Children's Village trusts in various parts of India, mainly in hard-to-reach mountainous regions. In 1989, at the request of Svyatoslav Roerich and Devika Rani-Roerich, whom Sister Ursula had met in 1954, she became the custodian of their beautiful estate in Kulu.
Ursula was the permanent manager of the Russian-Indian Roerich Memorial Trust ever since it was established in 1992 and the estate opened to the public. It was due to her involvement, self-denial and generosity that the priceless collection was preserved, transforming the gallery into the most frequently visited heritage sites in the western Himalayas. More than one lakh tourists visit this gallery annually.
For over 15 years, Ursula worked with enthusiasm, devoting all her spiritual and physical energies to the supervision of the museum. She spent her meagre savings and modest pension to save the common Russian-Indian heritage. But for this effort, the Roerichs' legacy would have perished. Today, the centre, a symbol of spiritual and cultural affinity between India and Russia stands as a cultural centre par excellence.
Sister Ursula also found time for charity even here by helping the school for Tibetan children in Pathlikul, off Naggar. Several films were made about her remarkable life; in 1962 her selfless effort won her a highly coveted award from the City Council of Rome, which, along with Indira Gandhi, she received personally from the Supreme Pontiff.
Despite all the tribulations and three years as a POW in a Soviet camp, Ursula had a special affection for Russia. She visited Russia at the invitation of her numerous Russian friends. In these parts, she was known as the "Russian" Sister Ursula. She passed away as quietly as she had lived. An embodiment of compassion, she touched numerous lives with love and was a beacon of light in an atrocities-torn world.