'ART AND SOUL
Women painters of Nathdwara
B.N. Goswamy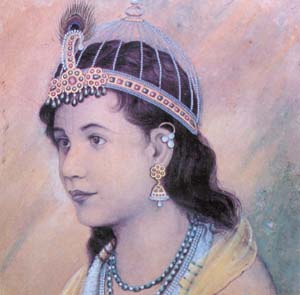 A Krishna painting by Kamaladevi of Nathdwara, 1950
THE question that I'm almost always asked at the end of a lecture on Indian painting, in India or abroad, is: "Did women also paint?" or "Do we know the names of any women artists." Quite obviously, the questions relate to the past, and to 'high art': if not, one can point to the uncommon range, and abilities, of contemporary women artists active at present, or to the world of folk art, like that of Madhubani, which was almost exclusively the domain of women. The past is, however, another matter, "another country". Of the role of women in it, we know precious little, as far as art is concerned. There are all those literary references to women painters like Chitralekha who brought Usha and Aniruddha together in the story, or to Radha drawing an image of Krishna on a lotus leaf, as in the Gita Govinda; but there are remarkably few facts . An occasional work showing a woman artist sitting in a courtyard and painting, or names of women painters like Nadira Banu or Nini figuring in inscriptions, might surface at times, but in general it is a world of silence. One can make guesses, but no firm statements. The traditional painters of today would say something about women of the household always being 'involved' in the production process-–grinding pigments to be used by the men in family workshops, or filling in an inconsequential detail, like the pattern on a border or upon a carpet in a painting-–but not finishing whole works by themselves. One can sense their being around, but silently, in a veiled fashion.
EARLIER COLUMNS

Art hub in the desert
May 2, 2004


Arts of the people
April 18, 2004


Dialogues across time & space
April 4, 2004


Transforming nature
March 21, 2004


Cultural flavours of Varanasi
March 7, 2004


Of dreams & diverse images
February 22, 2004


Portrait of a photographer
February 8, 2004


The curling roots of time
January 25, 2004


Looking at medicine through art
January 11, 2004


The uncertain world of valuation
December 14, 2003

Behind the veil
Hopefully, however, all this will change, and the veils begin to lift, as the past is explored more closely. Anonymity being generally the condition of Indian art, and inhibitions tending naturally to limit the inquiries one can make about the women in their households from men painters, it might not be easy, but it is also not impossible. As the work of the young American scholar, Tryna Lyons, who has been writing with a sense of deep engagement upon the painters of Nathdwara – that great seat of Krishna worship close to Udaipur in Rajasthan – shows. Tryna was able to put together, patiently, a picture of painting activity in which women, despite some initial hesitation, come into their own. There are specific names of women artists that emerge from her account – Jamanibai, Kankudevi, Indumati, and the like. But there is also the overarching information that it was common, in the early years of the 20th century, for middlemen or 'merchant partners' from within the community of artists to buy up paintings in bulk, and then put their own names upon them, often in English characters, before selling them to devotees.
In the Lord's service
Nathdwara is the place where the Krishna theme dominates in painting, whether in the form of pichhwais, or temple hangings, on cloth, or works on paper, and where some of the early experiments in integrating photography with painting were carried out by gifted painters like Ghasiram and Kundan Lal. Here, on the one hand, for generations, strictly conventional renderings of the Krishna image were produced in the sewa of the Lord, and, on the other hand, painting was pressed into service for creating European-influenced theatrical backdrops for the enactment of Krishna leelas. Interestingly, one of the women artists whom Tryna has documented, Jamanibai, specialised in the production of what are locally called 'sceneries' – "rapidly painted landscapes with a vaguely Japanese look about them, featuring vivid sunsets or dramatic moonlight over lakes with palm trees`85." – that used to be commissioned by merchants in hundreds. When questioned closely about her work, Jamanibai pulled out for Tryna a bundle of some 500 paintings, no two exactly alike, which she had just completed for a Bombay agent. Then there is the case of "Indumati", evidently a woman artist, who was working side by side with a Nathdwara painter on a large mural in the palace of Jhalawar, and is referred to in a postcard dated 1919 in which the progress of the work is being reported upon by the painter.
Among the more engaging of the names that emerge from Tryna Lyons' account are those of two sisters, daughters of the painter Damodar Das: one of them called Ilaichi, meaning 'cardamom', and the other Kamala. A fine drawing in ink and pencil of Krishna playing upon his flute, Ilaichi says she made 'soon after my marriage', when she must have been only in her early teens. And Kamala, who died a few years ago, is still remembered throughout Nathdwara as a fine artist, who was more gifted than her painter husband, whose name she once put on a painting that was in fact her own. A whole sketch-book of hers has survived; very self-aware, she generally used to sign her work as "Kamaladevi Chitrakarini" `85.
Under dusty layers
There is excitement in this kind of information about women artists of the past. But a certain sadness also descends upon one, as one thinks of how many more there must have been about whom we know nothing at all, and how much has been lost. A great distich of Ghalib comes to mind. The odd tulip and rose that we see flowering, he says, make one wonder about all the beauties that lie under layers of earth, hidden from view.
Sab kahaan, kuchh laala-o gul mein numaayaan ho gayeen
Khaak mein kyaa sooraten hongi ki pinhaan ho gayeen
This feature was published on May 16, 2004