Prize-writer
He believes in the oneness of man
Rajkumar Singh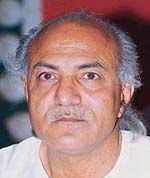 Dr Naresh is a novelist, poet and essayist
THE Madhya Pradesh Jan Parishad has chosen Dr Naresh, an eminent writer of the region, for this year's Lifetime Achievement Award as a recognition for his contribution to literature during the last five decades. Naresh feels that while no writer writes for an award, but recognition certainly inspires him to aim for excellence. He says, "I feel satisfied that my writings are read. It is an appreciation of my sahitya sadhana."
Naresh, author of 60 books in Hindi, Punjabi and Urdu, is a well-known writer and poet based at Chandigarh. Some of his books have been awarded by the Central Government as well as by the governments of Punjab, Haryana, Uttar Pradesh, Bihar and West Bengal. His book Chintan and Mulyankan got the National Award. He has also got the 20th Century International Award for Achievement in Literature instituted by I.B.C. Cambridge and the Poet of the Millennium Award by Music World U.K.
Naresh, born on November 7, 1942, has been in teaching for more than 30 years. At present, he is the Professor and Chairman of Bhi Vir Singh Chair for Modern Literature in Panjab University, Chandigarh. About his commitment to creative literature, he says, "I have written poetry, novels, short stories, one-act plays and criticism...in order to build a healthy society." He could never reconcile himslef to the partition of India. His literature speaks volumes about the tragedy of Partition and he firmly believes that artificial boundaries cannot keep a nation divided for too long. He is optimistic that like Germany, some day India and Pakistan, too, will unite as one nation.
Naresh has always written against communalism as he believes that in an essentially multi-lingual and multi-ethnic country like India, it is absurd to play the politics of caste and religion as any such effort is bound to weaken the very fabric of the society. His next novel Maati Kahe Kumhar Se also speaks about Partition and communal politics.