Wanted: More room for art
Though there are numerous art galleries in Delhi, Kolkata, Mumbai and Bangalore, the cities north of the Capital, including Chandigarh, can hardly boast of proper art spaces or famous galleries for artists to display their works and interact with art lovers, writes Sumangal Roy.
The learned understand the reason of art; the unlearned feel the pleasure. — Quintilian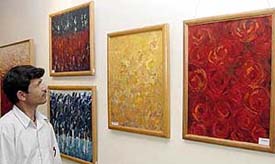 A visitor looks at a painting exhibition in the IndusInd Bank. Photo: Parvesh Chauhan
THERE is no substitute to beholding great works of art in their physical reality. And which better place to view them but an art gallery. It is here that we learn to see and feel something beyond the superficial vision – a loftier reality. It is here that we experience an aesthetic bliss akin to ananda (spiritual joy).
The importance of art galleries and artists in urban life is being increasingly recognised. A gallery can act as a cultural hub as well as turn a city into a global destination. Take the case of the Tate Gallery of Modern Art, which opened in London in 2000. It has turned an unknown locality into a famous address.
Closer home, though there are numerous art galleries in Delhi, Kolkata, Mumbai and Bangalore, the cities north of the Capital can hardly boast of proper art spaces where artists can display their works and interact with art lovers. This in a way contributes to the lower levels of art appreciation.
Though Chandigarh has about eight venues for art exhibitions, most of them don't really qualify as proper art galleries. At best these are just wall spaces.
There are the galleries at the Government Museum and Government College of Art which can never become lively, interactive hubs due to their official nature. Then there is the city's largest art gallery in Punjab Kala Bhavan. But its ambience is such that it isn't a big draw. The museum at Panjab University allows art exhibitions in two to three of its galleries, but that too to a few well-known artists.
In keeping with the trend of corporate houses patronising art, Indus Ind Bank has earmarked a small space for putting up exhibitions free of cost. But both the space and setting are inadequate for professional shows. Art folio has a little space for display of art works. A prominent art gallery at Chandigarh is that of Alliance Francaise – a place created with both the artist and art lover in mind. But this too is not exclusively an art gallery.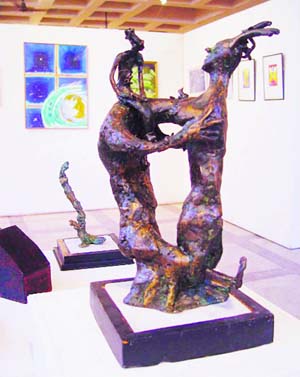 Exhibits at the Government College of Art. — Photo by Pankaj Sharma
At Jalandhar, local artists have to hire expensive hotel spaces to exhibit their works. Of late, the Gymkhana Club has been providing its airconditioned hall for art exhibitions. In Ludhiana, halls in Punjabi Bhavan, the Extension Library of Panjab University and the Luxmi Ladies Club are doubling up as art galleries. In Patiala, the Banasar Art Gallery at the Sheesh Mahal has closed down, which just leaves a smaller one at Punjabi University and the Hotel Mohan Continental hall for art exhibitions. Shimla has a potential to attract tourists and art lovers yet there is hardly any decent space for art exhibitions. Art shows are either put up in the basement of Gaiety Theatre or the state museum.
None of these spaces serves as an exclusive art gallery. These private efforts are amateurish and can never become serious art spaces.
What then is the primary ingredient of an art gallery? It must possess a lively art environment and a location where visitors can walk in without hesitation. The ambience must be right so as to prepare the visitors for the actual process of beholding and appreciating art. For instance, a private gallery in Kolkata has an amphitheatre for screening films, audio-visual shows, a caf`E9 for the artists to interact with the visitors, a library and a small museum, thus making the visit to an art gallery a holistic experience.
The region, especially Chandigarh, is culturally active as far as the performing arts are concerned. Now it deserves a famous art address so that people will no longer say of the region: No culture except agriculture.