TELEVISION
Raveena redesigned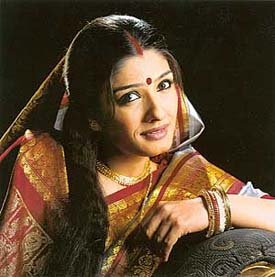 Raveena in Sahib Biwi Ghulam: Intense performance.
LIKE many of her peers in Bollywood, she too has succumbed to the charms of the small screen. After having been there and seen it all, glam doll Raveena Tandon has donned the attire of the Chhoti Bahu in Sahib Biwi Ghulam on Sahara Manoranjan.
Says the ankhiyon se goli mare girl, " More than anyone else, I was myself very sceptical about crossing over but now I am happy I decided to do such a career-defining project."
Parallels have been drawn between her performance and that of the late Meena Kumari in the 1960ís Guru Dutt film by the same name. Says Raveena modestly, " I cannot delude myself by comparing myself with the legendary Meena Kumari."
There have been special preparations for the role. "I had to work a lot on my looks so that Iíd look natural supporting those big bindis, heavy sarees and jewellery."
And the results are there to see. The ankhiyon se goli mare girl looks stunning in a traditional Bengali sari. Says she, "Wherever I go people identify me as Chhoti Bahu. Itís a great feeling something that you donít experience in films." Love at first byte.
Bees saal baad
TWO decades is a lifetime in the career of an actor and very few survive so long. On the tube, the going is tougher given the acute competition and growing demand for fresh faces.
In this respect Kitu Gidwani is a survivor and an accomplished one at that.
Kesar on Star Plus in which she plays the arrogant and manipulative Pam marks another comeback for the lady after a five-year hiatus. And the good news is she still retains her refreshing looks.
Having made a debut in 1984 in one of TVís first superhits, Trishna, she went on to make a mark for herself in Swabhimaan. What followed was a long break from the small screen to do Govind Nihaliniís Dehama, a French film that flopped, and a play in London-Firoza Among The Firangis.
Though viewers are delighted at her comeback many are surprised at her choice. She defends her decision thus," When Balaji offered me a glamorous role, I accepted it at once because I was looking for a comeback soap that would get me noticed."
And sheís been noticed all right. She has already signed a new Ravi Rai serial and is doing an English play Two to Tango. " I happy doing this much and waiting for meaty roles to come my way."
New-age mantra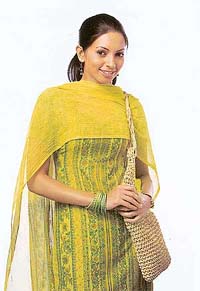 Pooja of Yeh Meri Life Hai: Young & ambitious.
BACK in the 1980s, it was the mythologies which kept viewers riveted to their sets. Then came the comedies and thrillers. But these were all swept aside in the 1990s by the saas-bahu stuff. Now that too is pass`E9 as serials go through another transition.
Plane Jane Jassi braces-and-all has set the trend of young ambitious middle-class girls seeking empowerment. Despite her less-than-ordinary looks she has the glamour world vying for her favours.
Then thereís the Gujju-accented Pooja out to make a career in television, the unconventional Saaksshi who joins an anti-terrorist group, housewife Reva on a quest of self-realisation. All far removed from Tulsis, Parvatis and Ramola Sikands of the world.
They are all seeking their own nirvana and living life on their own terms. And the Gen Y, that had given a thumbs down to the ĎKí stuff, is lapping up these new-age serials.
Stage-struck
ITíS a new calling and a growing number of TV stars are getting hooked. Going by the number of people opting for the stage, no one should be surprised if the small screen faces a drought of talent soon.
Take a look at the big hits of theatre this yearóAzhar Ka Khawab (Farooque Shaikh), Uncle Samjha Karo (Shweta Kawatra and Manav Govil), Manhar Lele (Nausheen Ali Sardar) and Laughing Wild (Mandira Bedi).
Apart from plays there is a new demand for live performances by TV stars not just in India but from NRIs, especially in the UK, USA and the Gulf.
The actors cite various reasons for this shift, none of which strangely have anything to do with the big bucks that they earn from these performances. Some claim they are on a learning curve while others say theatre is like an addiction.
Whatever be the reason, viewers can at least be assured of good performances as a direct result of this stage fixation. ó NF