Dauntless Dutt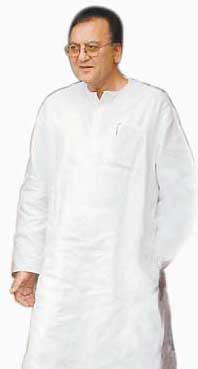 He stands tall as a politician with a humane face, who has contributed immensely to the cause of spastic children and cancer patients. V. Gangadhar traces the rise and rise of Sunil Dutt, the new Union Minister for Youth Affairs and Sports, whose rags-to-riches story reads like a movie script. Overcoming the many lows in his personal life, this matinee idol has gone from strength to strength: he is not only a loving and supporting father but also a social crusader and politician whose popularity cuts across party lines
MP or not, Sunil Dutt's Pali Hill office in Mumbai suburb Bandra is always crowded with friends, party workers, members of the film industry and poor people seeking help. Slum dwellers approach him for power and water connections, friends and relatives of cancer patients cry out for admission in hospitals, parents of retarded children ask for help from the Spastics Society of India, of which Sunil Dutt was the chairman. And, this actor-cum-politician has a word of comfort and smile for everyone.


Power and position, however, have never been the goals for this fifth-time Member of Parliament from the prestigious Mumbai Northwest constituency who has now been inducted into the Cabinet as Minister for Youth Affairs and Sports. "He is among the few who never demands anything from the party for which he has brought glory in Mumbai," explains a politician friend. "Dutt saab is quite happy serving the people in his own way."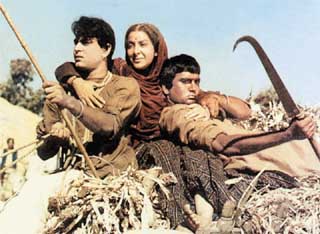 A scene from Mother India: Dutt (right) married Nargis after the completion of this movie
In Bandra as well as in the rest of Mumbai, no one thinks of Dutt as just a politician. His daily routine is jam-packed with engagements connected with development, health, education, films and entertainment and pubic welfare. A matinee idol who had starred in more than 70 films, he is a devoted family man and a tireless social worker. More important, he has bounced back time and again from personal tragedies which would have pulled down a lesser man. In public life, Dutt symbolises the never-say-die spirit.
His life, in a way, is a rags-to-riches story. But Dutt has even gone beyond the rich stage to represent resilience, positive secularism and clean politics. In a recent newspaper report, producer-director Mahesh Bhatt described how while driving along the deserted streets of riot-torn Mumbai in 1992, Dutt comforted actor Naseeruddin Shah, who wondered if he and his family should leave India and settle down elsewhere. "Naseer, things are very bad for secular India," observed Dutt, "but believe me, Mahesh, you and I and can join hands and rebuild what has been torn apart."
Over the years, Dutt has done his bit to provide a healing touch to a communally torn India. Shocked by the violence in Punjab, Dutt turned into a padyatri with no political agenda. During his 76-day, 2500-km walk from Bombay to the Golden Temple in Amritsar in 1987, Dutt overcame terrible heat, a bout of jaundice and blistered feet to address more than 500 roadside meetings. He stressed that violence would not help any cause. The police warned him that he was a target for terrorists but he shunned security and marched to the Golden Temple, where he was accorded a rousing reception.
The padyatra was repeated some time later, when protesting against the proliferation of nuclear weapons, Dutt Saab marched from Hiroshima to Nagasaki, demanding a ban on nukes. "Did God create the world for it to be destroyed by his own children?" he asked. "Each one of us should do our bit to fight nuclear proliferation."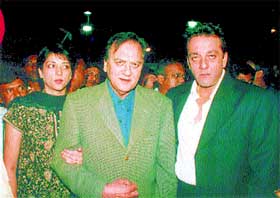 Back to the arclights: Dutt with daughter Priya and son Sanjay at the premiere of Munnabhai MBBS
Such true grit came naturally to a person who arrived in Bombay at the age of 18 with two pairs of clothes and Rs 25 in his pocket, determined to bring back the good times for his family which had lost everything during Partition. Holding a clerical job with the Bombay Bus Service and sharing a room with six others, which often necessitated sleeping out, Dutt studied in Jai Hind College and made some extra money by anchoring cultural shows. He interviewed film stars over Radio Ceylon. His good looks and deep voice prompted producer Ramesh Saigal to offer him the hero's role in the film Railway Platform.
From a village lad to a film hero: the transformation was difficult as well as embarrassing. Sunil Dutt fumbled during romantic scenes in Railway Platform and almost got sacked. How could a young man who had never looked a young girl straight in the eye embrace the bare legs of the actress playing a cabaret dancer? He repeatedly fumbled, and got the shot right only when the director threatened to replace him. Dutt soldiered on and was soon an established hero. The turning point came in 1956 when producer Mehboob Khan signed him to play the son of leading lady Nargis in Mother India. For Nargis, it was the role of a lifetime. For young Dutt, it was a pleasant discovery that Hindi cinema's number one heroine cared for family values. She helped Dutt's sister when she underwent surgery and came close to his mother. And when Dutt rescued his leading lady from a fire in the sets, they discovered they were in love and got married. Three children followed.
Nargis quit the screen but Dutt, in an effort to tackle more meaningful roles, produced experimental films like Yaadein and Reshma aur Shera, which while winning international awards failed at the box office. "They were excellent films, but much before their time," explained film critics. The failures led to a financial crisis, financiers hounded the family and Nargis was forced to knit socks for her school-going children. Relishing the challenge as usual, Dutt produced a masala film Nehle pe Dehla and was back on his feet. While retaining the He-man image, he also excelled in soft romantic films like Sujata and Milan as well as outrageous comedies like Padosan.
Filmmaking did not deter Dutt and Nargis from following public affairs. They admired Jawaharlal Nehru, who had suggested that the film industry should do something for the jawans. Dutt and Nargis formed the Ajanta Arts Cultural Troupe and, roping in leading actors and singers from the film industry, held stage shows at border areas. "Though we often roughed it out, sleeping in tents and shivering in sub-zero temperatures, it was worth it," recollects actor Shammi, a close family friend. When East Pakistan was liberated and Bangladesh born in 1971, the Ajanta troupe was the first to perform at Dhaka.
The Dutts donated Rs 1 lakh to the National Defence Fund and grew closer to the Nehru family. Nehru enjoyed watching Sujata, which dealt with untouchability. The Dutts bonded well with Indira Gandhi too. Nargis was nominated to the Rajya Sabha in 1980, and was urged by Indira to take up the cause of spastic children. The former actress became the chairperson of the Spastics Society of India, but disaster struck the family later in the year when Nargis was diagnosed with cancer of the pancreas. Dutt took her to the best clinics, including the Sloane Kettering Cancer Centre in the US. She underwent five operations but died in May, 1981.
Dutt was inconsolable. He fought the conservatives to give his wife a traditional Muslim burial. And then the family, to its shock and dismay, discovered that Sanjay Dutt had become a serious drug addict. Helped by daughters Namrata and Priya, Dutt stood by his son as he underwent treatment in four clinics in two countries before he was cured. Dutt often wondered why should this happen to him. For a brief period, he took to drinking and smoking heavily. "Then I thought of my mother and the sufferings she had endured to bring us up. That gave me courage and hope and I realised I must play the roles of both father and mother to my children," Dutt said, recalling those black days
But memories of the cancer-stricken Nargis would not fade away. Dutt remembered how his wife had told him that something needed to be done for poor cancer patients. In 1982, he set up the Nargis Dutt Memorial Cancer Foundation in New York which began to collect funds for cancer equipment in Mumbai's Tata Memorial Hospital. Today it is one of the best-equipped hospitals in the world. Dutt continued to make films. One of them, Dard ka Rishta, dealt with the anguish of cancer patients.
Appointed the Sheriff of Bombay in 1981, Dutt was persuaded by the Gandhi family to enter politics and contest the Lok Sabha elections from Bombay Northwest. His reputation and clean image helped him win successive Lok Sabha elections, defeating formidable opponents like famous criminal lawyer Ram Jethmalani and Shiv Sena stalwarts such as Madhukar Sarpotdar and, more recently, Sanjay Nirupam. Hugely popular with the masses, Dutt was accused by his political opponents of finding a vote bank in slum dwellers. He replied to this charge, "When people with absolutely nothing and those with at least something come for help to me, I am inclined to help the former." Dutt did not contest the elections when his son Sanjay was arrested and jailed under TADA for alleged possession of illegal weapons. It was yet again a harrowing time for the Dutt family. "My political opponents accused me of being a traitor," lamented Dutt. "Had they forgotten what my family and I had done for the Congress and our jawans?" Once again the family stood behind Sanjay though it broke their hearts to see him behind bars.
Strangely enough, the one leader who stood by the Dutt family was the Shiv Sena boss, Bal Thackeray, a bitter opponent of the Congress. "I will always be grateful for Balasaheb," acknowledged Dutt. "Our political views are different, but I respect and admire him in personal life."
Once again the never-say-die spirit dominated. With Sanjay out of jail (the final judgement on the case will be delivered within the next few months) and regaining his place as one of the top heroes, Dutt was back in politics. For a change, he staged a comeback into films, playing Sanjay's father in Munnabhai MBBS, which was widely acclaimed. He survived an air crash, which kept him out of public life for some weeks. In Congress politics, even while keeping away from different groups, he remained a trusted aide of Sonia Gandhi and was among the first ones to receive a ticket for the Lok Sabha poll.
Dutt's popularity cuts across party lines. He is equally at home with people from all sections of society, be they slum dwellers, glamorous film stars, professionals, Rotarians or the Page-three crowd. His appointment as Minister for Youth Affairs and Sports has been well received. "He is not old at all," pointed out an aide. "Dutt saab is young at heart, he understands the modern youth better than most others. He is often seen with Sanjay's friends, helps out with parents of spastic children and plays with the kids too."
What gives Dutt the inner strength to fight his never-ending battles? "I take things as they come," he replies. "You help others, and someone up there, helps you. We should never give up hope."