Rulers of the kingdom of music
In the beginning was Nada, the first sound, from where all music came. It was by far the best introduction music could ever have. After that, there have only been attempts. He who made Nada also made magicians who could spread this ether. Adman Ashok Roy brings back the magical face of Indian classical music and Aditya Rishi comments on how he has succeeded in this.
Music Makers: Living Legends of Indian Classical Music
by Ashok Roy.
Rupa & Co. Pages 333, Rs 995.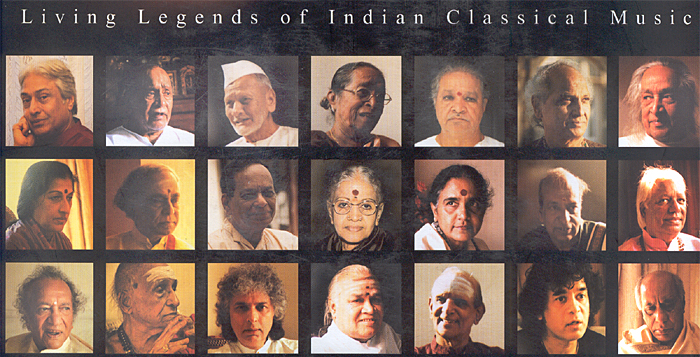 In an ancient kingdom, not very far, lives a man who is unaware of his riches. Emperors challenge each other to great duels in his capital to be able to draw his attention and occupy that special place in his heart.
Such mighty conquerors, he often muses, he can't ever comprehend their power. Priceless gems he steals everyday and yet considers his divine self to be among the poorest of the poor.
What an enchanting kingdom. Here, being a thief is a matter of honour. The profession itself presents enormous challenges. It may take a lifetime to steal just one note, and if you can steal a heart, you are the mightiest thief of them all. This is the kingdom of music and I am its ignorant Lord.
I have a small matter at hand, of discussing a book, the subject of which is music makers. The author is from a different planet, where success is defined by how well you can bring out the oomph in an ice cream or measure the sex appeal in a hair conditioner. He has chosen to delve into the octaves of a far more difficult art and used all the graphic tools of a master adman to stitch together retention and nostalgia. The visual surprise is quite expected.
If he had the craftiness of a journalist or the spirit of an archaeologist, he could have gone deeper inside the goldmine of which he has just shown us the lustrous surface. This book could have ended up at the coffee table for just the same reason had he not laboured to collect all the gems he could. The sight of such a treasure will probably kill a poor Lord like me, and who wouldn't like to die at the feet of such saint soldiers of contemporary Indian classical music.
All musicians are poor; this is the law, but they have a rich tradition to fall back on. It's the war of attention between the emperors of this rich tradition that raised this Lord from his Yoganidra, the eternal sleep, the state of zero energy. The more I see, the less I know.
From what I see, it's a sketchbook. It has life sketches of the living legends of Indian classical music—21 exponents of Carnatic as well as Hindustani Shastriya Sangeet (Semmangudi Srinivas Iyer, Bhishma Pitamaha of the Carnatic vocal tradition, was still living when Ashok Roy had finished writing Music Makers; his death he acknowledges with profound regret).
It is also a talking book. With Ashok Roy as medium, it's you who actually converse with the great spirits from the present. Name one artiste you think is worthy of mentioning and Ashok has him or her giving you "direct answers". Ashok has written this book, or should I say put it together, with much pleasure, but the ink still reeks of sweat.
Add a dash of occult, a spoonful of spirituality and the traditional secret ingredient of anecdote to it, and you have a perfect book for your coffee "temple", if you have one. Lalgudi Jayaraman stole his music from a teashop. You can steal it from a coffee table, if you have it in you to hear the notes hidden in the paper. Krishna Maharaj got it by playing tabla for the spirits in a cremation ground, a dangerous pursuit. His father paid with his life treading this path.
David Ogilvy, father of advertising, once said: "Perhaps the most important thing of all is to avoid standardisation in your sales talk. If you find one day saying the same thing to a bishop and a trapezist, you are done for." Ashok has turned on its head the traditional wisdom of the ancient masters of his first profession. To each he has asked the same questions; his favourite: "Is a war going on between the two branches of Indian classical music?"
If tomorrow there is actually a war between Carnatic music and Hindustani classical music, you know who started it. There is no war, say the maestros. The rust of time hasn't dulled those pictures of perfection at all. This book is sold; classical music will never be.