Young faces, new agenda
The Tribune team of Tripti Nath, S. Satyanarayanan and Prashant Sood talk to the new MPs about their hopes and aspirations.
THE 14th Lok Sabha, has the single largest bloc of fresh entrants, nearly 175. Many of these are first timers in their 30s. Rahul Gandhi, the most-splashed young face of the Congress, is not the only symbol of youth power. Giving him company are many more who are fired by the desire to make a mark in politics with their own agenda. The young MPs are united in their freshness of approach and zeal to bring about change as they are unencumbered by their past political baggage. Products of the media age of rapid-splice images and smart soundbytes, many are convincing speakers who can articulate issues and command attention. They are also media savvy and surer of what they want and how to go about it. These youngsters display a contagious enthusiasm that cuts across party lines and ideology. Thirtysix-year-old Dayanidhi Maran, the DMK MP from Central Chennai, was involved in drafting the Common Minimum Programme of the United Progressive Alliance.
Others too will cut their teeth and make their presence felt in the Lok Sabha since a majority of this young brigade is convinced of the need to maintain decency and decorum in politics, irrespective of party affiliations.
If the corporate world finds representation, so does sports. Eminent sportspersons- Navin Jindal, a national level polo player, Navjot Singh Sidhu, former cricketer and commentator and Jyotirmoy Sikdar, an athlete, have contributed immensely to their respective sport. More than party affiliations, it is sportslovers who are their constituency. Manvendra Singh and Tejaswini Sreeramesh quit journalism to join politics, the former a defence expert, while the latter anchored an immensely popular TV programme for a decade. The eldest member in the new house is 94-year-old Ramchandra Veerappa, while the youngest is 26-year-old Sachin Pilot. The average age of the MPs in the 14th Lok Sabha is 52.7 years. The MPs we talk to are well below the average age but far ahead in their ideas and aspirations.
I am a symbol of streeshakti


Tejaswini Sreeramesh, Cong
Tejaswini Sreeramesh, the Congress MP from Kanakpura, defeated the JD (S) candidate and former Prime Minister, H.D. Deve Gowda, by a margin of 1,22,000 votes from the prestigious Kanakpura seat. Tejaswini, one of the most visible faces in Kannada journalism, is now on the threshold of a challenging political career. She is determined to bring about a qualitative change in the lives of people.
A law graduate and a postgraduate in political science, Tejaswani, 36, earned fame through her weekly television programme Mukha Mukhi (Face to Face). The programme gave her an opportunity to interview well-known political leaders. Due to the popularity of the programme, she came to be known as Mukha Mukhi Tejaswani in her home state. A news editor with Udaya TV, Tejaswini resigned on March 31, ten minutes before filing her nomination. "Kanakpura is a very prestigious constituency. It has 27 lakh voters in eight assembly segments and has been represented by stalwarts like Kengal Hanumanthaiah credited with building the Soudha (Vidhan Sabha), Ramakrishana Hegde and C.K. Jaffer Sharief," says Tejaswini. D.K. Shiv Kumar, Urban Development Minister, who lost to Deve Gowda in the 2002 byelection was offered the ticket again this time. He suggested my name. I represent Yuvashakti and Strishakti, besides I come from a farmer's family.''
Tejaswani says that "Half of all MPs in the Lok Sabha should be youngsters" because they make better leaders as they are more energetic and more receptive to ideas. She is also grateful to her journalist husband who took leave to accompany her for canvassing. She enrolled for a doctorate on Kashmir in Bangalore University. "A woman alone can shoulder so many responsibilities. I've great will power and am inspired by Sonia Gandhi." She is looking forward to her maiden speech in Parliament and wants to redress the grievances of farmers and adopt measures to prevent drought. She feels the hate campaign against Sonia Gandhi was in bad taste. Sushma Swaraj had the opportunity to defeat Sonia Gandhi from Bellary but couldn't.
Biggest challenge is drinking water for each household


Manvendra Singh, BJP
Manvendra Singh, the son of former Finance Minister Jaswant Singh, won the Lok Sabha elections when he wrested the Barmer seat from the Congress, after 50 years with a margin of 2.72 lakh votes. The 40-year-old Manvendra, who resembles his father in manner and style, dismisses the perception that he was forced into politics by his father. He decided to join politics when "In April 1999, I saw on television an Italian lady claiming to have the support of 272 MPs...that bothered me so much because I strongly felt that a person of foreign origin should not be allowed to occupy high constitutional positions." He says it was his own decision to opt out of journalism and join politics.
A Masters in history from London University, Manvendra worked as a defence correspondent with a national daily before serving the Territorial Army. Living up to the expectations of people and meeting them as well as accountability is a greater challenge for this journalist-turned politician.
Sanitation is top priority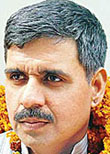 Sandeep Dikshit, Cong
Sandeep Dikshit, 39, who has been elected to the Lok Sabha  from East Delhi, wants to give top priority to removing poverty and unemployment. These were issues that concerned me  even during my work with an NGO," he says.
Son of Delhi Chief Minister Sheila Dikshit, Sandeep feels that the political legacy of his family was only incidental in winning his  first election. "There was a pro-Congress atmosphere from which all party candidates in Delhi benefited. The work of the Congress government and the party's campaign also helped. People voted for me because I was a Congress candidate," he says.
The Congress MP feels the people governing the country should have adequate experience and ideas to deliver. Representation to the youth is important but people in government should also understand issues," he says. The gap in policy and its implementation was among the reasons that motivated Sandeep to join politics. Among the areas of immediate concern to him in East Delhi are sanitation, infrastructure and transport.  He also wants to work for the further success of the National Capital Region to ease the pressure on Delhi.
Make system more transparent


Sachin Pilot, Cong
Sachin Pilot, 26, who won from Dausa in Rajasthan, wants to work for bringing greater transparency and accountability into the system. He says those in governance must have answers to people's queries. "We need to tackle corruption which is very deep-rooted," he says.
The MP has been working among people in Dausa for the past four years. ``The party in its wisdom decided to give me a ticket," he says.
Inspired by Sardar Patel and Indira Gandhi, Pilot sees "politics as a medium for public service."
Acknowledging that the political legacy of his father Rajesh Pilot gave him an advantage in the Lok Sabha election, he wants to prove himself through his work to continue winning from his constituency.
People of Jhalawar are part of my family


Dushyant Singh, BJP
Initially reluctant to contest the Lok Sabha poll, Dushyant Singh,30, says he was finally asked by the BJP to contest from Jhalawar which his mother Vasundhara Raje Scindia had won continuously since 1989.
Dushyant says that providing water for drinking and irrigation purposes is top on his agenda.
"I consider the people of Jhalawar as part of my family and their welfare is my main priority," he says. Refusing to voice aims that are too high, he says that if all MPs take care of their constituencies, the country will be a happy place.
Dushyant feels that the BJP has been giving emphasis to issues concerning the youth and building a young leadership. Unwilling to answer questions about his being seen as a political heir to his mother, who is the Chief Minister of Rajasthan, Dushyant says his only focus is Jhalawar.
Plan to expedite development work


Milind Deora, Cong
Milind Deora, 27, who won from Mumbai South, attributes his electoral success as much to his political background as to his own efforts to nurse the constituency in the past two-and-a-half years. His father Murali Deora has been a long-time president of the Mumbai Regional Congress Committee. He says being an MP will help him expedite development work in the constituency. He feels that political parties in Parliament should work together for the common good. "We may have differences outside, but inside Parliament, we should come together," he says.
The young MP feels the new government at the Centre should have the right blend of experience and energy of the youth. There are many elder parliamentarians who also cater to aspirations and needs of the youth, he adds. He is one youngster who would like to ensure that the a scheme should be in place to protect the savings of senior citizens.
Get youth interested in politics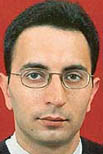 Jitin Prasada, Cong
Jitin Prasada, 30, who won from Shahjahanpur, attributes his electoral success to the popularity of his late father Jitendra Prasada, a key aide of former Prime Minister P.V. Narasimha Rao. " I sought votes in the name of my father," he says.
Having nursed the ambition of contesting from the seat for the past three years, he says he was finally fielded as the Congress found him a suitable candidate. "I have been moving in the constituency for the past three years, trying to know the people better," he says.
Prasada wants to kindle an interest among the educated youth for governance and politics.
"Educated youth are distancing themselves from politics. I want to revive their interest," he says. The MP feels that it will be up to the party leadership to decide the kind of representation to be given to the youth in the new government. The experience of running an NGO is bound to come in handy.