TELEVISION
No more Director's Special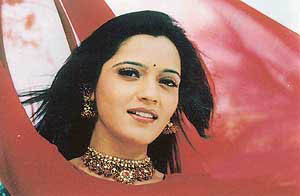 Jividha: Money troubles
It's been a bitter parting of ways amid accusations and counter accusations. First, Jividha was out of Aroona Irani's Tum Bin Jaaon Kahan and now she's been shown the door from her other serial Zameen Se Aasman Tak on Sahara Manoranjan.
According to rumours, Aroona accuses Jividha's interfering husband for all her problems. But other reports say Jividha wasn't paid her fee though she was working 15 hours a day.
Such is the bitterness that Irani wishes she had never cast her opposite Karan Nath in her film Yeh Dil Aashiqaana. And Jividha reportedly never tires of accusing her of cheating.
Whatever the reasons, now Aroona has turned to her favourite actress Sangeeta Ghosh to replace Jividha in Zameen Se Aasman Tak. Initially, Sangeeta was sceptical about playing a bar dancer and doing a daily soap. " But I couldn't say no to Aroonaji," she confides.
So Jividha's loss is Sangeeta's gain, is it?
Flight of fancy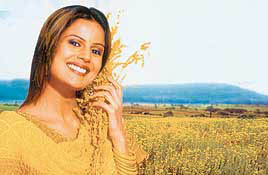 Nandini in Kesar: On cloud nine
Although she was a Jet Airways airhostess but her idea of flying high was something different. She wanted to soar in the world of glamour. So she gave up her job and opted for the uncertain world of showbiz.
Today, just a few music videos and one-movie old, Nandini Singh is already a much sought-after star in films and television.
Ask Ekta Kapoor and she can't stop praising the young lady who is doing the lead role in her latest serial, Kesar, being aired on Star Plus. Nandini plays a small-town girl whose marriage to a millionaire completely transforms her life.
Though it may not be the most original storyline but Nandini says she's so inspired that she wants to give only her best to it. She says the role is giving her a higher creative satisfaction than she got playing the lead in David Dhawan's Ek Aur Ek Gyarah.
And no, she won't be taking any film offers that come her way. "After such a good serial I'll accept only top quality films." Which must rule out Ekta Kapoor, whose films have hardly set the box office on fire.
Mysterious guy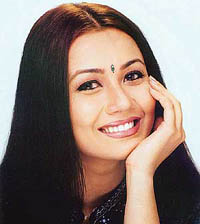 Nausheen: A new role now
She may be facing a drought as far as serials go but Nausheen Ali Sardar is ecstatic for an altogether different reason—she says she's finally found her Mr Right.
And who would that man be? No names, she says but confides that he's an upcoming star with fire in his belly. " If I say anything else you'll guess who he is."
But why this secrecy? Nausheen's reasoning is curious " Look what happened to Raveena Tandon after she broke off with Akshay Kumar. Nobody pointed fingers at him and Raveena had to take all the blame."
Nausheen, who recently walked out of Kkusum because she didn't want to "suddenly grow older by 20 years," doesn't have another serial to her name. But she says there are some offers that she's looking into.
So what does this Indo-Iranian beauty do in her free time? Dabble in theatre and of course, spend time shaping up the career of her mystery boyfriend.
— NF