Hussain calls it quits
Rubinder Gill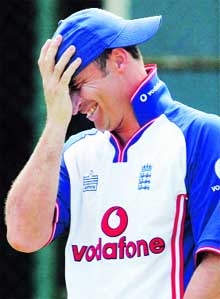 Finally Nasser Hussain confirmed what all were expecting. He decided to say goodbye to all forms of cricket after taking England to victory over New Zealand in the first Test at the haloed ground of Lord's.
Hussain, in his indomitable way, chose to walk away from the game when his place in the team was more than assured. The great tactician, who liked to stretch the rules to the limit, said he was making room for youngsters like Andrew Strauss.
This was not the first act of renunciation from the obdurate Hussain, who refused to give opposition an inch as a captain as well as a player. He not only gave up the one-day captaincy but also his place in the team after the World Cup, making way for younger players, who would serve England better.
In the same vein he walked away from Test captaincy, paving the way for Michael Vaughan to take charge, who Hussain said would be a more inspirational leader after Vaughan had produced the results in one-dayers.
Hailed England's best captain after the legendary Mike Brearley, Hussain(36) captaincy will be remembered for freeing England from the bottomless mediocre mindset that had become their bane after the era of Ian Botham and the three G's (Gatting, Gower and Gooch) came to an end. He was forced to take the aid of sheer tactics to compete with other teams, thereby taking the rules to the limit and starting unnecessary controversies.
With meagre resources at his disposal he was often forced to defend. In 2001, while touring India, to contain a rampaging Sachin Tendulkar, he asked Ashley Giles to bowl way outside the leg stump. It robbed the match of spectators as well as charm. Tendulkar finally got tired of not being able to play a ball for hours, charged out and got stumped for the first time in more than twelve years of international cricket.
Paying tribute to Hussain after his announcement, Tendulkar, while brushing aside the controversial tactic, said his ploy was within the rules. He also called him a great tactician and one of the best captains he had played against.
Hussain restored the sense of self belief that the England team had lacked for quite a while. Innumerable times he rescued his team from perilous situations, saving the best for times of distress.
Hussain played 96 Tests for England, scoring 5764 runs at an average of 37.18, which is much higher than many of his illustrious predecessors. He also played in 88 one-day internationals and captained England in 45 Tests.
"At 10 for 2, I have done it for you." That was the gritty Hussain who served England for 14 years.