Bollywood's new badshah
His movies dare to be different and offbeat. Yet, they turn out to be box-office grossers and strike a chord with the masses. Saibal Chatterjee finds out what makes the non-conformist Ram Gopal Varma a hit in showbiz.

Factory fare: Scenes from some of Varma's films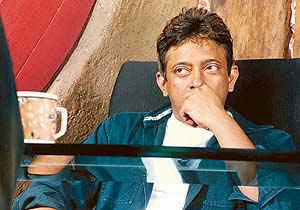 TRUST Ram Gopal Varma to achieve the seemingly unattainable. Steadily, assertively, and without the ballyhoo one usually associates with the badshahs of Bollywood, the 42-year-old Hyderabadi has brought a bit of the past roaring back into the frame of Hindi popular cinema even as the crisis-ridden Mumbai film industry strives to stride into the future of the entertainment business. Varma has acquired the aura of an old-style studio boss.
The studio system has now been dead for more than half a century. The process to usher corporate norms into film production has been in motion for nearly a decade. But it is only of late that something akin to the methods that New Theatres, Bombay Talkies, Gemini Studios or Prabhat Films once followed has been revived in Bollywood. An entity called the Factory is in the forefront of this embryonic revolution.
At the helm of the Factory is Varma, who combines the panache of a dealmaker, the poise of a corporate honcho and the flamboyance of a creative powerhouse. No Mumbai filmmaker has groomed as many new directors since Bimal Roy. Varma is a compulsive risk-taker, but he knows exactly where he is headed. Had it not been so, his Factory would have spluttered out of business by now.
At the Cannes Film Festival last year to promote a slew of Varma Corporation films, one of his closest associates provided an insight into the secret of the man's singular success: "Ramu goes into talks with a financier with a Rs 6-crore proposal and usually comes out with Rs 18 crore." Varma trusts his ideas and, more importantly, knows how to convince others.
Says Varma: "There is room here for all genres." He detests the formula despite having grown up on a medley of the 1970s' masala movies. "As a student, I devoured films like Yaadon Ki Baraat and Chori Mera Kaam," he recalls. But he hates family dramas. "I do not see myself ever making a mushy family saga. I can't stand them," says Varma.
That reveals a vital part of the now-famous Varma mindset. He will never make a film that he himself would not want to watch even if that means forgoing a commercially viable recipe. Ever since the days he honed his skills in his native Telugu cinema, Varma has followed the practice of producing films directed by his assistants. In Hyderabad, he gave former assistants like Sivanageshwara Rao and Krishna Vamsi their first breaks as independent directors.
In Mumbai, he has raised that strategy to unprecedented levels by adding a new name to the list virtually every other month. E. Niwas, for whom he produced the searing cop drama Shool, is a Bollywood director in his own right today. He plucked adman Rajat Mukherjee out of nowhere and let him direct Pyaar Tune Kya Kiya and Road. Varma has since produced films directed by several other prot`E9g`E9s, Prawaal Raman (Darna Mana Hai), Chandan Arora (Main Madhuri Dixit Banna Chahti Hoon), Sriram Raghavan (Ek Hasina Thi) and Shimit Amin (Ab Tak Chhappan). Though neither of these films has set the box office on fire, each one has broken new ground in the context of Mumbai's commercial cinema.
The proven efficacy of the Varma model – he runs his production outfit like a repertory company manned by salaried writers, director and technicians working on about 10 films at any given time – has inspired older players in the Mumbai film industry like Yash Johar and Yash Chopra to adopt the many-projects-at-a-time approach. Chopra has already groomed two brand-new directors Sanjay Gadhvi (Mere Yaar Ki Shaadi Hai) and Kunal Kohli (Mujhse Dosti Karoge and Hum Tum), while Karan Johar, buoyed by the success of Kal Ho Naa Ho, has drawn up plans to launch three films in one go, two of which are to be directed by former assistants.
And now, Ronnie Screwvala's UTV, on the heels of the success of Chalte Chalte, has floated a Hollywood-style studio model for the production of a slew of films. The difference lies in the fact that UTV seeks to bring established directors like David Dhawan, Aparna Sen, Prakash Jha, Farhan Akhtar, Ashutosh Gowariker and even Varma himself into the fold of its experiment.
RGV's Factory, in contrast, continues to thrive largely on the directorial and scripting talent of newcomers, thereby creating and occupying an alternative space within the conventional Bollywood film production sector. Varma's principal contribution lies in identifying and encouraging new ideas and voices and taking the films all the way up to the marketing stage.
Hits and flops have, of course, never unduly bothered Varma. "Bollywood lapses into generalisations when it talks of hits and flops," says the feisty filmmaker. "I did not lose as much money on Main Madhuri Dixit Banna Chahti Hoon as many other producers would do on far bigger films."
After a somewhat chequered 2003, which saw the Varma Factory deliver one smash hit (Bhoot), one average success (Darna Mana Hai) and one resounding flop (Main Madhuri`85), he has already churned out two talked-about releases this year — Ek Hasina Thi and Ab Tak Chappan. The list is all set to swell. On the floor is a wide array of signature films, including the unusual Murder at 2, which has two versions with different endings, Galti Se and Jaan Bujhke.
Other RGV titles in the pipeline: a horror film Vaastu Shastra featuring Sushmita Sen, a musical love story Naach, the action-packed James, a film that, in Varma's words, is designed to revive the 1970s' Hindi film hero, "Somebody like Amitabh Bachchan in Deewar and Trishul", a sequel to Darna Mana Hai and Prawaal Raman's second film, Ghaayab, about a man who goes missing.
It is a clear case of a continuous count. "I do not make films because I want to mint money. I make money because I want to make the kind of films I believe in," Varma declares. "As long as the hits and flops even out and the balance sheet looks right at the end of the year, the occasional disappointments do not really matter. The science of survival lies in rightsizing of films."
Yet, the failure of Main Madhuri`85 still rankles deep down somewhere. "The film did not even take an initial and that was very disheartening," Varma admits. "Main Madhuri`85 was a sweet, simple film. People do not seem to be interested in that kind of cinema anymore."
One reason for that, feels Varma, is the fact that films no longer have the luxury of protracted runs. If a film does not strike an instant chord, it is out by the second week. It was very different when Varma was growing up. "For instance, when Chit Chor was released, I saw the film in the seventh week," he says. "It was slow to pick up but went on to become a huge hit." But that was 1976. This is a new millennium.
He has, therefore, veered away completely from the narrative conventions of the Mumbai films of his boyhood days. In the past 12 months, he has produced/directed as many as four films without songs and dances. And yet Varma believes that his cinema doesn't really represent a clean break from the past.
"Ab Tak Chhappan," he argues, "is like a present-day version of, say, a Yaadon Ki Baraat." Back then, he recalls, when Shetty, the one with the shining bald pate, would uncork a bottle with his teeth it would send people into raptures. "If we show that today it might look silly, even corny. But a contemporary film seeks to achieve exactly the same effect as Yaadon Ki Baraat in the 1970s," he says. Only the methods have changed, he adds, while pointing out that even Rangeela "was essentially like a Basu Chatterjee film in its simplicity although the scale was much larger."
The loyalty that Varma commands from his prot`E9g`E9s is remarkable. Rajat Mukherjee insists that he does not belong to the Ram Gopal Varma camp but he would "love to work with him again". Shimit Amin left a 12-year-old career in the world's movie capital, Los Angeles, to edit Bhoot "because I admired his approach to cinema". Sriram Raghvan is a self-confessed RGV junkie, having watched Shiva, Rangeela, Satya, Company, even the films that bombed, several times each. Mavericks are often loners. Not so Varma. He leads a bunch that packs a punch.
In the RGV factory, as is eminently obvious, the action never ceases. "A film is an idea. If it excites you, you pursue it all the way till the end. That is the credo I follow," says Varma. That perhaps explains why there are never any dull moments in the hyperactive world that Varma and the growing tribe of RGV acolytes inhabit.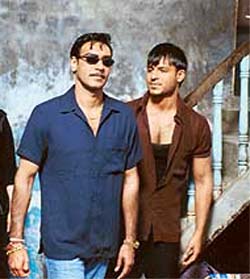 Ajay Devgan and Vivek Oberoi in Company
RAM Gopal Varma does not see himself as an auteur — a film director who influences his films so much that he ranks as their author. His creative credo is strictly consumerist: a film is a product and marketing is a key factor. But for him, commercial viability does not hinge on the presence of a big star. The trick lies in connecting with the audience on the strength of the available internal creative tools – the characterisations, the editing, the sound design, and the overall storytelling. Varma follows a simple principle. For him, half the battle is won if the characters in a film can strike a chord with the filmgoer. "The secret lies in the treatment of the characters," he explains. "Take Satya as an example. The criminals in the film come across as real people. But the audience has no way of knowing what real criminals are really like. They connect with the characters because of the way they talk, walk and behave, presuming instinctively that they reflect reality."
Probably Varma's technique isn't quite as uncomplicated as that. He constantly experiments with substance and form, and never repeats a genre if he can help it. And, the manner in which he uses the skills of his technicians to enhance the impact of specific sequences bears testimony to his innate grasp over the medium as well as his understanding of audience psychology.
In Company, which was positioned as a sequel of sorts to the gritty Satya, the cutting patterns were unlike anything seen before in commercial Hindi cinema. Editor Chandan Arora gave the film a staccato tempo by snipping off a scene even before it had ended and jumping on to the next. The deliberately jerky rhythm of Company captures the minds of edgy characters that live and survive in an amoral and risk-ridden world.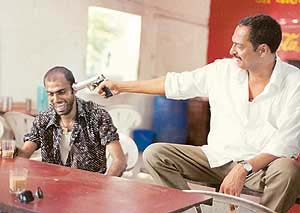 Nana Patekar in Ab Tak Chhappan.
— Photos by the writer
Varma uses a crankily fidgety camera, an intrusive background score, frequently distorted angles and defiantly unconventional cutting to create an atmosphere so thick that you could run a knife through it and still not reach the centre. He employs a linear narrative all right, but constantly resorts to ellipses and overlaps, both in terms of visuals and sounds.
Varma uses virtually the same set of techniques to achieve a completely different effect in the spooky Bhoot. Only, he resorts to minor tweaking – the emphasis here is more on the sound design than the editing. Varma relies as much on surprise elements as on stock devices to create an eerie atmosphere: sudden bangs and crashes, fleeting glimpses of an unwanted presence, an ominous looking security guard who keeps an eye on everybody who arrives and leaves, an elevator that that creaks its way up and down its dark, dank chute. Yes, Varma sees a film as a product all right. But it is never a product that gives itself away before the packing is peeled off.