The recent reports about military abuse in Iraq's Abu Ghraib prison involving two women enlisted in the US Army has thrown the spotlight on the rising aggression and violence among females. It has prompted crime prevention specialists and psychologists to reflect on the reasons for this aggressiveness and misdirected rage, writes Elayne Clift.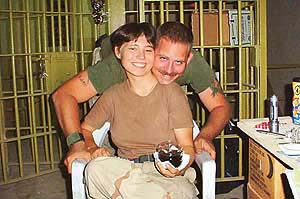 Charles A. Graner seen with Lynndie R. England in Abu Ghraib prison. England has been accused of assaulting the jail inmates and conspiring to ill-treat them. — AP/PTI photo
WITH the scandal about military abuse in Iraq's Abu Ghraib prison involving two women enlisted in the US Army, the reported rise in female aggression generally among American women and girls is garnering fresh attention.
Specialist Megan Ambuhl and Private First Class Lynndie England have both been implicated in prison abuse allegations, and both will stand military trial. In several disturbing images broadcast worldwide, England has been shown mocking naked prisoners in autoerotic acts and holding a prisoner by a lead around the neck. In a New York Times article published recently, she claims to have been acting on orders but she has declined, in sworn testimony, to name any superiors who gave such orders. She has also denied having been told specifically how "to break" detainees.
Abu Ghraib prison was in the command of another woman, Brig-General Janis Karpinski, during the time of the abuse perpetrated by American military personnel. Her role in the events has yet to be determined but it has been noted in the well-respected report of Major General Antonio Taguba that Karpinski was not paying enough attention to prison operations. Prison standards were lax, the report said, and previous abuses or breakdowns in military codes of conduct went unheeded and unpunished.
All of this is disturbing in the light of other acts of violence that have been reported recently. For example, in April, 2004, in Baltimore, 2-year-old Nicole Townes was nearly beaten to death at a birthday party by another girl. It is feared that she will suffer permanent brain damage. In another widely reported incident some months ago, 12 high school girls in Cook County, Illinois, were formally charged with assault as the result of a school ragging.
A plethora of recently published books on the subject of female aggression range from Phyllis Chesler's Woman's Inhumanity to Woman to Rachel Simmons's Odd Girl Out: The Hidden Culture of Aggression in Girls. Sharon Lamb's The Secret Lives of Girls: What Good Girls Really Do - Sex Play, Aggression, and Their Guilt, and Rosalind Wiseman's Queen Bees and Wannabes: Helping Your Daughter Survive Cliques, Gossip, Boyfriends and Other Realities of Adolescence are also available. All of them speak in one way or another of the documented increase in violent or aggressive behaviour among females in American culture.
According to these sources, there is solid research to support the fact that girls and women of all races, social strata, and geographical boundaries are exhibiting aggression or behaviour clearly intended to harm others. This behaviour can be as subtle and innocuous as a roll of the eyes, or as serious and dangerous as physical attack.
Relational or alternative aggression, as female aggression is often called, is defined as "aggression that cannot, for one reason or another, be directed (physically or verbally) at its target". In other words, when girls can't be direct, perhaps because of how they've been socialised, or because they risk retribution or other punishment, they find other ways to express their anger and contempt.
But what happened in Baltimore and Illinois - and quite possibly in Iraq - signals a different kind of acting out among females, one that lends itself less to sympathetic interpretation and more to serious scrutiny about female-perpetrated acts of violence.
Some analysts have suggested that in some sense, owning their own human capacity to be angry seems healthy for women given the social constraints under which they live. Females are generally taught to be good, nice, patient, and quiet, and to value intimate relationships while never being able to express disappointment or rage in those intimate relationships, because "everyday acts of conflict would result in the loss of people most cared about".
Seen in that light, it's not hard to empathise with females who learn to express their anger in covert ways, or exhibit their aggression "below the radar screen". In her historical and biological defence of female aggression in Woman: An Intimate Geography, Natalie Angier says, "It's a man's world, but our aggressions are woman-centred, harsh and intimate."
But experts note that what is appearing now is different and worrying. The aggression is getting more violent, it is appearing in children, and it is evident in institutions such as the military. Some people have suggested that women's behaviour in settings like that of Abu Ghraib is conditioned by the males in charge who establish a culture of power. Others say that youth and inexperience are a factor. Still others think that critical mass is needed to change behaviour, and that when there are more women in positions of power within the military, its culture will shift.
While macho systems and patriarchal dominance may be a factor in terms of increasing female violence, especially in settings like prisons and the military, female aggression is obviously connected to larger cultural issues that researchers are beginning to address.
It will take a while to assess what is really happening and to test theories of female aggression, whether in schoolyards, prisons, or elsewhere.
In the meantime, England, along with her colleagues, will face a court martial that could shed light on military violence, no matter who carries it out.