FORUM
What should the government led by
Dr Manmohan Singh do in running the affairs of the nation?

This is the third instalment of readers' views that we have received in response to this question.
Check population growth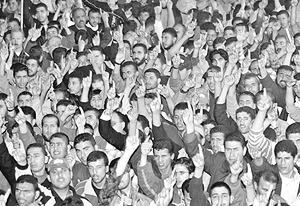 The government should introduce tougher measures to check population growth. It should issue citizenship cards to all. The records of internal migration can be kept by the police. Minimum wages should be raised considerably. Private employees should have security of service and proper pay scales. The second child should not be given the benefit of reservation. There should be a periodical medical check-up of every citizen. Practical measures should be taken to have a neat and healthy environment. Public modes of conveyance should be modernised. Punitive actions should be taken against officials using delaying tactics. The representatives of different departments should often meet for the prompt disposal of interrelated cases.
PARMJIT KAUR JASSAL,
Phagwara
II
The problems of common man cannot be solved unless population growth of India is stabilised. Till date, no government has shown its concern. I feel this problem should be given top priority by the new government.
H.B. Singh. London, UK
Set up commission to control population
The root cause of most of the ills of our nation can be traced to the population explosion and political reticence towards regulating, restricting and retarding the same. Total apathy towards the basic issue has added to the erosion of values, spiralling poverty, hunger, polarisation of society, retrogression of merit through reservations, ever-increasing crime, eating of resources generated through multi-faceted development, etc. The prime problem hardly finds mention in the so-called Common Minimum Programme of the governance.
Although belated, there is still time to catch the bull by the horns by setting up an independent commission for population control on the lines of the Election Commission or the proposed administrative reforms set-up to tame the executives. Apart from taking effective measures, we must consider the updated slogan "Just one daughter or son" as family welfare norm.
— K.N. DUTT, Chief Engineer (retd) Haryana
Reward honesty
There is no punishment for not working in this country. On the other hand, honest workers are punished. The easy way out for officials is to assign more work to good workers and less work to those who are not working. Stop this.
SUKHPRIT SINGH, Amritsar
Give priority to education
Put education, population control and infrastructure development on hot burner and see the nation making a beeline into the group of developed nations automatically.
Major SUBASH GUPTA (retd), Jalandhar
Suppress communalism, promote sport
The government led by Dr Manmohan Singh should do the following:
1. Suppress all communal forces.
2. Recharge the floundering small-scale industries.
3. Create new opportunities in the field of science, technology, industrial research and development.
4. Provide necessary opportunities for scientific progress.
5. Facilitate a pollution-free environment.
6. Promote healthcare and sport.
7. Solve the Kashmir problem with determination.
8. Control infiltration and cross-border terrorism.
9. Offer free primary education.
10. Eradicate poverty, illiteracy and unemployment, and control population.
KEWAL KRISHAN KAPOOR,
Ludhiana
Continue disinvestment
The government should continue with the disinvestment process in poor units. The funds raised through these units can be utilised for the social and economic uplift of the society. Efforts should be made for the development of rural and agriculture sectors through a co-ordinated strategy. To support the growth and development of manufacturing and service sectors, the contribution of agriculture in the GDP should be raised from the present rate of 26 per cent.
NAVDEEP GANDOTRA,
Gurdaspur
Make India shine
The UPA govt can make India shine in the real sense by controlling the population growth, finding solution to the caste-based reservation policy and weeding out corruption from the country.
SOM DATT GUPTA, Moga
Sell off loss-making units
The new government should take the following actions:
1. Development works should be carried out on war footing.
2. Encourage small-scale industries to generate more employment by simplifying outdated labour laws.
3. Sell off loss-making government undertakings.
4. Pending court cases must be decided at the earliest by increasing the number of judges and courts.
5. Government departments must revert to a six-day week schedule to increase efficiency.
6. The government should find ways to bring back unaccounted money of Indians deposited in Swiss banks.
7. Control population growth.
SATYA PAL,
Faridabad
Put more stress on healthcare
The government should put more stress on education, infrastructure and healthcare facilities, besides on diversification of agriculture and eradication of poverty. It must focus on research and technology and work for more patient rights to compete with the developed economies of the world. The policy of disinvestment may be followed, but not at the cost of employees. The allies should come forward by ignoring their regional interests.
MOHD SALEEM,
Ludhiana
Improve libraries
This government should give high priority to libraries and information (LI) centres in general and public libraries in particular.
The Public Library, as an institution upholding democratic and human values, has not received the attention it deserves in independent India. Though the public libraries come under states' jurisdiction, the role that the present government can adopt a national policy on library and information services.
H. P. S. KALRA
Punjabi University, Patiala
Revive socialism, meritocracy
A few of the suggestions are:
1. Monthly unemployment allowance of Rs 500 and Rs 300 for a maximum period of five years to the unemployed postgraduate and graduate students, respectively.
2. Now when there is a big disparity in the annual incomes of individuals, income tax slabs should be increased. No income tax on annual income up to Rs 2,00,000, 25 per cent up to Rs 5,00,000, 40 per cent up to Rs 1 crore and 60 per cent above it.
3. Five per cent seats for meritorious students from the poor strata of society, for whom education should be absolutely free.
4. To detoxify the education system, all professional colleges should be graded according to the infrastructure and facilities. They should be allowed to charge fees according to their grades.
MALVIKA SOOD, Chandigarh
Halt brain drain
Dr Manmohan Singh knows better about the priorities-elimination of poverty, tackling corruption and arresting unemployment.
Dr Singh, a man of vision, can succeed in channelling electric energy of the youth for constructive purposes.
If India is to join the developed nations, brain drain will have to be halted and work culture created where honesty, talent and commitment are rewarded. India has natural resources and manpower in abundance, and if this government uses all this properly through a pragmatic planning and sincere implementation, the day is not far when India will be a land of opportunities.
Dr ADARSH,
Bangkok, Thailand
Perform now
This new government has to perform from the word go. The brand that has to be built now is the "Common Man".
Let these powers realise all that the common man his dreams of is having a roof over his head, an opportunity to earn a decent living, good education and health facilities and an administrative system that helps him enjoy life.
SURESH KHANNA, Chandigarh
Fight nepotism
Remove poverty, unemployment and illiteracy. Chalk out a concrete CMP. Curb population explosion, but not through coercive ways.
Provide water and electricity to all. Health and education need priority. Persons registered with employment exchanges who are now overage and still unemployed for over 10 years should be first in line for getting jobs.