AUDIOSCAN
Blissful bouquet
Moonrise (Music Today)
This double volume album is a live recording of three American concerts where flute maestro Raghav Rao and tabla wizard Alla Rakha performed together to ecstatic audiences in three different cities in 1980. This jugalbandi is a rare experience both for the artistes and the listeners.
There are four selected pieces based on traditional ragas. The album begins with the late night Raga Malkauns. The two compositions are set to 10 and 12 beat rhythmic cycles. Hori Khammaj, the raga for the festival of colours, follows. The lilting and swaying of the flute is a treat. The composition is set to the rhythmic cycle of 14 beats.
The concluding presentation is Ragamalika in Raga Mishra Piloo. The ragas incorporated in this bouquet are Shivranjani, Abhogi, Bhopali, Kirwani and Jogi.
The second volume is devoted to Raga Hamsadhwani, which originated from the Carnatic music system. Raghav Rao elaborates on the beauty of the melodious raga through two compositions set to rhythmic cycles of seven and 16 beats each.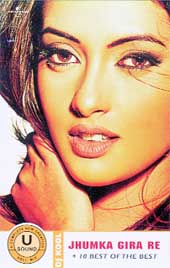 Jhumka Gira Re (Universal)
From the team of Shibu-Pintu, it has remixes of hits from the seventies and eighties. There are also fresh versions of Keh doon tumhen and Saiyan dil me ana re.
Three of the songs have been sung by Asha Bhosle herself, while the rest are by such newcomers as Hamsika, Shashwati, Amitabh, Reema, Jojo and Smita. Old-timers may hate the trend but disco goers dig them. ó ASC
Dev (Times Music)
Piece de resistance in this Amitabh Bachchan-Fardeen-Kareena starrer directed by Govind Nihalani is Rang deeni odhni, sung by Kailash Kher, Mahua Kamat and Shraddha Pandit. Not only are Nida Fazliís lyrics brilliant but the singing too is mesmeric.
Music director Aadesh Shrivasatava offers several other equally good songs like Allahu (Asha Bhosle, Aadesh Shrivastava and chorus).
Vijeyta Pandit makes a fine comeback with Jab nahin aye the tum.
This number is also sung by Kareena Kapoor and she does not disappoint. Poetry in between is in the voice of Fardeen Khan.
Mangalam Ganesham (Abhijeet and chorus) is an unusual bhajan. Amitabh renders Dev Speaks in his familiar baritone voice.
This feature was published on June 5, 2004