FASHION
Hot skirts for cool look
Saloni Kaul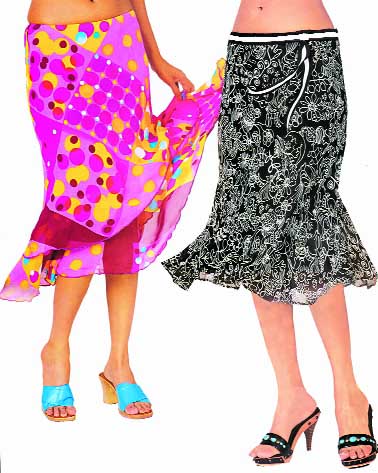 So it is already established that kurtas are out, T-shirts are in, skirts are hot, narrow pants are not; bright colours are passe, white is right; platforms are off, slip-ons are on; animal prints are dead.`85 You donít need a fashion guru to tell you all this. The soaring summer temperatures decide these for you. Given these broad parameters, how do you look different in a crowd of clones?
The easiest way is to mix and match. You can try several permutations and combinations with different colours and prints, as well as textures ranging from plain cottons to chiffon, georgettes and satin.
Then there are the focus areas, like tops. From corsets to kurtis, you have a wide choice, whether it is a kimono-inspired shirt, a backless number or even the lowly T-shirt, now available as embroidered, zipped, floral and striped wear.
Avoidable are those straight pants with thin belts that Malini Ramani popularised last year. If you need to cover your legs, better get into those trusted salwar-kameezes than straight pants. Some styles like the chikan-work kameez and tops are perennial hits every summer.
Skirts are also in vogue in a big way. They are making a splash in all colours, shapes and sizes. Besides the layered skirts, sarongs and lungis have caught on in a big way. Designers like Priyadarshini Rao are playing with a half calf-length version, while others like Aparna Chandra are showing the knee with wrap-arounds.
For the non-skirt sorts, loose-fit trousers are a good alternative. So also are cargo pants very hip, as in Anshu Aroraís recent collection. Also fast catching up on the popularity charts are the bell-bottoms of the seventies, but with a good deal of embroidery at the flares.
Then there are the denims with vintage blues back in favour. Even Rock S, the so-called "emperor of the decorative denim", is going plain this summer. Narendra Kumar Ahmed of Banswara Textiles is also going the denim way, though his styles are more high-end price wise.
According to some top-line designers, what has come to stay as enduring summer wear is a mix of the past and present. The fabric is washed out, colours are faded and patchwork is dyed. Tarun Tahiliani suggests that the minimalist look can always be offset with semi-precious baubles, even as there is always the option of trying out unusual variations such as combining a corset with a long skirt or trying kurtis with micro shorts. For Monisha Jaisingh, skirts and capris make for the best summer wear, but with a lot of shimmer and shine.
All in all, the summer of 2004 is turning out to be a sizzler for style freaks. But a word of caution" Donít try conforming to anything. What has been stated is only indicative of which way the winds are blowing. Hold your ground Remember, fashion is a personal statement. (MF)
This feature was published on May 29, 2004