HAUTE LINE
Splash with style
Aren't fashion and the monsoon contradictory? Think again. Rashmi Kushwaha gives a lowdown on an emerging sector — dressing up in style for arguably one of India's favourite seasons.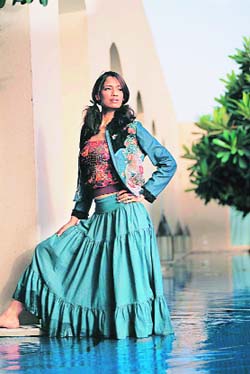 The chic way to walk in the rain
FOR Indians, the Monsoon is not just a season. It's celebration time as the rain brings welcome relief from the scorching heat and there is gaiety all around. Life ebbs and flows with the monsoon and even the economy hinges on the forecast of a good monsoon.
If life around us changes during the season, can fashion lag behind? But do rain and fashion go together? Not really, it would seem. Wrong. Of late, there has been a definite swing towards a fashion statement during the grey days though the number of designers in this segment is limited. Most designers still revolve, by and large, around Spring/Summer and Fall/Winter collection. However, Ritu Kumar, the designer who dresses Miss Indias and a whole lot of celebrities, differs. "I have been doing a monsoon line for nearly 30 years now,'' she says. Her designs reflect the ancient traditions of Indian craftsmanship in the contemporary vocabulary.
Ritu's monsoon collection for this season is aptly titled Barsaat. With loose cuts and frills, the line is khadi-based because around this time of the year, the weather is quite sticky. ''Khadi is the most user-friendly fabric and I have used Jaipuri bootis on it.''
There is a lot of cotton in crinkled skirts, kurtis, kurtas and full tops in Ritu's mini pret line, priced under Rs 2000.
As monsoon approaches, the colour palette in Ritu's collection also moves from white and pale to indigos, olive greens and burgundies. As for accessories, metals are absolutely out. She bets on lots of fresh flowers and Kolhapuri chappals and says accessories and make-up are best kept minimal.
The princely designer from Jodhpur, Raghavendra Rathore, says whites obviously decline with the onset of monsoon as colours get darker. Creams move to beiges and beiges to darker tones of olives and blues, especially for the 'bottoms'. ''Tops, however, continue to be in white and creams,'' says Rathore.
Since the monsoon coincides with the holiday and travel season, there is a shift towards crushed and crinkled fabrics. Pants and sarongs come back and the fabrics are crisper, with cotton taking the lead, says Rathore, whose slinging cuts and vast colour palette binds the richness of the label Rathore Jodhpur.
Accessories move away from leather, which stains, to plastics and see-through materials. ''Of course, boots make a come back,'' he adds. However, Rathore does not design specifically for the season as it's too short a time for people to pick up new clothes. ''Stores, especially in Delhi, don't even know if customers will go in for a special monsoon line,'' he says.
India's very own international designer Tarun Tahiliani too does not come out with a monsoon-specific range. But his Spring/Summer collection has outfits which can cater to the season's requirements.
''The best fabric for monsoon is cotton, cotton and cotton. Cotton jersey T-shirts and linen pyjamas are most appropriate during the monsoon season. Technically treated cotton with a water proof effect can be very useful for clothes also,'' he says. As for silhouettes and cuts, Tarun says semi-fitted and fitted garments are the best. Loosely fitted clothes are not recommended as they get crushed on getting wet. For beating the monsoon blues, Tarun recommends Indian colours like bright orange kesari, sunflower yellow, haldi yellow and turquoise. — TWF