Sight & Sound
Good show by India Channel


Amita Malik
It is that time of the year when new channels spring up. Good time for post-election party line-ups and for those jockeying for power. And I have discovered two new channels, one really new and the other with a change of name. Rajat Sharma and, more interestingly, Tarun Tejpal of Tehelka fame have their faces plastered all over town. I have been chasing the channel, because I respect both anchors professionally as well as personally. Sheer bad luck that I always land up seeing Laloo Yadav making an interminable speech and in close-up. One thing remarkable about India Channel is that it is great with camerawork. It is also perhaps the only channel which also has captions in Urdu. And they have a very good newscaster and interviewer in the lady with the enticing mole on her face. So, India Channel has started off well.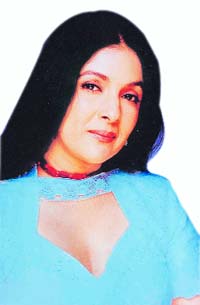 Neena Gupta: Reigning queen of Star Utsav
The other new channel is old wine in new bottles. Star Utsav is frankly a pure entertainment channel. It is there to offset its news and other channels. It has Neena Gupta in all her best programmes like Saans, Siski, Palchin and Kamzor Kadii Kaun. After that, surprise, surprise, we have the soap to end all soaps, Kyunaki Saas Bhi Kabhi Bahu Thi. And in case we get wrong ideas, we have the mythological Ma Shakti, Musafir Hoon Yaaron, a travel show, and a host of other serials like Kalaash, Kundali and Sonali Bendre and Shekhar Suman in individual shows. In other words, something for everyone and one can pick and choose. There is even a talent contest for the young who want wants to be a 'star discovery'. One can also choose from old favourites (wouldn't mind seeing Saans after a suitable interval) and new programmes, which are fewer in number but slightly different.
I am expressing a common complaint from viewers that when an important press conference is being telecast, particularly by ministers, the questioner does not identify himself or herself and the question is never heard. Here I would put the blame fairly and squarely on the Press Information Bureau (PIB) person who is supposed to look to these aspects and, in fact, help the minister to both hear the question from an identified journalist and then answer it without interruption. Most of these press conferences have ended up in chaos both on and off screen. It was actually left to the unruffled P.Chidambaram to keep his press conference under control. He conducted it himself without any visible or audible help from the PIB representative.
Now that we are well into the tennis season and moving towards the Olympics, it is time that anchors, especially the Hindi ones, get some terms right. Hindi is a very elastic language and there is no reason why Olympic should be written and pronounced as Oh-lumpic. Nor why, in cricket, bowling should be pronounced as "balling" and innings as inning, which is also the singular form and cannot be changed because some Indian commentator is worried about grammar. These are accepted and recognised original terms in cricket, and we should stick to them
In the serial Astitva ek Prem Kahani, the storyline remains firm and the characterisation, situations and dialogue convincing. Only Dr Simran has become so all-forgiving that I am tempted to call her Saint Simran. And she is also being overtaken in acting by other women characters like Bai, the maid, who is a fine actress. Still, it is nice, after Saans and a few Kavita Choudhury telefilms, to find an adult, credible middle-class theme on the small screen, which is crowded with third-rate soaps.
I have started a game called My Most Boring Programmes. At the top of the list is that colossal bore, Night Out, with the ever-grinning Ms Baig telling us about the totally boring rich and famous, who are of no interest to anyone but themselves. In interview programmes, Sab TV leads by several lengths and had not a few professionals like Vir Sanghvi and Karan Thapar come to its rescue, we would never have tuned in to it. The two most boring and amateurish interview programmes belong to a woman, who asks trite questions which she intersperse with Hm... and ha`85 to show she is listening. She is probably the only one. The other programme, which is grossly biased as well as amateurish, once went to the extent of interviewing an empty chair when the interviewee had not turned up. In the words of NDTV, "Need one say more?"