NRI bride mart
Case of runaway grooms
The lure of a dollarised life spurs on many girls to seek a foreign husband. Only when they are scorched, does it turn into a nightmare for them. About 15,000 women in Punjab have been deserted by NRIs, reports Aruti Nayar.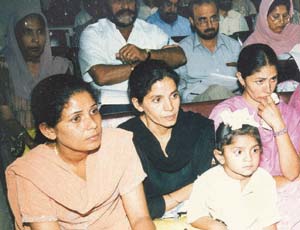 The deserted wives at a press conference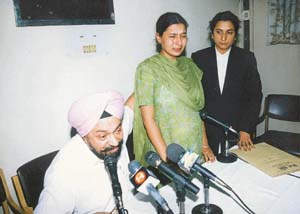 One of the victims breaks down while narrating her story as Balwant Singh Ramoowalia makes a point

THE attraction of girls and their parents for a husband from a rich western country exerts a powerful pull in India as in other developing countries. The enticing appeal of another "advanced", "modern" culture in a land of "opportunities" is rich with promise. Aspirations of an emancipated, better life in greener pastures abroad draw thousands of women to "eligible" NRI men, like moths to a flame. Only when they are scorched, do many of these brides, and their families, realise that the imagined foreign knight on a white charger is a blackguard.
The lure of dollars and a dollarised lifestyle that can transform destiny of not only an individual but of a whole family as if by a magic wand, is what drives many girls to seek an NRI for a husband. The urge, anxiety and ambition is so compelling, that few of the brides who are being baited, or their families pause to see the crassly commercial or seamy underside of this trend. Despite the harrowing tales of torture and desertion that never cease to make the rounds, many of the brides and their parents continue to fall victim to the "foreign husband". The seamy underside to this surface glitter is a fact shoved out of consciousness, despite harrowing tales of desertion and torture. According to sociologist S.L. Sharma, it is the promise of an "upwardly mobile, superior lifestyle that will ensure privileges and perks which will make them objects of envy in their parent culture." For others it can be an escape from the oppressive and inhibitive cultures that curb personal freedom and subordinate it to social regulations. It is another story that the desire to flee lands them in greater bondage than ever before.
As far as the Indian diaspora is concerned, there is a definite linkage between the desire of families to marry grooms abroad and the level of exposure and the pace at which the community migrated. In more conservative social set-ups like Uttar Pradesh, girls would not be married off to distant shores without a thought.
Gujaratis and Punjabis take the lead in this just as they took the lead in exploring foreign shores and crossing frontiers when others did not want to move out of the familiar cocoon. That is why this problem is more rampant in these states. A sobbing Ameena makes headlines for a while before apathy reigns and Hyderabad's bride bazaar starts buzzing again. According to a report, about 35 marriages between old Sheikhs and young girls are conducted every month. Numerous stories of young girls (estimated at 15,000) in Punjab marrying unscrupulous NRIs and being deserted by them do the rounds. Despite efforts to generate awareness about this social malaise, many girls become victims of the greed of NRIs who want to "encash" their phoren status and their own family's desire of marriage as a passport to a better life not only for the girl but for the entire clan.
While the marriage of a boy located in a superior, more affluent, privileged culture to a girl who eitherhas ambitions of improving her own lot or is prepared to sacrifice her own desires for the family's upward mobility. It might be an entirely different story that the groom who comes and dictates terms in India might himself be marginalised in the country of his residence. Often living in ghettos, they see marriage as a means to amass wealth for families in India or exploit beautiful young girls in a 'holiday' marriage. Of course, in certain cases it is also the reluctance of the groom's parents to settle for a girl born and brought up abroad, the reason given is that such girls are not malleable and are difficult to mould.
So despite living in a post-industrialised techno-savvy milieu, the mindset remains feudal. Despite being educated, she does not think out of the groove. Why do even girls from relatively well-off families not think of standing on their own two feet and realising their dreams by dint of their own effort and not by virtue of an alliance that can mar their future? Most families, eager to push their daughters towards a better future, do not check out the basics. Is it that girls are still treated like cattle, herded, bought, sold and discarded? There are girls who choose to remain abroad and prefer the anonymity of a foreign land to the loss of face. Despite all outward symbols of "modernity", nothing much seems to have changed in the perception of a girl as a "burden" to be offloaded as soon as possible.
As the land holdings shrink from murrabas to marlas, the land-owning class feels bereft of power and privilege. Sending their daughters abroad is viewed as a privilege and a social step up the ladder. It is the same sentiment that spurs umpteen youth to hitch their wagon to unscrupulous, wheeler-dealers and risk their future to travel, packed like sardines, be it to Berlin or Birmingham. In quite a few cases the parents are aware that the boy has been married before but they hope his divorce will come through and do not mind putting their daughter's future at stake. A far cry from the times when the daughter of a family was the daughter of the village.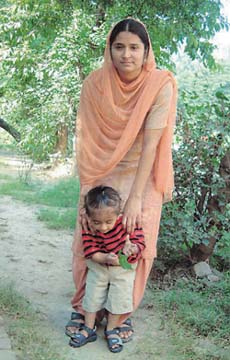 Rajwant with her son. She moved court and her in-laws agreed to take her to Germany. — Photo by Pramod Pushkarna
IF one were to look at certain cases where the girls have been shortchanged by foreign grooms, it is clear that lax laws are a major reason for the erring grooms going scot-free.
Take the case of Harpreet Kaur of Gurdaspur that has been represented to the police and followed up too. Married to Manjit Singh s/o Harbhajan Singh Sandhu of Amritsar on April 26, 2000, Harpreet spent two lovely months with her husband in India. He now lives under the name of Gurpinder Singh in California and has never returned ever since. She, in the meanwhile, has been harassed and thrown out of her in-laws' house in India. Her husband has remarried in the USA.
Suman Bala married Ashok Kumar of Hisar in Ludhiana on May 5, 2002, and flew back to Germany where he was already married to a girl named Monica. Suman bears all humiliation at the hands of her in-laws in Hisar. Her husband has never got in touch with her again.
Balwant Singh Ramoowalia has made this cause of the deserted women a peg for his Lok Bhalai Party. He says: "A few tragic encounters with shattered women at IGI Airport changed the focus of my life. My letter to the Punjab Chief Minister has resulted in no action. I wonder where are the Sikhs like those of yore, who fought Mahmud Ghaznavi to save the women from his clutches. What is being done to women in Punjab by the NRIs is worse than all the earthquakes. Politics today is just a business or a drama, far removed from the benefit to the people."
On December 6, 2003, the Indian Society of International Law (ISIL) New Delhi, under the leadership of C. Jairam organised a conference on Private International Law. Justice Vikramjeet Sen was emphatic in focusing on the problem and the need to finding ways to punish the guilty. The stress was on the issue of domicile. So many young girls find themselves embroiled in the fine net of laws and their cases dismissed on the issue of domicile. At the Pravasi Bhartiya Divas, Ved P. Nanda, Member of the American Human Rights Commission and president of American Society of International law emphasised the girls in India and their families ought to understand the law and consult lawyers in the country of matrimony.
My suggestion, says Ramoowalia, is "An FIR be promptly registered on receiving a complaint from a victimised girl or her parents/relatives or local sarpanch or panch; secondly, on taking cognisance of the complaint, the local police should assist the aggrieved girl to get back her istri dhan, including cash, and also the possession of the share of her deceitful husband's immovable and moveable property; and thirdly, the police/immigration authorities at IGI Airport, Delhi, should be cautioned in advance to detain the guilty husband/in-laws from fleeing abroad."
Workshops and seminars have focussed on the need for a common civil code to punish the guilty. On the legal front, our girls need to know that the Indian law is of little consequence in their problem of marriage to an NRI because of the difference between Indian laws and the provisions of the law of the country in which they marry. Various problems arise with regard to divorce, compensation and custody of children. Also, the lack of personal laws based on religion in countries outside India tend to work against the benefit of our girls. Various legal recommendations made by ISIL suggest the need to pass legislation with provisions to the effect that:
A foreign court may annul no marriage between an NRI and an Indian woman, if such marriage takes place in India.

Adequate alimony is given to the wife from the property of the husband both in India and abroad in case of divorce.

The decree granted by Indian courts may be made executable in foreign courts both on the principle of comity and by entering into reciprocal agreements and notifying them under Section 44A of the Civil Procedure Code.
There is an absolute need for Indians' participation in the Hague Conference on Private International Law. According to Hans Van Loon from the Hague Conference on Private International Laws, "It would be a distinct advantage for India to join and also to take an active part in the ongoing negotiations on a new convention on choice of court in civil and commercial matters. Also a new global instrument on the international recovery of child support and other forms of family maintenance needs to be framed."
There is an urgent need for preventive laws to check this heinous crime and to make a note that this is a deliberate, pre-meditated act of betrayal requiring criminal proceedings under law. An example of how legal action works is Rajwant, who moved court and forced her in-laws to take her to Germany
Girls should not succumb to the pressure of family or temptation of foreign land and know the laws that enable them to protect themselves. — Teena Singh