Itís a copís life
Govind Nihalaniís latest film Dev is another exploration of the psyche of the men in khaki in a year that has seen a spate of movies on the force. But will this make the fatigue factor work against it or will it do another Ardh Satya, asks Saibal Chatterjee.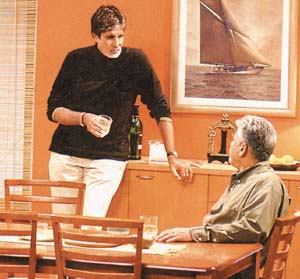 Amitabh Bachchan in and as Dev. Seen here with Om Puri
A policemanís hyperactive mind is familiar turf for Govind Nihalani. Two decades ago, the cinematographer-director had authored modern Mumbai cinemaís first genuine crossover film, Ardh Satya. The hard-hitting cop drama, a blend of an unwaveringly realistic storytelling mode and a transfixing narrative core, turned out to be a box-office humdinger. In 1994, Nihalani returned to the world of law enforcers with Drohkaal, a sensitive probe into the pressures that police officers encounter as they battle terrorists.
Ten years on, Nihalaniís new film, Dev, promises to be yet another riveting exploration of the working of the men in uniform. "Dev is an extension of Ardh Satya at least in spirit," he says. "The protagonists are cops. But the plot is different and so are the characters."
His latest film, says Nihalani, deals with contemporary times just as Ardh Satya did then. "The issue we have taken up is the increasing politicisation and communalisation of our police force," he reveals. "The emphasis is on relationships Ė between people, between individuals and institutions, between power and ideologies, between authority and constitutionality. Dev examines how each decision affects society and the safety of the people that the police force is supposed to protect."
Neither Ardh Satya nor Drohkaal had relied on major established stars of mainstream cinema. Dev is different. Co-produced by Manmohan Shettyís Entertainment One and the Aditya Birla Groupís Applause Entertainment, this is Nihalaniís most ambitious film to date in all crucial respects Ė budget, star cast and scale. The redoubtable Amitabh Bachchan heads the Dev cast, which also features Om Puri, Fardeen Khan and Kareena Kapoor.
"Dev wouldnít have happened without Amitji," says Nihalani. "As soon as the story was conceived, we knew instinctively that Amitabh Bachchan should play the central role. He has the gravitas, experience and skill that the character calls for. He stands tall. He has invested the role with the kind of force that only he could have." Om Puri, who debuted in 1980 in Nihalaniís maiden directorial venture, Aakrosh, was just as natural a choice as a counterfoil to Bachchan.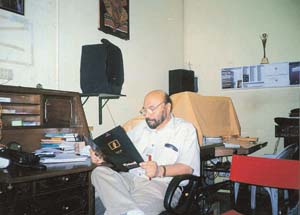 Script for success: Govind Nihalani
The induction of Fardeen Khan and Kareena Kapoor took a while though. Nihalani wasnít sure initially that Kareena would be interested in doing a film like Dev. Adds Nihalani, "Both Fardeen and Kareena are extremely intelligent and sensitive and I chose them as personalities and actors. Kareena is spontaneous whereas Fardeen believes in preparing for a role. Both are directorís actors." Kareena plays a moderately educated middle-class Muslim girl, while Fardeen essays the role of a law graduate who, in Nihalaniís words, "is capable of toughness".
Does a politically loaded film like Dev have a future at the box office these days? "It depends on how strong the human drama is," explains Nihalani.
There are other worries as well. The year 2004 has seen a spate of films about the police force and the fatigue factor could work against Dev. Khakee was released earlier this year with Bachchan himself in the lead. The understated Ab Tak Chhappan followed. This week saw the arrival of Police Force, followed by yet another Akshay-starrer, Madhur Bhandarkarís Aan Ė Men At Work. Will Dev be able to rise above the competition?
"Though I am not really worried, I can see that the audience can get a bit weary," says Nihalani. "But I would like to believe that Dev is in a league of its own. Most of the other cop dramas released this year have been predominantly action-oriented. In Dev, there are no action pieces. You will only see policemen tackling riot situations. The filmís approach is steadfastly realistic."
A strong element of realism runs all the way through the Dev script. After all, the screenplay writer, Meenakshi Sharma, a former assistant of Nihalaniís, comes from a police background. "Her father, S.R. Sharma, retired as DGP of Punjab Police. He saw Operation Bluestar and was involved with anti-militancy campaigns," says Nihalani. The cinematographer-director, of course, brought his own evolved vision to also bear upon the script. "Since Meenakshi has been a part of my unit, there were no differences in our creative orientation and sensibility," he adds.
As is well known, Dev isnít Nihalaniís first shot at mainstream Hindi cinema. Only a few years ago, he had made Thakshak, with Ajay Devgan, Tabu and Rahul Bose in the cast. The film, despite a powerful narrative and a classy feel, fell between two stools. Understandably, much is riding on Dev. It could either prove to be a new beginning or turn out to be the beginning of the end of Nihalaniís forays into mainstream movie making.