Towards safe rail crossings
by Prof Parteek Bhatia and Sanmeet Bhatia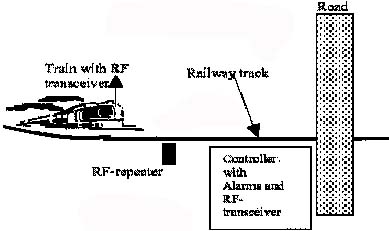 RECENTLY there was an accident near Ludhiana where a school bus was rammed by a train, leading to an extremely ghastly death of small children. This is not an isolated happening on Indian railway networks. Every year, several accidents occur involving collisions of road vehicles with trains on unmanned railway crossings in rural and remote areas. The problems are particularly severe on crossings near curved/sloped tracks or hills, at nights and during rainy and misty seasons, as the oncoming train cannot even be sighted visually. Since the number of unmanned railway crossings in India is very large, the option of posting a round-the-clock gatekeeper to operate barricades is too expensive. To improve safety, we need to augment simple preventive measures like static warning boards near the gate and need to reduce dependence on human factors e.g., on train drivers for complying with mandatory actions like sounding horns on seeing a track-side signboard near the gate.
System requirements
What is needed is a simple, cheap, robust, reliable and low power and low maintenance automated alarm system designed to help in reducing/preventing such accidents as far as possible. Ideally, to diminish bureaucratic resistance, such a system should not depend on any existing railway facilities like track power, signalling systems and track circuits (occupancy sensors). That is, it should be largely independent of the infrastructure of Indian Railways and should be usable on all tracks of any kind and gauge. It should be possible to adapt the system for a gate with more than one track. Also, installing and operating the system should not require too much intrusion on the existing tracks (e.g., digging, cabling etc) and trains and should not require much additional tasks to be done by the railway personnel. The power requirements should be as low as possible. Such a system should be reliable and fault-tolerant, fail-safe, easy to maintain and configure to many different situations.
System design
By keeping all these system requirements in consideration Tata Research Development and Design Centre Pune designed the SAFECROSS system (Fig 1) that detects a moving train approaching an unmanned gate and then sounds an alarm and flashes a red light at the site of the crossing. Once the train departs, the alarm and the light are switched off.
The SAFECROSS system has three main modules, LOCO, GATE and REPEATER, each of which is equipped with an RF-transceiver. The LOCO module is mobile as it resides in the trainís locomotive; it continuously broadcasts a fixed RF (Radio Frequency) message.
GATE module is housed near the level crossing, which turns on a siren and red light when it starts receiving the RF-message from a train within its range and turns them off when the train goes out of the receiving range. Since the communication between LOCO and GATE modules should not depend on line-of-sight, zero or more REPEATER modules may be used as necessary on either side of the gate, REPEATER modules can also enhance the effective distance at which a train is detected, so as to give sufficient warning time to the road vehicles.
Since number of locomotives is much less than number of unmanned gates, this approach is more economical than using two train detection sensors at each gate. Use of RF avoids cabling, improves reliability and reduces maintenance problems. It also makes the SAFECROSS system completely independent of (a) gauge and number of tracks; (b) direction of arrival of the train towards the gate; and (c) railway track and signalling infrastructure.
Hardware design
The functional blocks are as follows:
Battery: This is a 12V, 10Ah battery to provide power to all the other blocks of the GATE module.
RF-Transceiver and Antenna: A low power RF transceiver is used to transmit and receive data packets on radio frequency 434 MHz; the range is 300m. For transmission, the current consumption is 50 mA and for receiver it is 16 mA.
LED1/LED2: These LEDs indicate the state of the GATE module.
Switch: For switching the GATE power on/off.
Low power Microcontroller: Controls/monitors h/w components, communicates with transceiver.
Solar power system: To charge the battery using a 12V, 10 Watts solar panel. Can be enhanced to provide back up power for GATE module.
Display and Alarm: A circular LED display (13 cm diameter, 500 mA) and optionally a buzzer to indicate the presence of a train near the gate.
It uses a smart power saving scheme using low power microcontroller and RF transceiver. Most of the time the microcontroller will be in sleep mode (wherein it consumes extremely small power) and the transceiver will be in receiver mode (wherein it consumes very little power). Upon receiving a message from a train, the microcontroller comes out of the sleep mode, performs its function and returns to the sleep mode. With this scheme, the battery is expected to last for two years, major requirements for hassle free operations in remote areas.
Once the train has an RF-receiver on board, a more flexible communication scheme can be incorporated into SAFECROSS so as to allow the user to inform the train driver of any untoward incidents. For example, on seeing any accident, dislocations or flooding on the track, a user can press a special button on the system so that the system can send a special message to the train driver, who can stop the train upon receiving the message. Alternatively, by computing the train speed and location, it can be sent to the GATE module, so that it can display the expected time of arrival to the road users. A smarter scheme to detect end-of-train (e.g., using a small range transmitter of a different frequency) can reduce the time for which the alarm is still on even after the train has passed the gate. It is very much clear that this type of technological development may be used for the benefit of mankind to save their lives from avoidable accidents.
Prof. Parteek Bhatia is from Deptt. Computer Science, DAV College, Amritsar, and Sanmeet Bhatia is Telecom Engineer, BSNL, Amritsar Division.