M A I N N E W S
J&K part of India, says EU Ambassador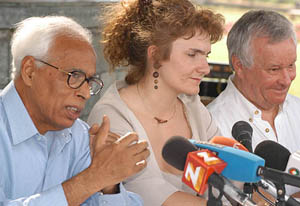 Mr N.N. Vohra (left) head of the Indian delegation, and Mr Roger Briesch, head of the European Union delegation (right) addressing a joint press conference in Srinagar on Friday. As many as 30 delegates from India and EU nations are attending the conference to deliberate on issues related to sustainable development in the region. — Tribune photo by Amin War
Srinagar, June 18
Asserting that European Union treated Jammu and Kashmir as any other part of India, EU Ambassador to New Delhi Francisco Da Camara Gomes today said The grouping supported the efforts between India and Pakistan to normalise relations.
"I don't know why this question is being raised here. We have been working with India and Kashmir for a long time. We have treated Kashmir as any other part of the country," Mr Gomes said in response to a pointed question at a press conference after India-European Union roundtable, which is being held here for the first time.
The Ambassador said "Of course there is a problem, which is being addressed by the authorities of your country. We support the efforts to normalise relations with the neighbour next door." Gomes was, however, quick to add that European Union did not intend to interfere in the internal affairs of the country.
"We do not want to interfere in the internal matters of any country," he said.
He refused to answer when pressed further if EU recognised Jammu and Kashmir as integral part of India, saying "I am here as an observer for India-European Union roundtable. I am not even a member of the roundtable." The Centre's interlocutor on Kashmir, Mr N.N. Vohra, said this was a roundtable about civil societies, trade and tourism.
Co-chairman of the India-EU roundtable Roger Briesch, interacting with media through an interpreter, said there had been tremendous change in the situation here.
"Mr Vohra has worked hard and he must be credited with the change here. The fact that we are meeting in Srinagar, is revealing enough," he added. — PTI