Himmat Rai's nerves of steel
K.R. Wadhwaney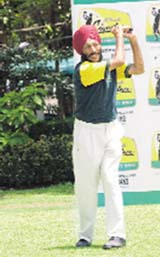 Milkha Singh — Reuters
WATCHING juniors, sub-juniors and tiny tots in action at the Army Golf Club (AGC) course for four days last week was both satisfactory and delightful. It was satisfactory because a lot of talent was on view. It was delightful because all of them, regardless of their ages, played with a tremendous enthusiasm, unmindful of oppressive heat.
The Nokia Gage Northern India Junior/Sub-junior Golf Championship was a step in right direction to spot and nurture talent. Who won and who lost was of little consequence.
What was of great significance was that majority of youngsters wielded clubs in orthodox style and they showed immense regard for golf etiquette and mannerism. Several golf pundits and professionals were present on the course to watch a budding lot. They were unanimous that the Indian Golf Union had, at long last, taken a right foot forward to promote the game among juniors in an earnest style. It was great for the IGU to seek assistance of the professional outfit, the Tiger Sports Marketing, to manage the tournament. No wonder, juniors got some spotlight although they deserved much more.
Akshay Buta was sitting pretty with a six stroke lead on the penultimate day. But golf, like cricket, could be highly unpredictable. He erred on the final day while Himmat Rai dazzled on the last day to come behind to win the A category (15 years) title by a solitary stroke.
It showed that Rai had nerves of steel at this tender age. This recovery and his maiden title should help him progress faster than his contemporaries.
Rai shot one under-71 and returned the four-day tally to two-over 290, while Buta had tally of 291 and Ajeetesh Sandhu was third at 292.
The tally suggested that the competition was extremely well contested as only one stroke separated winner from runner-up and runner-up from the third placed.
Fatehbir Dhaliwal bagged the B category title, while there was a play-off between Ajay and Rommel Majumdar for the C category title. Ajay won the title as he beat Rommel in the first play-off hole. Ajay parred the hole and claimed the crown.
Viraat Bhadwar was streets ahead of his rivals in the D category. One of the most promising tiny tots, he won his title untroubled. He bagged first place with an astounding lead of 24 strokes.
Nokia's Chandan Dang and former India Test player Prakash Bhandari gave away the prizes. Bhandari, one of the senior IGU officials was all praise of the players who gave evidence of their promise and potential.
A satisfying day
It was a memorable day for Milkha Singh and several other celebrated cricket players, including Australia's Allan Border, in the Sunil Gavaskar's CHAMPS Foundation Meet at Mumbai's sea-side course.
Most of the retired Test stars, like, Gundappa Vishwanath, Syed Kirmani and former badminton ace Prakash Padukone delighted all present with their keenness and swing of different clubs.
The tournament was played for charity under the CHAMPS organisation.