Going for the gold
Ranked fourth in the world, Anju Bobby George has come a long distance to emerge as India's Olympic medal hope. M.S. Unnikrishnan tracks her record-breaking triumphs and her chances of striking gold at Athens.
EIGHT gold medals in hockey and three bronze medals in wrestling, tennis and weightlifting are all that India can boast of from their Olympic odyssey over the decades.
The gold hunt in hockey ended with the depleted Moscow games in 1980. The introduction of Astro-turf put Indian hockey out of the Olympic medal bracket. India were never a potent force in other disciplines. K D Yadav's bronze in wrestling was considered an aberration.
When P. T. Usha came within plucking distance of a medal at Los Angeles in 1984, Indians woke up to the possibility of winning medals in track and field too.
Though Usha missed the 400m hurdles bronze by a whisker, she spoke up for a billion Indians with her heart-stopping blaze. The 400m hurdles was introduced for the first time as an Olympic event at Los Angeles, and Usha fancied her chances as the field was very eclectic.
Leander Paes almost took the fight to the enemy camp, before settling for the tennis bronze at Atlanta in 1996. Leander made a loud statement when he bearded the incomparable Andre Agassi in his own den. Karnam Malleswari's was a dark horse till she lifted those weights for bronze at Sydney. For Malleswari, it was an experience out of the blue.
The medals brought home by Leander and Malleswari were unexpected bonanzas.
But for Athens, we have a sure bet in Anju Bobby George. Or, so we believe. Anju has been dreaming of an Olympic gold for the past two years, and she would consider it as nothing short of a Greek tragedy if she fails to get a podium finish in women's long jump.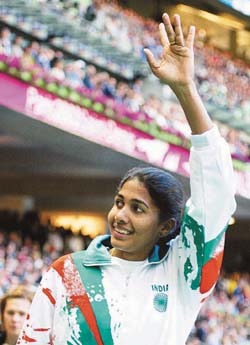 Taste of success: Anju Bobby George waves after displaying the bronze medal she won in the women's long jump final at the 9th World Athletics Championships in France last year
Anju has shed gallons of tears and sweat to prepare for Athens Olympics 2004. She has been toiling with the one-pointed aim of striking gold at Athens.
But will she, or won't she? This question has been dogging those who have been monitoring Anju's progress after her World Championship bronze medal victory.
For a Syrian Christian girl from the remote village of Cheeranchira in Kottayam district of Kerala, an Olympic gold was farthest from her dream when she took to atheltics at school, at the prodding of her businessman father K T Markose. She had the height, the stride and the stamina to become a long jumper of promise, but nobody told her that she was Olympic medal prospect, not even Markose.
Anju annexed two medals in the South Asian Federation Games at Kathmandu to herald her arrival on the national scene. But not many thought that she would be Olympic medal hope one day, because the competition at that level is stiff and tough.
But when Anju won medals of different hues in the Commonwealth Games at Manchester (bronze) and the Asian Games at Busan, 2002 (gold), the world took note of her as someone to be watched. Still, her Olympic dream took wings only after she struck the bronze in the 2003 World Championship at Paris. Ever since, it has been a focused battle with just one goal in her mind — an Olympic gold. Anju feels that just one good leap can take her to that exalted height on the Olympic podium at Athens. And her fourth position in the world ranking has helped her reaffirm her belief that she can "do it".
Husband Bobby George has been an equal partner in her determined bid to realise her Olympic dream. Though Bobby is not a qualified athletic coach, this former national triple jump champion knows all about body biomechanism as he is a qualified engineer.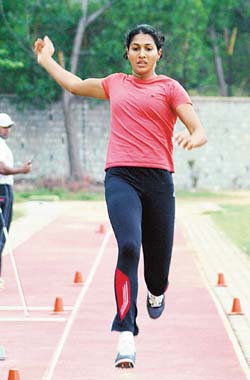 Making great strides: Anju training in Bangalore
P T Usha avers that Anju can hit gold at Athens if she kicks dust at seven metres plus. Anju did 6.70m to lift the bronze at Paris, though her national record stands at 6.74 metres, set in Delhi in 2001. She had been consistently leaping over 6.80 metres during training sessions at Bangalore, and she proved that her claim was not a hollow boast when she cleared a wind-aided 6.82 metres in the Super Grand Prix Meet at Doha last month. Her national record will continue to stay at 6.74 metres, as the Doha leap was wind-aided beyond the permissible limit.
Anju, whose original name was Manju, dropped the "m" at Markose's behest to make her first in the alphabetical order. And Papa dear hopes that Anju will tip the scale at seven metres plus to lift an Olympic medal.
In the current world ranking, Anju is placed behind Tatyana Kotova of Russia, Eunice of France and Elva Goullourse. And on the Olympic stage, Marion Jones of the USA may also throw in her hat.
If Anju can correct certain flaws in her jump, she is sure to win a medal. Some keen observers of her long jumps feel that though her "take-off is okay, her landing is faulty". She falls in the sand pit on her rump, and not on her feet. This flaw robs her of precious inches. Experts say if she would land on her feet like a paratrooper, and then fall forward, she would gain an advantage of eight to nine inches.
But the Indian tracks have been major handicaps for Anju, as she has a run-up of around 40 to 45 metres, though the best track in India — at NIS Patiala — has a length of only 35 metres. This is one of the reasons for her deciding to compete in a series of competitions in Europe and the USA, with Paris as her base, before checking into the Olympic Village at Athens a week before the Games begin on August 13. Anju has been featured by the largest-selling French sports daily L'Equipe as a "medal prospect from Asia." It observes that she is the best in the business in the continent.
Anju's eight-week training stint with former world champion Mike Powell in the USA bolstered her confidence, and improved her technique. Under Powell's training, Anju realised her hidden potential, and began to strive for greater glory.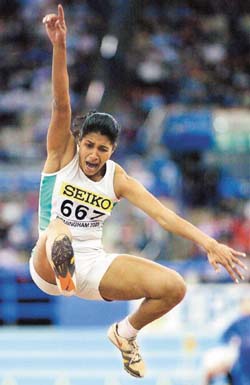 The big leap: Anju competing in the World Indoor Athletics Championships in England (Photos: PTI)
"Long jump is all about biomechanism. When you understand the biomechanism of your body, you understand the plus and flip sides of your talent," Anju says. It has been a restless grind for Anju and Bobby for the past several months. A seven-hour training schedule, followed by exercises in the gym, and body massage at the ill-equipped Sports Authority of India training centre in Bangalore, not only sapped her of energy but also frayed her nerves. Fortunately, a Good Samaritan — PNC Menon of Sobha Construction Group — came forward to underwrite her training expenses to the tune of over Rs 30 lakh.
Anju says that training abroad had been creating logistical problems about travel, food, accommodation, etc, forcing her to return to her 'roots' in Bangalore. She had to commute 200 miles daily to train with Mike Powell. But in Bangalore, they had a house, and the training facilities, though not up to world standard, were within hailing distance.
Particularly careful about her diet, this athlete takes a mix of South Indian and North Indian dishes to supplement the energy expended in such vigorous training. Fish, meat and salamis, and lots of vegetables and fruits are a must for her. She swears that she keeps a "clean slate", and does not depend on "pills" to boost her performance. But she concedes that many top athletes resort to "unfair means" to stay ahead.
Anju had a shocking experience after the World Championship at Paris when her kit bag, containing important documents, including passport and travel tickets, was stolen from the training ground. Bobby and she still carry the passports issued by the Indian Embassy in Paris, and this was one reason she was denied a visa to compete in the Netherlands before embarking on her European programme.
A devout Christian, who has visited the Vatican, Anju always carries a figurine of Mother Mary in her kit bag. She sees the hand of God in her successes, though she would not say the same about the gods of Indian sports. She does not have much faith in the system in India, but has faith in God, and her own ability. It was the belief in her own ability that made her concentrate on long jump, after taking part in heptathlon, and winning medals.
Anju's World Championship bronze was given little importance by the Ministry of Sports and the IOA. Barring a letter of appreciation from President APJ Abdul Kalam, her feat was not taken cognisance of by the powers that be. A preventive officer with Chennai Customs, even her employers stalled the promised promotion, for reasons unknown.
Anju will continue in athletics even if she wins a medal in Athens. "As long as I can maintain my form and fitness, I will participate in competitions," Anju asserts. And Indian athletics would be richer by her presence on the leaping track.