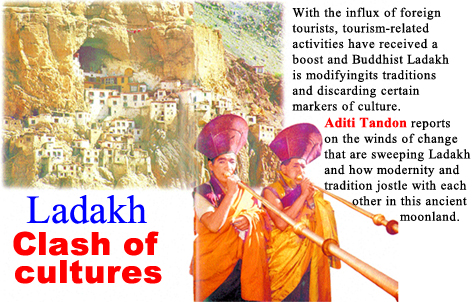 Tacky shop fronts that line the many streets of Leh are packed with imported merchandise, German bakeries and shops dealing in trekking gear, the markets indicate the growth of a trend that threatens to cloud the face of Ladakh. As youth idle around the crammed spaces of Central Leh, enjoying their "smoke", one wonders whether they are oblivious to the stirrings in a glorious Buddhist legacy which is the essence of Ladakh's soul.
The answer remains elusive, and the dust raised by the winds of change further blurs the vision of where it is all leading to. What lasts is a sense of wonderment over how hard a predominantly agricultural system is fighting to survive the impact of cash economy that has replaced the traditional barter system in Ladakh. Once a fiercely independent farming economy, Ladakh's now in the throes of change. These changes are not without a ripple-down effect on the cultural fabric of the community.
The handouts of the Department of Tourism describe Ladakh as "Little Tibet", "A land of contrasts" and "Moonland", but the locals know the reality behind clichés. They have no illusions about the enormity of the challenge they face, at the crossroads of transition. Tsering Namgyal, a voluntary worker, explains, "We are under pressure to modernise. Youngsters are losing respect for their culture. They have altered their lifestyles to appear in sync with times. The result is gross imbalance in family life, rising aggression among youth, conflict between Buddhists and Muslims and a breakdown of the traditional Ladakhi farming model, which is best adapted to the hostile landscape."
Coming into contact with the world
At the root of Ladakh's transition lies how it was connected to the world in a phased manner. The process began in 1950, when the Chinese invaded Tibet, attacking Ladakh in 1962. The government backed Army deployment in the area to increase the strength of troops due to the fear of Pakistani aggression. Earlier unreachable, Ladakh is now connected through routes from Srinagar in the west and Manali in the north of Himachal Pradesh. The airport at Leh fuelled economic activity, creating more opportunities for Ladakhis. Even while Leh is short of bare necessities like salt and vegetables (Ladakh is cut off from the rest of the world for better part of the year), its people undertake frequent air travels for economic reasons.
Ladakh's economy is also impacted heavily by the need to maintain a parallel market that caters to the Army personnel. Army deployment in the area has further increased post-Kargil. On its part, the Army, under Operation Sadbhavana, is contributing immensely to women's empowerment, computer literacy and education in the backward Kargil, Drass, Turtuk and other border villages. Despite an effort to preserve the regional identity, the face of Ladakh has been changing drastically. The need to battle this trend has led to the birth of NGOs working together to develop alternatives to global economy.
End of cooperative farming More than anything else, it is the phenomenal foreign tourist influx that has engineered the change in Ladakh by activating the rural economy and fuelling the demand and supply of consumer goods. The tourist potential of Leh has doubled its population since 1975, according to tourism officials. Ladakh had over 30, 000 domestic and foreign tourists last year. More are expected this season. To handle the rush, an infrastructure of hotels, restaurants and guest houses has come up in Leh. The focus is more on pleasing its foreign guests than working for the betterment of neglected farms in villages scattered over 65,000 sq km. Ironically, most hotel owners in Leh are non-Ladakhis, who want to cash in on the influx of foreigners.
Mohammad Hassan, one of them, says, "Government offers full subsidy on activities promoting tourism. New hotels come up every season. Villagers also come here to seek employment." The attraction of Leh's dollar-fuelled tourist economy has unleashed a village-to-town migration of farmers, who want to make money during the tourist season between June and September. In the bargain, the Ladakhi model of cooperative farming is disappearing. Further due to government's policy of promoting modern practices, traditional crops are being replaced with high-yielding varieties fit for export. Such is the urge to impress tourists that traditional artifacts are now being brought from outside Ladakh. Some festivals have even been rescheduled to attract tourists.
As changes roll in, Leh finds itself under stress. Unable to cope, the capital city is crying for a breather.
Ecology under threatThe greatest casualty has been ecology. Fragile as the environment of Ladakh is, its people earlier used natural materials. Compost Ladakhi toilets are a typical example of the environmental consciousness of the people who knew they must not litter. Such toilets use no water, which is a scarce resource here. Today traditional toilets are being rejected by the "modern" youth of Ladakh, enjoying the luxuries that they have access to. Sixty-year-old Sonam Dolma, says, "Our children are ashamed of our culture. They want western toilets, fitted with tubs and flushes. But these are hostile to the environment." Such toilets have aggravated the already acute water problem in Leh. Sometimes, drinking water has to be fetched in government tankers.
On the agricultural front, an independent economy is now depending on outside support. An officer of the Department of Agriculture says, "When the food grain distribution system was introduced, rice and wheat were offered at subsidised prices. Rice, along with staple barley, entered the food stream of Ladakhis. Then came infrastructure, facilitating migration of farmers to Leh. In the higher reaches, villagers husband animals. Ladakh produces 30,000 kg of Pashmina wool annually, valued at Rs 7 crore. Leh alone produces 2300 metric tonnes of apricots. In border villages where infrastructural development is difficult due to the hostile terrain, traditional agriculture still exists."
Many other policy decisions have caused changes in the lifestyle of the Ladakhis, who used to practice polyandry to prevent division of land holdings. Tsering Namgyal, headman in a Nubra village, says, "Some practices are typical to the Buddhist culture. We offer our younger sons to the monastery where he pursues religious study. Monks play a significant role in our lives. They help us with religious services and we help them in kind. Monasteries are not mere seats of religious power, they also shelter the poor. Most villages have one such monastery (gompa). Traditionally, every house also has a place of Buddhist worship. But things are now changing."
Modern Buddhist houses don't essentially have chapels. But ancient homes have chapels, which are often the largest rooms in the house. A chapel houses religious texts, symbols and paintings. The house of Sonam Paljor, the BJP candidate for the recent parliamentary elections, has one such chapel, plush with dragons and thangkas. Women are responsible for maintaining the chapel.
Social pressuresInterestingly, Buddhist women enjoy complete equality. Over 50 per cent government staff in Ladakh comprises women, who also work in homes, fields and schools. Compared to men, they are better educated. A serious fallout of change has been the consistent fall in the number of boys studying in the secondary schools of Leh. District Education Officer, A.K. Raina, says, "The number of boys seeking admission to the secondary level is three times less than girls. Most boys want to join Ladakh Scouts, an Army unit which enrolls those who have passed class VII. This is altering the social matrix of Ladakh. Women are marrying outside the caste as they look down upon uneducated Buddhists. No wonder the Buddhist population is dwindling."
Change is manifest in inter-caste, inter-racial marriages. Many Buddhist boys have marred foreigners who come as tourists. Sonam Wangchuk, founder-director of a leading NGO in Leh, is married to a foreigner. Buddhist girls are now choosing as partners Muslims over their Mongloid counterparts because they perceive the former to be good-looking. The result has been devastating for the Buddhist community which is growing more hostile towards the Muslim-dominated Kargil. The divide is marked and there are little chances of it being bridged. With political power now with Buddhist leader Thupstan Chhewang, the community may hope to reverse the trend. Former MP from Ladakh, Ghulam Hassan Khan was often charged with pursuing anti-Buddhist policies.
Explains Angchok Tsao, acting president of the Ladakh Buddhist Association (LBA), the most effective religious group in Ladakh, "Our numbers are decreasing due to several reasons. Buddhist girls marry Muslim boys, but the reverse is not happening. We offer our sons for religious services in monasteries and also practice family planning stringently. Many NGOs are now leading awareness campaigns against conversions in Ladakh. Polyandry has almost vanished."
Polyandry declined after the J&K government declared it illegal through legislation in 1950s. Dolma Tresing, an NGO worker, says, "Polyandry is considered 'inferior.' It was earlier practiced to prevent division of land holdings. Now it has few takers." Other changes include setting up of hydroelectric power projects, well-laid out roads, (where the Border Roads Organisation has done commendable work), telecom revolution and new curricula which has wiped out local models of education.
Back to roots Challenges, as a result of change, have triggered the initiatives to "get back to roots." Hundreds of NGOs are engaged in activities that will facilitate Ladakhis to adapt to changing lifestyles. Extremely popular in the region lena Norberg-Hodge, a Swedish linguist and environmentalist, who has worked in the area of education, translating books into Ladakhi script, which she has mastered. She has also initiated several measures that will reinforce the pride of the Ladakhis in their culture. Helena's book on Ladakh, Ancient Futures has been translated into 32 languages. While urban Leh sees the future, remote villages of Ladakh still await the benefits of change – more water, more electricity and fresh vegetables. At staggering heights like 10, 000 to 14,000 feet, people still wash their utensils in roadside streams; children still feign pleasure after journeying on mules. Back in the capital, glamour-struck youth flaunt their motor bikes and power vehicles, while a crumbling tradition comes face to face with forces of modernity. Who is overpowered remains to be seen.