Women Sarpanches in Haryana villages continue to perform their duties with diligence in spite of the many challenges they face. With unflagging enthusiasm, they have undertaken a number of development activities in their villages. Rahul Das reports.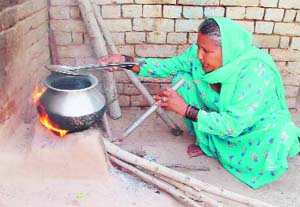 Phool Wati
The children of Harda village don't mind going to the local government school which now has cemented rooms. Till about four years back, parents preferred to send their children to nearby villages for schooling rather than the dilapidated local school. The scenario changed after Phoolwati, an illiterate woman, was elected sarpanch. Realising the importance of an educational infrastructure, Phoolwati ensured that the school rooms were cemented. She has already taken up the next project of getting a boundary wall for the school.
It was tough for Phoolwati as a woman in the male-dominated set-up. She took it up as a challenge and managed to convince the locals. Making officials respond to the local needs was a bigger challenge and it two years to get rooms cemented. "I am conscious that our children need proper educational facilities. They no longer have to go to nearby Nagla or Saha for schooling. I am not deterred," she said emphatically.
She is trying to get a fully-functioning deep-bore tubewell in the village which would meet the requirement of water for the village. "People ask me carry out work but my appeal to the authorities fall on deaf ears. I sometimes feel frustrated," Phoolwati admitted.
Usha Johar, Sarpanch of Bihta village, has managed to carry out a number of development activities. The village `Vridh Ashram' which she has got made for senior citizens has been received well by the village elders.
However, she faced an unexpected hurdle when she wanted to make toilets for ladies in the village. "I am surprised that there is no separate scheme for building toilets for ladies in the village. Being a lady, I understand the problems faced by the village women so I wanted that toilets for ladies should be made, keeping in mind the hygiene requirement. But, it seems that it may not be possible, The authorities must understand the ground situation and prepare schemes accordingly. Also, the projects must be executed in a time-bound manner," she suggested.




Harvinder Kaur
The women, who have been elected as Sarpanch, have had a roller-coaster ride in the last four years. While some of them have had the satisfaction of executing works, there are others who have had to face harassment. Harvinder Kaur, Sarpanch of Duliana village, said that she faced a major allegation of financial irregularity. "At every step, I had to face problems. The development work moves at a snail's pace," she lamented.
"The allegations have upset me. I have worked with sincerity in the village," she said. She stressed that she has not got bogged down by caste-factors and she got Harijan chaupal made. Also, a `puliya' is proving to be convenient for the villagers for traveling.
The neighboring Duliani village had a woman Sarpanch who had set an example for the women of the area to take on this crucial responsibility. Madhu Bakshi, who is no more, was elected as a Sarpanch at a time when there was no reservation for women in the Panchayati Raj.
Kanwar Pal Singh, Haryana Pradesh Congress Committee Panchayati Raj Cell general secretary, observed that although the women Sarpanch and Panch are facing a host of challenges, they have been diligent in discharging their duties. "Rajiv Gandhi had a vision for women's empowerment through Panchayati Raj. The vision is gradually turning into reality and women Sarpanch have been able to empathise better with the villagers. The government must impart proper extensive training to the women Sarpanch so that they can work better," he said.




Kulwant Kaur
Kulwant Kaur, Sarpanch of Hamidpur village, is facing a double challenge. She is a woman and she belongs to a backward community `Gadriye'. She was elected Sarpanch following the death of earlier woman Sarpanch Mahindro Devi. Sitting in her home on the outskirts of the village, Kulwant Kaur said that she is not getting the desired cooperation from the other Panches. "Local politics is definitely hampering my work. I want to carry out a lot of work in the village like the school ground being leveled and a 'johar' being dug up so that excess water can flow into it but I am facing difficulty," she states matter-of-factly. "Despite the hinderances, I am happy to have got the opportunity to serve the villagers by being elected the Sarpanch. I may consider standing for election next time again," she said. "The cremation ground shed has been put up and the village 'phirni' is underway. Once the 'phirni' is complete, it will be convenient for the villagers to travel through," Kulwant Kaur added.




Kusum Chabra
— Photos by Neeraj Chopra
On one hand women Sarpanch are soldiering on despite the odds, on the other hand there are women who have decided to call it a day. Kusum Chabra, Sarpanch of Saha village, said that she wanted to quit nearly two years back but she was persuaded to continue by the village women. "I am not an escapist. But, sometimes I feel bad when people do not understand my problems," she said. "I have judiciously utilised the Panchayat fund as well as the Vikas Samiti money. I understand the problems of the villagers. For ensuring that water stagnation does not take place, the drains have been cemented," she added.
She observes that women indeed find it difficult to discharge the duties of the Panchayat. "I have a family to look after. Whenever, I have to go out, my husband has to accompany me. Besides this, there is lot of party politics which slows down the process of getting work done," she said.
"No one can make everybody happy. I have made up my mind and I am not going to contest for the post of Sarpanch next time," she says emphatically.
These women are wearing two hats - one for discharging their duties towards their family and the second for carrying out their duties for the village. Despite the odds faced by them, their spirit is not dampened and their enthusiasm for work is not diminished.
The litmus test for these women will be the next Panchayat election. How many of the women Sarpanch succeed in coming back as Sarpanch will be a measure of their success in this term.