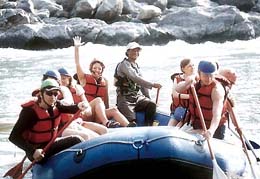 Make a venture out of adventure
Training people for adventure sports has picked up as an offbeat career. The cash registers are now ringing for professionals in the field who were earlier eking out a measly existence, writes Manish Kumar Singal
If you are sports minded and love to hit the road, a career in adventure tourism might just fit the bill. But adventure tourism is not something transient like trooping to a hill station, taking a sojourn in a hamlet and returning to the grind invigorated. Instead, it is a lifetime of fun in the lap of nature, punctuated with thrills and risks.

SUBJECT SELECTION
Arts is also for the smart
Usha Albuquerque
Tarini came in for career guidance having scored 92 per cent in maths and 88 per cent in science. Her father was keen that she take up medicine. But Tarini was not interested in medicine or engineering. She loved history. "How can such a bright child do humanities?" argued her father. Tarini was not quite sure what career she should look at, but she certainly knew she didn't want to continue with science. By the end of the counselling session, Tarini had decided on history, economics and maths, and is now well on her way to becoming an environmental lawyer.
Selecting a subject stream for the plus two can be tricky. You may be good at many subjects, so which ones should you choose? You may like social studies, but score higher in science.


STEPS TO SUCCESS
"There are no shortcuts in life"
Few people have the will power to endure personal discomfort to do service to humankind. Chief Cardiovascular Surgeon and Executive Director, Escorts Heart Institute and Research Centre (EHIRC), Dr Naresh Trehan, says when he was on call for seven years in New York, he had to sacrifice sleep. Credited with 44,000 surgeries, Trehan was attracted to matters of the heart while studying in the Department of Surgery, New York University, in 1969-70.


CAREERCATURE
by Sandeep Joshi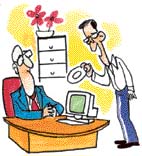 My resume is a 10 GB file, so I have included Janet Jackson Top 10 for relief.


OFFBEAT OPTIONS
This may be your cup of tea
Pramod Chaudhari
Known as an Englishman's meal, tea is relished all over the world. Having a cuppa is considered de rigueur any time of the day-bed tea, noon tea, evening tea or high tea-any occasion and tea is welcome. Moreso in India, the largest producer of the leaves. People begin their 'good mornings' with a cup of tea. And with it comes a career in tea tasting.

COURSE CHAT
A career you can always count on
Manoj Kumar
Despite the emergence of new career opportunities in the fields of information technology, biotech and others, chartered accountancy remains a challenging and highly rewarding career. In fact, with the opening of the financial sector and revision of the chartered accountancy course run by the Institute of Chartered Accountants of India (ICAI), new career options have opened up for CAs in banking, IT, BPO and other sectors.

Sky is the limit
Biswajiban Sharma
Remember Orville Wright — He ''strapped himself to a barrel with wings and an engine and flew forty yards''. Or Charles Lindbergh, who sat in a soap box and flew across the Atlantic. That was in 1927. Decades later, man still longs for the blue expanse, for that fleeting moment when he is alone in the stratosphere and can only feel his heart palpitating and the adrenalin rushing through his veins as he catches a glimpse of the receding Earth.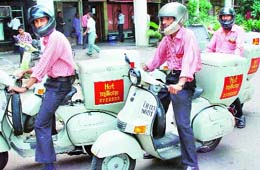 SUMMER JOBS
Earn, learn and taste fun
Peeyush Agnihotri
Many of those who have just completed their plus two are following that old school motto 'learn to serve' quite literally. They are joining fast-food outlets in the city and its satellite towns of Panchkula and Mohali as trainees in droves during their summer vacations.
A lot of youngsters are doing home delivery for fast-food outlets during vacations. — Photo by Manoj Mahajan


Panjab University, Chandigarh

Guru Nanak Dev University, Amritsar

Himachal Pradesh University, Shimla

Punjabi University, Patiala

BITS AND BYTES
Ctoss for an IT career
Chandigarh: The UT Administration has taken the initiative to start the training programmes for the IT/ITES-BPO industry. The Ctoss (Chandigarh-Training On Soft Skills) modules to be imparted would cover communication skills, interaction skills and other industry-specific skills.
Technology shots for valley

DU to open doors to dyslexics