How health depends on environment
by Dr H.S. Wasir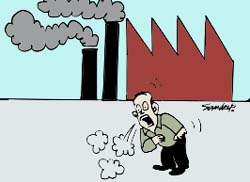 Life thrives on two types of environment: (1) The external environment from which the organism gets its food and air to survive. (2) The internal environment, the milieu which regulates the metabolic processes at the cellular and mitochondrial level for life to be sustained at its optimum. The external environment, which provides us the food we eat, water we drink and the air we breathe, to a large extent, regulates the ingredients provided to our body that control the internal environment.
Educational status of the individual (teachers' role) and parental influences have a major contribution to decide about the positive role of environment on health.
FOOD: Over-eating, specially a high intake of refined carbohydrates such as sweets, white bread and high fat foods like dairy products, ice-creams and pastries result in over-weight, diabetes, high blood pressure, heart attacks and strokes. Under- nutrition, on the other hand, exposes the individual to many infections and lowers the person's stamina to prevent diseases and to recover from them.
WATER: Lack of enough water for drinking and bathing results in diseases due to dehydration and skin disorders. Water contaminated with bacteria, protozoa and chemicals results in many gastrointestinal, eye, skin and neurological disorders.
AIR POLLUTION: An adult can survive without food for three weeks, without water for three days but without clear air only for three minutes. Such is the importance of fresh air for life and hence the implications of environmental air pollution on health. The exhaust from chemical factories, thermal power stations, motor vehicles and generator sets has thrown a large number of pollutants into the environment. These have proved harmful to the human populations, through the polluted foods eaten, the polluted air breathed in and contact of chemicals with skin and eyes. The toxins in the polluted air mostly affect the lungs, skin, eyes, kidneys and the cardiovascular system.
NOISE POLLUTION: Chronic exposure to noise results in the impairment of hearing and higher levels of blood pressure in children. Environmental noise pollution could thus be a contributing factor to higher prevalence of hypertension among city-dwellers. Ever increasing urban migrations and rapidly mushrooming industrial units have resulted in a grave ecological imbalance due to environmental pollution.
TEMPERATURE CHANGES: The ideal temperature for human health is between 20-25°C (68-70°F). Temperature extremes result in high morbidity and mortality, specially from cardiovascular diseases due to fluid and electrolyte imbalance at high temperatures and due to increased peripheral resistance and high blood pressure at low temperatures. Higher mortality from the extremes of temperatures is mostly attributed to cardiovascular causes.
Prevention and control of air pollution
As the sources of air pollution are industrial, vehicular and domestic (indoor), the preventive strategies have to be focused at the following levels.
INDUSTRIAL AIRPOLLUTION: This can be controlled by strict legislation and recommending the height of chimneys and provision of industrial filters for exhaust that is produce in thermal power stations and other industries using coal, diesel, wood, kerosene or other fuels as energy sources. Industrial units using such fuels should not be allowed to operate in residential areas. Knowledge of protective devices against chemical warfare may be extended in the planning of preventive strategies against urban air pollution.

VEHICULAR POLLUTION: A regular preventive check on the vehicles and punishment of defaulters is the only solution to control vehicular air pollution.

DOMESTIC POLLUTION: Passive inhalation of smoke from cigarettes and stoves and the use of generator sets run on kerosene, petrol or diesel are the sources of indoor air pollution. Strongly discouraging cigarette smoking, use of electrical inverters in place of generator sets and keeping the generator sets at high levels such as roof-tops and providing adequate air filters are recommended for the control of indoor pollution.
— The writer is Chief Cardiologist and Medical Adviser, Batra Hospital,
New Delhi.