"Let me fly, don't root me"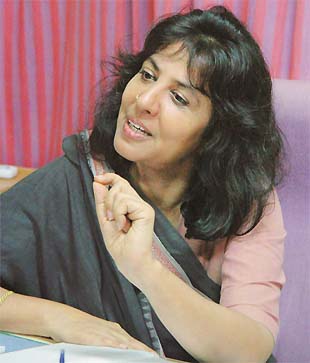 Kanchan Chaudhry Bhattacharya: I am neither a soft nor a tough cop. I am a fair cop.
— Photo by Manoj Mahajan
She has many firsts to her credit. The latest feather in her cap is her appointment as DGP of Uttaranchal, making her the first policewoman to reach this peak. Ashwini Bhatnagar traces the udaan of Kanchan Chaudhry Bhattacharya, a hardcore achiever who has an air of softness around her and who knows that the path of integrity is an arduous one.
This is one udaan that is still in full flight. Three decades have gone by but she has continued to soar to areas where few have been to before. And, every moment of the journey has been a 'joyous' one. Kanchan Chaudhry Bhattacharya is happy.
As she talks, her eyes light up and her gestures become animated. She cannot but help exude happy satisfaction at the fact that 'she was destined to contribute' and she has managed to do it to the best of her ability.
She is, in many ways, a pioneer who has many a first to her credit. The latest first is her appointment as the first woman Director General of Police in the hill state of Uttaranchal a week ago. She was also the first woman Additional Director General of Police in the state before she was made the head of the force. A little earlier, she was the first woman Inspector General of Police to be made in charge of organisation and management in the Uttar Pradesh Police. And, a decade ago, she became the first Deputy Inspector General of Police to be in charge of a police range (Bareilly in UP) in the country. The list of her achievements is as long as her arm, each point bulleted with a 'first to be' prefix. The only second, perhaps, in her career is that she was the second woman IPS officer in the country. The first was Kiran Bedi. However, this second can be substituted by the fact that she was the first woman IPS officer in Uttar Pradesh.
But the 'happy DGP' does not gloat over her dream career and her achievements. "Oh, it happened. I was destined for it. Now that it has happened, I know I have to work hard to do justice to this position. Heading the force in a state is a challenging task." Integrity and honesty, she feels, are her assets, which, as in the past, will help her succeed yet again. "Once I went to my senior colleague with a problem and he told me that if the path of integrity and honesty was a smooth one, everybody would be walking it. So, if I had to choose this path, I would have to come to terms with it not being smooth. There will be problems and I will have to tide over them."
Despite the rough and tumble of police life and politics, she is not the stereotypical police officer who wears that stern no-nonsense business-like attitude like a badge of honour. Rather, there is an air of softness around her which brings the feminine part of her person to the sometimes heartless job of policing. People who have seen her as a young police officer recall how she could not bring herself to be harsh during interrogation of suspects while she was on her first posting in Lucknow. Her immediate superior repeatedly asked her to use the 'police language' to break down suspects, who were many a time hardcore criminals. Chaudhry, however, never quite allowed the police culture to overwhelm her. "I am a non-violent person and through these years I have never felt the need or the pressure to beat up people."
Her acts of daring and effective policing are legendary. Her first charge in 1975 was as Additional Superintendent of Police at Malihabad in Lucknow district. The area famous the world over for its dasehri mangoes had also become infested with dacoits. The young ASP took the challenge head on and in a year 13 dacoits were nabbed by the police. The prized scalp was that of Makhan Singh, who had been eluding the police for over a decade. He was killed in an encounter. "Yes, one has to respond to situations in a professional manner but they are not important when you see what you can do for people. We are in the service sector and I try really hard to cater to the policing needs of the people. The police and the people have to see each other as people and respond accordingly."
The cases that she has handled include sensitive ones like the investigation into the murder of seven-time national badminton champion Syed Modi. He was gunned down by unidentified persons when he was coming out of a Lucknow stadium after his daily practice session. The gruesome murder rocked the country in 1987 and Chaudhry investigated the case as SP, Crime Branch, CBI. She also handled the Reliance-Bombay Dyeing case and white-collared crimes in banks and public sector undertakings. The painstaking effort that she put into these cases fetched her the Police Medal for Meritorious Services in 1989.
But the DGP doesn't wish to talk about any of these cases. Rather, she would dwell on the case of a battered woman that she had come across in Meerut, where she was posted as DIG. "One day, a badly beaten up Muslim woman came to me. She told me that her husband had been assaulting her. I looked into the matter and followed it up for several weeks. A few months later, I saw a good-looking woman breeze into my office with a smile on her lips. She was the same woman. It gave me so much of joy. Mere rongatey khare ho jate hain jab main sochti hu uske bare mein (It gives me goose-pimples whenever I think about it). So, there have been a number of such cases and my joy has been that I have been able to contribute towards improving other people's lives."
Chaudhry has a Punjab connection. She did her schooling from Amritsar and has ancestral property in the city. She, however, denies she has roots there. "I have property all over. I have roots all over. Please don't root me (anywhere). Let me fly."
Flight has been a recurrent theme in her life. She took off effortlessly in a male-dominated police force and earned her wings as naturally as an avian would. Her sister made a vastly popular television serial, Udaan, loosely based on her life and Kanchan and Udaan became synonymous in the collective national psyche. Later, from the dusty plains of Uttar Pradesh, she flew to Mumbai and thence to Kolkata, where her in-laws are located. Uttaranchal dots her flight path at present. And, as for flights of fancy, the Director General of Police writes poetry too.
Chaudhry admits that it hasn't been all smooth sailing. "At times it has been a very tightrope walk. But one has managed to keep on inventing a new mould for oneself. It has given me a lot of joy. I only remember happy things," she says with a disarming chuckle.
She is happy; and she is also happy for the fact that "my own example is a live one about mainstreaming of women." She believes that women are being given their due and her appointment is a part of the "mainstreaming" of women in professional careers. "But the process of empowerment has to go on and I will like to bring more and more women down the line into the mainstream of policing." She heads the All India Women Police Association and has been actively projecting issues relating to recruitment, training and continuing of women in the police. "I believe that women should have their own identity, freedom and guts to stand up to situations. In the force, they should be treated as individuals with dignity."
Early on in her career, it was reported that she caught hold of an eve-teaser and asked the victim to beat him up. The incident of degrading of a woman through teasing, it was reported, had raised her hackles so much that she coaxed and cajoled the girl to give it back to her tormentor. "I don't recall that it was like that. But if it was then it is very much in my character. I do believe that women should stand up for themselves. They should not feel deprived."
The common man has apparently been her focus through her career. She narrates an incident of an old man, "an innocent aged villager," who came to the police station upset at the treatment being meted out to him by his daughter-in-law. She had even thrown away his shoes. "So just for a lark, I said let's buy him a new pair of shoes and we did, and the joy on his face..! I live my life on small pleasures. These small things give me happiness."
She discounts political interference in her job, specially postings and transfers. "I am really accessible and my men can come to me to solve their problems. They need not go anywhere else. If there is something genuine, I will do it myself. They don't need to approach me through someone else."
So, what sort of a cop does it make her? A soft one? A tough one? "A fair one," she laughs, happiness writ large on her face.
Her udaan is now in cruise mode and she can look at the view from the top and let her "life's beauty be measured in small joys."