FOOD TALK
Who says khichri cannot be gourmetís delight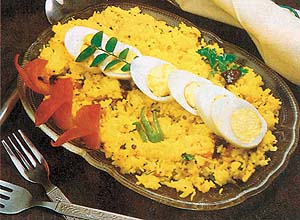 The khichri, mainly associated with convalescence, is indeed a versatile dish with many options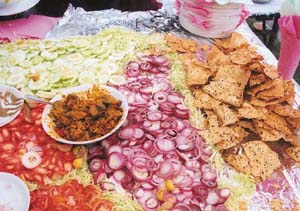 Papad and pickle can add punch to the bland dish
Pushpesh Pant describes how khichri has evolved from Birbalís time to become a delicacy. Often used in the context of the sarkar ever since coalition governments came to stay, khichri is a many-splendoured dish that can seduce a connoisseur. There is much more to the humble khichri than one can imagine.
NOWADAYS, when the word khichri is mentioned it evokes images of a government formed of ill-matched partners forever restive in an opportunistic alliance. The usage does grave injustice to a historic delicacy. Donít be hasty in raising your eyebrows. Today, khichri may in the popular mind be associated only with convalescenceóthere was a time when it was a jewel in the Indian culinary crown. Akbar served Salim his sonís favourite khichri to welcome him on his return from a victorious campaign in Deccan. Of course, the Shahi khichri had a regal to name to match the recipe- laziza (the tasty damsel).
There is an apocryphal story about Birbal, one of the wisest and wittiest courtiers of the Grand Mughal, who took infinitely long to cook the perfect khichri. This has become the classic phrase to tease someone about inordinate delay. Kya Birbal ki khichri paka rahe ho? Legend has it that during the time of the nawabs in Awadh an exotic khichri was prepared substituting almond slivers for rice and pistachio granules for the green moong lentil.
More often than not, a medically prescribed khichri combines moong dal with ordinary rice and is lightly coloured with turmeric and is supposed to be bland. To cope with the blandness, khichri is usually paired with tangy and piquant partners, khichri ke char yaar, dahi, paapad, ghee achaar. Some replace paapad with mooli. Each to his own. Khichri also has an important ritual status.
Chefís special
Mince (lean meat or boiled Yam) 250 gm
Ghee 60 gm
Salt to taste
Onions ground to paste 1 tbs
Red chilli powder 1 tsp
Ginger grated 1/2 inch piece
Garlic paste 1 tsp
Curds 4 tbs
Coriander powder fresh 1 tsp
Black cumin seeds 1/4 tsp
A small pinch each of cinnamon, cardamom and mace powders
Rice 100 gm
Split green mung unhusked 75 gm
Ginger grated 1/2 inch piece
Garlic paste 1 tsp
Onions very thinly sliced 30 gm.
Heat ghee in a thick-bottomed pan and fry the mince with chillies, garlic, ginger and curds till well brown. Add the rest of the masala with a little water. Put on dum till the mince is tender and dry. Heat the ghee for the rice in a separate pan, fry onions till golden, drain and keep aside. Fry rice, and mung dal a little with ginger and garlic add water and salt, boil till half done. Put on dum till cooked three fourths. Spread the rice and lentils over the mince, put the fried onions on top keep on dum for another half hour sprinkle a little water or milk, if necessary. Blend well before serving hot.
When a fast is observed and cereals and grains are taboo, it is kosher to partake saboodane ki khichri. In the month of Magh, it is considered obligatory for the pious Hindus to eat maash ki khichri at least once. The Sahibs during the Raj had kedgeree prepared with ingredients like fish, rice and lentils for breakfast.
The Hyderabadis love to breakfast with khichri and keema and Bengal has its own version of khichuri
ritually prepared in a celebratory manner in no way inferior to pulav or biryani. The Rajasthanis have an unusual (for the rest) baajre ki khichri washed down with large gulps of lassi. Actually, khichri can be enjoyed at breakfast, lunch and dinner. Just resist the temptation to cross over into tahari or vegetable pulav territory. Remember, pyaar ko pyar hi rahne doí duja naam na do! One who has been seduced by khichri can look at none else. A little imagination goes a long way with khichri.
Substitute yellow mung with red or black masoor or green mung or split maash and see how magically it becomes laziza. Our own weakness is pronounced for arhar ki khichri. Add fresh green chutney and half a spoonful of granular ghee, who then will yearn for a loaf of bread, a book of verse, a flask of wine? Omar Khayyam would surely understand, Khichri, me and thou, wilderness is paradise now.