Simply fashion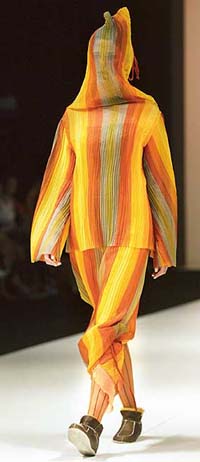 More than style and form, it is unwearable clothes inspired by designers' whims and mindless exposure of the human body that rules the world of fashion. Hype built around fashion events leave most people wondering about the relevance of ramp fashions to everyday life. Are any of these clothes really wearable, asks former Editor of Femina Vimla Patil.
NOT so long ago, high society in India sincerely believed that only the top divas of A-list partygoers in metros wore revealing clothes. For instance, Parmeshwar Godrej attained an iconic status for her revealing outfits, especially after satellite TV channels tracked her leaping necklines and formidable cleavage during the Miss World contest held in Bangalore in 1996. Her sartorial style branded her as the queen of cleavages. Since that year, the Indian fashion scene has changed dramatically. As an example, one can cite the current praise showered upon Aishwarya Rai in the Cannes Film Festival — for "getting together her wardrobe this year, after last year's disaster." This year, if media pix are any proof, Aishwarya has become the latest queen of cleavages at the film festival. Most Indian believe that Aishwarya's Cannes ensembles could look out of place in the Indian context.
More than 90 per cent among all Indians feel that international events like fashion extravaganzas or beauty shows, world-class celebrity film and advertising festivals or even the local Lakme India Fashion Week are not really relevant to their lives. "No one wears the kind of clothes which are displayed in these events. Nor do designers make a reality check when they put their pencils to their drawing boards. The more far-fetched the ensemble, the more media attention it gets. According to most designers, less is more. The show of cleavages and butts, the boob tubes and bikini bottoms is almost disgusting. Models too, have sunk to an all- time low in their willingness to display their bodies. Men and women seem to be in a competition to expose their bodies. As long as they are paid good money, they are willing to wear even the most outlandish outfit. "Is this fashion according to our designers?" say the majority of Indians.
Shaina N.C, a successful designer, agrees wholeheartedly. She says that she was invited to show her collection in the Lakme India Fashion Week. "I opted out," she says, "It is called the Lakme India Fashion Week but I don't see anything Indian in it. Most designers show anything but Indian style in the event. Also, most clothes are unwearable even in hi-society life in India. My clothes are essentially based on the Indian look and follow the lines of the classic saree or the flowing garments, which are born out of the needs of the Indian woman. I am happy with the business I generate and the success which I have achieved. Yes, I too design clothes which reveal a little of a woman's body. But I can neither design little triangles of cloth — to cover breasts — which are called designer clothes; nor can I create clothes from some past age which would look comic in a modern scenario."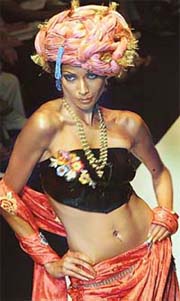 The designers of Be, the Raymonds fashion store, which presented many designers in the Fashion Week, say that the future of Indian fashion depends upon the industry's ability to produce excellent pret collections. "Unless our designers concentrate on creating comfortable clothes which young and old alike can wear in real life, fashion has no meaning," they say, "The outlandish clothes, which are shown on the ramp, are only for creating a media hype because sane and wearable clothes do not attract TV channels or fashion magazines. This is evident from what they show or print issue after issue. Such clothes result from the designers' need to draw attention to his or her work and to get maximum publicity and shock value, so that their more realistic clothes find a ready market. Selling fashion means creating what people need. But showcasing fashion means going that extra distance to create 'conversation' pieces.
If this is true, the kind of clothes designers like Rina Dhaka and Pooja Nayyar showed in the Lakme India Fashion Week prove this point. Media reports said that Rina's ensembles 'shimmered' but showed the models' skin more than the clothes. Pooja Nayyarensembles, dedicated to World War II, made models look like Egyptian mummies. Rajesh Pratap and Ashish Soni's designs were termed 'morbid' with the former designer showing models sheathed in black to create a tantrik look. Yet other designers created Christ-like ensembles and gypsy outfits which were just for the ramp.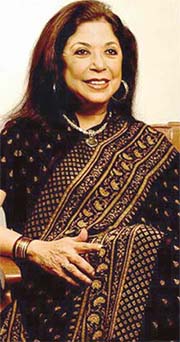 Many young fashion consumers reject the argument that designers need to shock consumers. "If only weirdness could get publicity for fashion designers, then creative talents like Manish Malhotra and Hemant Trivedi would not have been the most successful designers of India. Ritu Kumar has never swayed away from her classic look. She is a true designer who has done extensive research in the costumes of India and creates her inimitable ensembles based on lines, which have been celebrated in the sartorial history of India," they say.
"Manish Malhotra has not only become the top designer for Hindi films but also created outfits for international celebrities like Jean Claude Van Damme, Michael Jackson and Sharon Stone. Recently, he showcased his latest collection at an awards function in New York," says Savita Sen, a new entrant to the modelling world, adding,"Manish was invited to create an exclusive design for Van Damme. The result was a black kurta with resham embroidery and a black shawl with antique borders."
Van Damme was so enchanted with this outfit that he is now permanently a fan of India and her textile and crafts treasure. Manish also designed a kurta for Michael Jackson when he received the prestigious Humanitarian Award. More recently, Manish designed an ensemble for Lady Andrew Lloyd Weber, the wife of the producer of Bombay Dreams, for wearing at the premiere of the show in London. Of course, he is the preferred designer for top Hindi film stars and socialites too."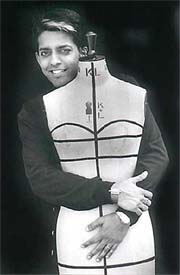 "Hemant Trivedi is yet another example of designer who has reached the number one position by dint of hard work and correct designing," says Nina Singh, a fashion design student, "His clothes are never flighty or other-worldly. He has taught fashion technology to thousands of youngsters who have made fashion-designing a lucrative career. Even in the latest mega show called DSYN 04, organised at the global level — with the collaboration of Australian Fashion Innovators — by the National Institute of Fashion Technology, alumni of the Institute created 165 collections of pret garments for buyers from every renowned fashion store in the world. Gauri Kumar, Director General of the Institute hoped that this would be an annual event and would result in an income of $6 billion in the future. So if such designers — who work with ground reality —can become so successful, where is the need to show clothes which do not relate to real life at all?"
"Men and women who merely watch such shows on television or see sensual pictures in newspapers rarely know the hard work that goes in creating fashion garments which can be marketed successfully," says Shaila Saxena, who makes clothes in a small but successful business. She travelled all the way from Mumbai to see the shows in the Lakme India Fashion Week and came away disappointed. "The work of many so-called designers was outrageous," she says, "No one can look like Jesus Christ in flowing robes or a gypsy with a basket worn as a turban in modern life. Such outfits can work only at fancy dress or Halloween parties. I have yet to see men or women wearing outfits, which are shown on ramps, in everyday life. The body exposure is over the top and so brashly obscene, that it does not appeal any more. Fashion shows today are so monotonous that they have hardly any novelty. It looks as if everyone is there to register his or her presence for social reasons and to get quick publicity. Like the hi-society parties of Mumbai or Delhi, such events too have become social get-togethers where society photographers and camera teams of all channels vie with each other for sound bytes or photo ops from celebrities to embellish their news reports with visuals or quotes of half-clad models or designers who talk the language of 'lines and looks'. The real trend, in my opinion, is that which attracts a buyer to wear an outfit with comfort and style in real life. That's what I call fashion and there is plenty available for a buyer if only he or she searches the collections of lesser-known designers who meet market needs with more efficiency than fancy designers who fly in the clouds of imaginary 'trends'"