TELEVISION
Neena once more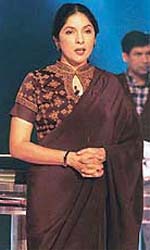 HER last appearance in Kamzor Kadi Kaun was so dismal that it kept her away from the arc lights for more than a year. But still Neena Gupta has a lot to cheer for a different role altogether.
Her two productions Kyon Hota Hai Pyarr and Son-Pari on Star Plus have notched up decent TRPs and now the charismatic lady makes a maternal appearance, playing mother to Rohit Roy in Desh Main Nikla Hoga Chand.
"Itís a very comfortable role where I am not required to look pretty but just play a mom ó a role I am so used to in real life," says Neena, who recently returned from London after wrapping up shooting for a Raju Kher movie.
"Itís been a hectic year. I may not have been visible on screen but producing two serials is not an easy task. Besides, I have been planning some new projects," says Neena.
But more than anything she says sheís having a ball, playing mom in Desh Main Nikla Hoga Chand. "It is not my show and I am working with a relaxed frame of mind". Of course, as far as her new movie Amaavas goes, you can literally see sparks flying on the sets.
Mandira on a high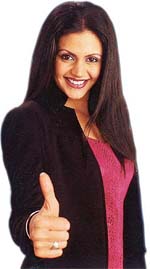 NOTHING could have prepared her for this. Till 2003, Mandira Bedi was at best a struggling model and at worst, a flop star. Even a role in Dilwale Dulhaniya Le Jayenge couldnít get her the recognition she craved.
And then, came the 2003 World Cup cricket that changed everything thanks to her noodle straps and scanty knowledge of cricket.
Today she is everywhere ó print and TV advertisements, serials and films. Though her latest movie Shaadi Ka Ladoo crashed at the box office, those who saw it did so only for Mandira. Now after Shaadi, itís time for Divorce opposite Jackie Shroff.
But the big news is television. Believe it or not, today Mandira is as popular as Kapil Dev. In a build-up to the Champions Trophy MAX Channelís Gully Cricket is reaching out to women viewers through Mandira. Earlier, the show was being hosted by Kapil Dev. "I hope the viewers like the show as much as I do," says Mandira.
MAX too is hoping that the show is a big success considering the dismal ratings mopped up by Kapil Dev.
Star-favoured Sara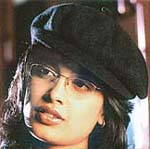 SHE is evidently fortuneís favourite. At 21, this sultry Sagittarian won a TV talent hunt contest, which catapulted her to host a Channel [V] show. The show caught the fancy of a young director and today she is on way to becoming a Bollywood star. Which explains why Sara Jane Dias, the Muscat-returned Mumbaiya is over the moon. She is all set to make a mark in Girish Acharyaís Brides Wanted where she plays the love interest of Anuj Sawhney. Sara is already being complemented for her performance by stalwarts like Waheeda Rehman and Girish Karnad, who too are doing cameos in the film. But all you Sara fans donít despair. She has no plans of quitting Get Gorgeous on Channel [V]. Given her looks, no one will mind that.
Soaps without borders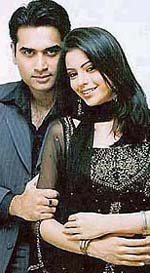 Scene from Ana: The Ego
THE trend started with music and then moved on to films. Now the small screen looks all set to be invaded by Pakistan.
Serial makers from across the border are eyeing the Indian small screen, something that Pakistani cricketer-turned-actor Mohsin Khan tested unsuccessfully years ago in Batwara.
Now leading Pakistan actor Humayun Saeed has launched his first show Ana: The Ego featuring well known names from both countries.
The serial marks the second coming of Nausheen Ali Sardar and also stars Prikshat Sahni and Kunika Sadanand Lall from India and Humayun Saeed, Talat Hussain and Samina Peerzada from Pakistan.
Interestingly, Saeed has selected a male-dominated subject. Based on a true story, Ana is about egos that divide people.
Says Saeed, "Thereís a special message for both Indians and Pakistanis. I hope such themes and joint ventures will help bring us closer". Insha Allah!
ó NF