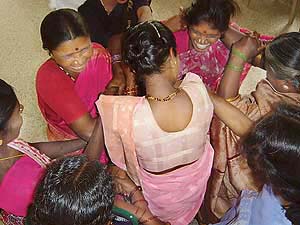 The women of Boodikote know that information can actually translate into money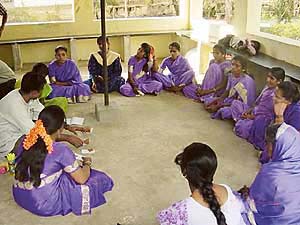 Technology can actually transform lives and give hope
AGAINST the backdrop of women struggling to be heard on various issues throughout India, the voices of women from village Boodikote in Karnataka ring out loud and clear. Not merely at home and in their village, but and on their own local radio called Namma Dhwani ('our voice' in Kannada).
"Namma Dhwani has brought out creativity and sharing of art skills in the community. We share and talk. We are better informed," says Uma, a social worker. "Some husbands used to lie about the vegetable rates in the local market yard. But now we get to know what price our produce was sold for even before the husbands get home, as Namma Dhwani announces them everyday."
By narrowcasting—airing within a small area—a wide range of programmes (in Kannada) on education, agriculture, health and the law, this unique community radio project reaches out to the rural community, especially women, in 22 villages in Karnataka's Kolar district. The villagers share stories, interview people, present talks and discussions; they also sing, laugh and enact plays. While one of the studio managers is a woman, the network's management committee consists of 10 women and one man.
Namma Dhwani is not a women-only radio network. There are substantial numbers of children and men involved in the production of radio programmes. It's the 200-odd women who have led this UNESCO-sponsored project to success.
VOICES, an NGO from Bangalore, started the initial studies for the project in 1999. Boodikote was chosen as the site for the community audio production centre because the village was identified as an "information drought zone". Since legislation is yet to support the use of transmitters for community radio, VOICES started recording programmes and playing them on speakers at women's Self-Help Group (SHG) meetings. Significantly, the Namma Dhwani project has grown out of a programme to facilitate and empower women's SHGs in the area. The Bangalore-based NGO, MYRADA initiated the SHGs in 1992. While women members of these SHGs have grouped together, saved and taken joint decisions on disbursing loans, they have also moved far beyond the functions of micro-credit organisations. Over the years, SHG members have increased their confidence and skills. They manage their finances, juggle housework, childcare, farming activities, village development work and income-generating ventures. "At first, we wondered why we needed Namma Dhwani but now when we hear our voices, listen to the informative programmes and to the review of SHG meetings on the radio, we know it was one of the best things that happened to us," says Triveni.
Says Yasmeen Master of MYRADA, "We chose to work with women because women take learning home, while men don't." While there are 80 SHGs in the area, Namma Dhwani is managed by a committee of representatives from 14 SHGs. Women from all the 80 SHGs come regularly and record programmes.
For the community radio project, women were trained in programme planning and recording by professional radio journalists and producers from All India Radio (AIR). In 2000, Namma Dhwani acquired its own studio; and Mangala Gowri, a trainee, became one of the studio managers. Four years into the responsibility, Gowri—in her 20s and a mother of two—is a respected member of the community. She has trained many women as well as children below 10 years to record programmes for the radio. "My mother-in-law is very supportive. She listens so much to Namma Dhwani that we sometimes don't get our breakfast on time!" she says.
Currently, Namma Dhwani's programmes are received through cable in the village; they play on a TV channel without any visuals. Modified radio sets, provided at a nominal cost, are also used to listen to the programmes. "The aim of this project was to see if giving Information Communication Technology (ICTs) to the poor could help alleviate poverty," says Seema B. Nair, Project Coordinator of Namma Dhwani. "We thought of involving the women from the SHGs. These women already knew the value of information and that information could actually translate into money."
Bharati earns well from the shop she set up using a loan from her SHG. She wants to educate her children and has started saving for their future. "My husband asks me to keep him informed about any new informative programmes that we are told about in the Sangha (the SHG)," she says. Mangamma was waiting for her daughter to fail so she could stop sending her to school. "But she didn't fail; now she's completed Class 12 and gives tuitions at home. Only after I joined the sangha and listened to Namma Dhwani did I understand what education could do for a person. We worked as coolies (porters) for people in the sun and rain and earned erratically. But now my daughter can teach in the house every day and earn a monthly amount."
There's a distinct smell of cow dung in the air while walking through Boodikote. The cows are lean but cared for. The mud lanes are swept clean and the floors are patterned with rice flour. The women welcome visitors with warm smiles and talk readily about their experiences with the SHGs and Namma Dhwani. They all feel they've found a new world "outside the four walls of the kitchen".
When Subbamma's husband deserted her, she toiled on his husband's fields and educated her children. Her truant husband returned after several years and tried telling her how she should lead her life. She says: "I told him to shut up". Subbamma told her story on Namma Dhwani. Repeats have been requested for many times since, says Nair.
Parvati's husband doesn't like her involvement with Namma Dhwani because he's afraid she'll "talk back". A regular listener, she even makes programmes when he is not at home. "I used to be very silent till I attended the SHG meetings and listened to Namma Dhwani. Now, even if he says no, I fight and go," she says. "Earlier, we were shy and afraid. Now we feel free. When the men try to dominate the committee meetings we tell them, this is an equal platform. We were penniless, now we are earning members," says Triveni. — WFS