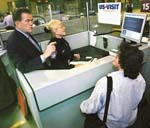 Visa woes
The US State Department recently announced new visa rules whereby various categories of workers will have to travel to American consulates abroad to get their papers renewed. Nearly 50 per cent of the visa-holders likely to be affected will be Indians, particularly investors, traders, journalists and corporate workers. Will this affect the outflow of Indian professionals to the USA? Gaurav Choudhury checks out.


TALKING POINT
Should education be privatised?
India has the largest number of youth in the 17-25 age group. They are our potential intellectual capital. A limited number of government establishments cannot cater to the growing demand of the economy and aspirations of the youth.


Make a killing on the greens
M.S. Unnikrishnan
SPORTS is not just a pastime. It is a multi-billion dollar enterprise the world over. With the amateur system all but vanishing from the sports scene, everything comes with a price tag, including coaches. Specialised coaching costs a fortune, and good coaches command a hefty fee.


IN FOCUS
Coaching troubles
Ravi Dhaliwal
THE Netaji Subash National Institute of Sports (NSNIS), Patiala, was set up in 1961 with the prime objective of producing top drawer coaches through its Diploma in Sports Coaching (DSC) course. Besides, the institute aimed to provide infrastructure to sportsmen attending national camps so that they could be exposed to the state-of-the-art training methods.


STEPS TO SUCCESS
"Patience & positivity my main ingredients"
SHE is the undisputed monarch of the kitchen, inspiring awe in what is traditionally a male preserve. And her recipe for success: Positive attitude, monumental patience and sustained hard work. Meet Nita Nagaraj, Corporate Chef, Jaypee Hotels, who has carved out a niche in the hospitality industry.



SUBJECT SELECTION
Number of avenues for math wizards
Usha Albuquerque
IF the MBA tag sounds inviting, you can explore options in the field of business and management with any subject, even humanities. However if you're a whiz in maths, why not study economics or commerce with maths, which provides a better foundation for studies in management.


WHAT'S HOT
Top of the charts
The Delhi University cut-offs for admissions are out. Nupur Joshi finds out what the hot options for the Class of 2004 are.
THESE days, anything from the latest trends in fashion to accessories to music deals to blockbusters can qualify for 'what's hot'. So, here I give you a sneak preview of which courses are riding high on popularity charts.