Make a killing on the greens
M.S. Unnikrishnan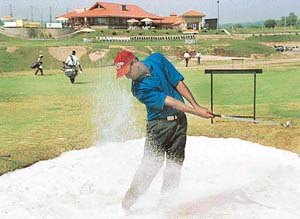 Top-end golf coaches earn around Rs 4000 for a few hours. — Photo by Karam Singh
SPORTS is not just a pastime. It is a multi-billion dollar enterprise the world over. With the amateur system all but vanishing from the sports scene, everything comes with a price tag, including coaches.
Specialised coaching costs a fortune, and good coaches command a hefty fee.
For instance, there is plenty of moolah in tennis and golf, though a player has to spend a fortune to reach a certain level of playing standard. But there is a system at work in both these sports, and the backroom boys and girls, who are the vital cogs in the wheels of a sports star's ascent to the top, also make a 'killing' at the cash counter.
One interesting facet of golf in India is that the game has created many fabulous "rags to riches" stories — unbelievable, but true.
When Ashok Kumar, this year's 'Order of Merit' winner, and the highest prize money collector, left his impoverished family at Samastipur in the outback of Bihar in 1988, and came to Delhi as a callow eight-year-old, the only thing in his mind was to do some odd job to quell his hunger. He started running errands for the 'sahibs' at the Air Force Golf Course near the Safdarjung Race Course and slowly picked up the ropes to become a caddy.
Ashok Kumar was the caddy of Arjuna Award winner Amit Luthra. His life took a sudden leap when he challenged Amit for a round of golf, and beat him too.The rest, as they say, is history. In the last two years he has earned Rs 21 lakh in prize money alone, outside his lucrative sponsorship deals.
But how good is the golf coaching scenario in Delhi? Well, pretty good. The coaches in the top-end category make around Rs 4,000 daily for a few hours of practical teaching. There are amateur coaches and there are professional coaches. The pros are mostly former and current players. The top ones of the Delhi Golf Course like Romit Bose, Ajay Gupta, Nonita Lal, Ali Sher and Rohtas Singh, who are in the A Category, charge around Rs 500 per player and they normally teach a group of eight players.
The coaches figuring in the 'B' Category like Ram Singh, Inderpal, Ram Dayal and Dinesh Kumar charge around Rs 300 per player for a session. And the 'C' Category coaches make something like Rs 1200 daily. Not a bad deal at all as many of the coaches are caddy-turned players and do not possess any distinguished academic degrees. But the kind of money they make would turn even a corporate executive green with envy.
There are many other lucrative jobs connected with golf like event management, managing the horticulture of the golf courses, upkeep of the course, catering service, course development and management, dealing in golf equipment and, of course, handling the administrative staff of a golf course. Last year, Rs 2.5 crore was spent on junior golf alone. And several crores on the pro tour.
The Indian Golf Union (IGU), which has an office at the Nehru Stadium in New Delhi, conducts courses for coaches periodically at the grassroots level and also holds 'Camps of Excellence' where they spot and groom prospective coaches all over the country.
The coaches in the IGU panel make Rs 100 and Rs 200 per player every day.
And then, there are the sports management firms. Tiger Sports Management (TSM) is an early player in the field.
Petite Urvashi Pant has spent a few years with TSM as a media manager. A product of Bal Bharati Air Force School and Gargi College, Urvashi joined a two-year post-graduate fashion communication diploma course at the National Institute of Fashion Technology (NIFT).
Urvashi has no problem managing the media for TSM. With a young breed of players swarming the golf courses, the game makes a great fashion statement in itself on the greens across the country.
Ashwin Krishnan, an executive with TSM, says his company, headed by former professional Brandon D'Souza, also handles player-management besides bringing out a glossy golf magazine. The International Management Group, Globo Sport and former player Rishi Narain's outfit are the other firms handling golf management. Tiger handles both junior and professional tours all over India and in the neighbouring countries.
Ashwin, who was a promising cricketer before he got into the sports management field, says with the Corporate Golf and Pro Tour choking the golf courses across the country, there is money in the game, though not as much as in cricket. "But it's certainly a nice feeling to be part of the golf setup", he avers.
But the tennis coaches are not doing badly either. The 250-odd tennis coaches in Delhi on an average rake in upward of Rs 15,000 every month. To become an International Tennis Federation (ITF)-approved Level-I and Level-II coach, a matriculate can appear for the exam. A deep knowledge of the game and its application is all that it takes to become a successful tennis coach.
"A Level-II coach should be making anywhere between Rs 30,000 to Rs 40,000, and above", disclosed a top tennis official of Delhi. But those who turn commercial, by offering private coaching in clubs and farm houses, can net between Rs 35,000 to Rs 45,000 per month. Those at the bottom end--the rookie coaches — take home a pay packet of Rs 4,000 and above as some of the clubs and the tennis academies short-change them, by paying less, in the beginning.
High academic qualifications are no prerequisite to become a successful tennis coach. The Delhi Lawn Tennis Association (DLTA) alone employs around 35 coaches and most of them earn five-figure salaries. The ITF and the All India Tennis Association also conduct courses for coaches, and those who clear the exams graduate to Level-I and Level-II categories. Some of the tennis coaches give coaching classes on an hourly-basis to amateurs and professionals, and make good money, charging as much as Rs 200 per hour. Want to take up coaching? Sky is the limit for making the moolah.