IN FOCUS
Coaching troubles
Ravi Dhaliwal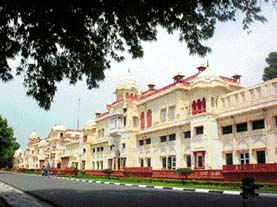 A view of Netaji Subash National Institute of Sports, Patiala. — Photo by the writer
THE Netaji Subash National Institute of Sports (NSNIS), Patiala, was set up in 1961 with the prime objective of producing top drawer coaches through its Diploma in Sports Coaching (DSC) course. Besides, the institute aimed to provide infrastructure to sportsmen attending national camps so that they could be exposed to the state-of-the-art training methods.
About a decade ago, the main aim of the NIS aims was virtually sidelined when, at the behest of certain vested interests, the duration of the nine-month-long DSC course was suddenly increased to two years, virtually diluting its impact. That later the authorities thought it prudent to again decrease it to one year only showed that a hit-and-trial method was being adopted to arrive at the right course period.
The result: aspiring coaches started staying away. Statistics reveal that in 1997-98, just 58 students turned up for the DSC. However, the situation was redeemed by a handful of local officers who put the establishment's interest ahead of their own.
Gradually, the organisation has once again found its feet. This year, the number of diploma holders passing out has risen to 214 in as many as 19 disciplines. Now, the DSC is attracting students like never before and other courses like M.Sc in sports coaching, the postgraduate Diploma in Sports Medicine and refresher courses are also attracting students from every nook and corner of the country.
The SAI's ban on recruitment of coaches has not had much of an impact as most of the diploma students come here from the police, the services, Railways, SAIL and P&T Departments. Once they pass out they are absorbed as coaches in their respective departments.
One problem area that needs immediate attention is the ad-hocism in the management of the centre. Most SAI officers perceive the top post at the NIS, that of ED (Academics), as a punishment. At present, the institute is being headed by an IPS officer, B.K Sinha, who is also the Secretary of the SAI. Since 1998, the centre has had five EDs, out of which four held this post in addition to duties in the SAI's Delhi office