STEPS TO SUCCESS
"Patience & positivity my main ingredients"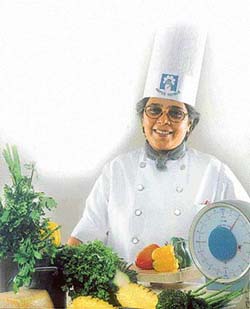 Nita Nagaraj
SHE is the undisputed monarch of the kitchen, inspiring awe in what is traditionally a male preserve. And her recipe for success: Positive attitude, monumental patience and sustained hard work.
Meet Nita Nagaraj, Corporate Chef, Jaypee Hotels, who has carved out a niche in the hospitality industry.
The best part about being a chef, she says, is that there is no boring routine, no putting on appearances, except on cuisine, and the opportunity to create something that gives the customer a lot of joy.
She did her graduation from the Institute of Hotel Management, New Delhi, followed by an extensive 'Kitchen Training' programme with The Oberoi, New Delhi. Thereafter, she worked with many renowned and prestigious hotel groups.
Despite her success, she remains modest: "If you are ready to be a life-long learner and be in touch with the pulse of the people, this profession is just right for you. It is not as glamorous as youngsters perceive it to be. But if you have a flair for cooking, it is definitely an added advantage."
The hotel business thrives upon the food served. If the food is not good, the customer will not turn up the next time. So, in a way, you are competing not only with the hotel industry in India but also worldwide.
The world is waiting to greet youngsters wanting to become corporate chefs. "When I joined this line, there were hardly any woman chefs, but today there are many," she says.
The service industry is growing day by day. "I started my career in 1979 and, in 1993, I became the Chief Chef of the hotel. During this period, the food industry has undergone a sea change. Earlier, there were a limited number of hotels. But now there are hotels, airline caterers, small motels, restaurants, ships etc. And they all need chefs. So, the job prospects are increasing with every passing day. But this is a male-dominated field," she feels.
As far as the money is concerned, the start is Rs 8,000 per month in a five-star hotel and, as you grow, the sky is the limit.
A number of good chefs, with training in hotel management, start their own restaurant. All you need to do is plus two, followed by a three-year course in hotel management.
And you're ready for a taste of the hospitality industry.
— Manish Kumar Singal