FORTNIGHTLY QUIZ-210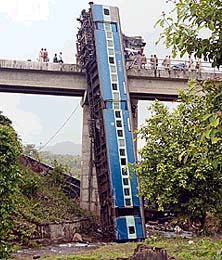 1. Name the train that recently met with an accident on the Konkan railway section.
2. Name the Deputy Chairman of the Planning Commission.
3. Which Disney cartoon character recently celebrated its 70 years of existence?
4. Which US ex-President's autobiography is titled 'My Life'?
5.Who recently took charge as the first woman Director-General of Police (DGP) of any state in India?
6. Which Mughal emperor started an annual festival of cultural activities, "Phoolwalon ki Sair", to ensure amity among communities?
7. Name the writer of the novel 'Transmission'.
8. Who has replaced Javed Miandad as the Pakistan cricket team's coach?
9. Who recently became the first Russian to win a Grand Slam event in tennis?
10. Name the engineer and statesman who built the famous Brindavan Garden in Mysore.
11. What is the capital of Brunei?
12. Where is the 'Sindhu Darshan' festival held?
13. Which is world's costliest city?
14. What is the full form of RAW?
15. When is the International Day Against Drug Abuse and Illicit Trafficking observed?
Name.......................................
Class........................................
School address......................
Winners of quiz 209:The first prize by draw of lots goes to Gurwinder S Khokhar, VIII, Dasmesh Public School, Goniana Mandi, Bathinda.
Second: Arshit Krit S. Kapoor, IX-A, MRA DAV Public School, Solan bypass-173212.
Third: Gurveer Singh SRA, IX-A, SA Jain Senior Model School, Ambala City.
Answers to quiz 209: 60; Somnath Chatterjee; July 6,2012; Ronald Reagan; Satpura; 2005; Charanjit Singh Atwal;1989; Sher Bahadur Deuba.
Cash awards of Rs 400, 300 and 200 are given to the first, second and third prize winners, respectively. These are sent at the school address.
— Tarun Sharma