M A I N N E W S
USA transfers sovereignty to Iraq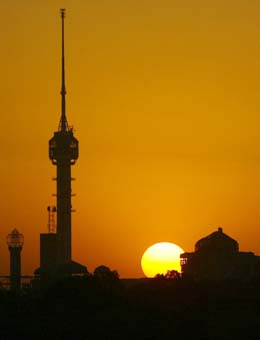 The sun sets over Baghdad's "Green Zone", between a telecommunication tower and a destroyed former palace of Saddam Hussein, on the first day of Iraq's new sovereignty on Monday. The United States handed over sovereignty to an interim Iraqi government on Monday, formally ending a 14-month occupation, two days earlier than expected to try to forestall guerrilla attacks.
— Reuters photo
Baghdad, June 28
The US-led coalition transferred sovereignty to an interim Iraqi government today, speeding the move by two days in an apparent bid to surprise insurgents who may have tried to sabotage the step toward self-rule.
Legal documents handing over sovereignty were handed over by US governor L. Paul Bremer to interim Prime Minister Iyad Allawi at a ceremony in the heavily guarded Green Zone.
"This is a historical day,'' Mr Allawi said. "We feel we are capable of controlling the security situation.''
"You have said, and we agreed, that you are ready for sovereignty,'' Bremer said in the ceremony. "I will leave Iraq confident in its future.''
"We'd like to express our thanks to the coalition,'' Mr Al-Yawer said. "There is no way to turn back now.''
With the transfer, the Iraqis now face the daunting task of securing law and order with the help of about 1,35,000 US troops and about 20,000 more from other coalition countries.