10 sane women declared insane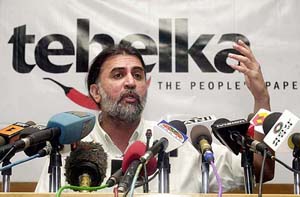 Tehelka chief Tarun Tejpal addresses a Press conference in which he claimed to have exposed a false-insanity certificate racket in Agra, in New Delhi on Thursday. — PTI photo
New Delhi, July 1
In a sting operation, Tehelka today exposed a senior doctor of Agra Mental Asylum who certified 10 sane women as insane to enable their husbands get divorce.
Dr S.K. Gupta, a senior psychiatrist with Agra Mental Hospital was issuing 'false' certificates to the husbands for Rs 5,000 each without even meeting their wives.
"The story is shocking and brings out the connivance between the authorities and those who commit such heinous crimes against women. Such practices were known in 19th century Europe, and even after 55 years of Independence these are happening in India,'' Mr Tarun Tejpal, Editor-in Chief of Tehelka, The People's Paper, told a press conference after the screening of a 22-minute documentary that exposed the government doctor.
The sting operation was carried out by Tehelka's reporter Jamsher Khan who procured a certificate for his wife from the doctor.
The reporter used a spy camera to interview the doctor and the victims over a five-month period. Tehelka will be filing a public interest litigation in the Supreme Court within a week, demanding Rs 1 crore compensation for each of the victim, and punishment to the guilty.
The paper also demanded an inquiry into the entire affair by a sessions judge. The PIL will be filed by senior Supreme Court advocate K.T.S. Tulsi.
Meanwhile, the National Commission for Women (NCW) will send a high-level team to Agra to verify the claim of Tehelka newspaper.
NCW Chairperson Purnima Advani said on phone from Mumbai that she would lead a delegation to Agra on Tuesday to take a first hand account in the matter.
However, she clarified that the NCW would be more than willing to take up the matter provided that the National Human Rights Commission (NHRC) was not taking up the case.
Meanwhile, Delhi Medical Council Secretary S.K. Khatri said if the charges against Dr Gupta of Agra Mental Asylum is proved to be true, then he could be liable for action under various provisions of the law. — UNI